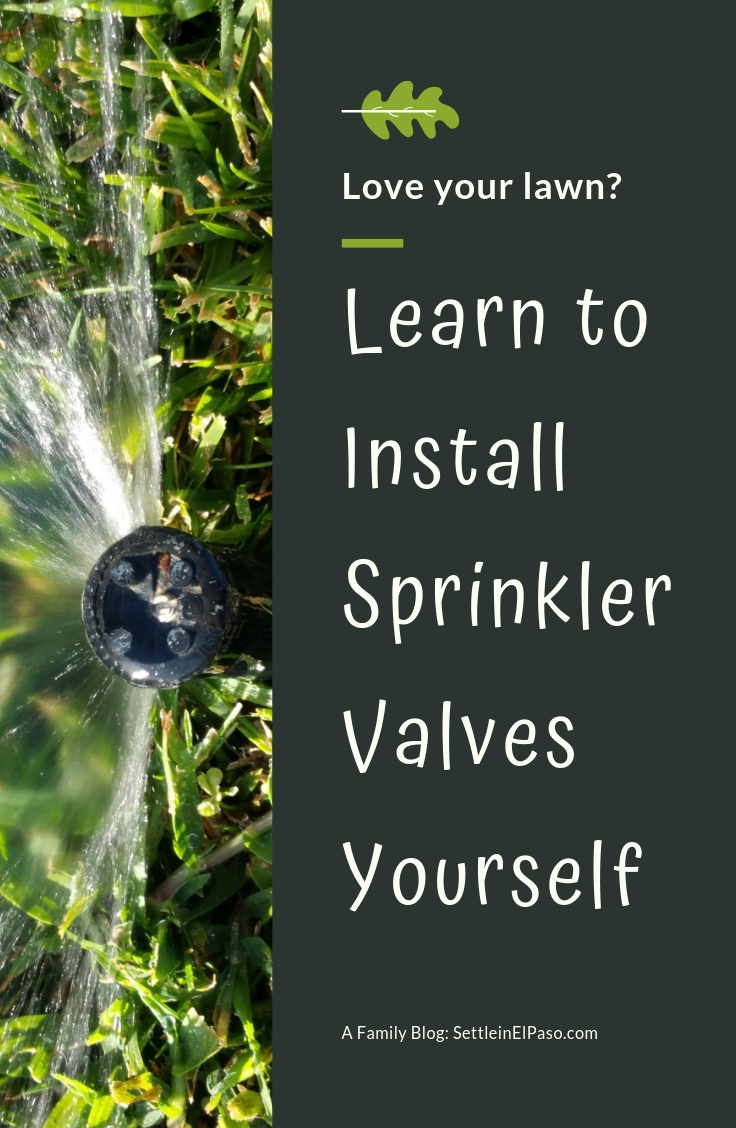 Sprinkler valve installation is an easy DIY. You will know how easy it is if you just do it once. In this post, we will explain from very scratch, (1) what is a sprinkler valve, (2) what are the sprinkler valve options, (3) how to install or replace a sprinkler valve. Well … we will explain many more items in detail, which we did not even imagine we would know before the summer of 2017. Let's speak irrigation. Ready, set, and go …
Oh, wait. This post contains Amazon affiliate links, the meaning of which is — we will receive a monetary incentive from Amazon if you purchase products using the links (with no additional cost from your wallet).
Of course, if you hire a professional landscaper or a plumber to replace or fix a sprinkler valve, you will not need to go over this article (but you are still very welcome to read it). Before you search for plumbing or landscaping professionals in your area, let me just tell you that Sprinkler valves are pretty inexpensive (may vary between $10 to $25). Other accessories will require $10 to $20 dollars more. Many houses come with sprinkler controllers installed but the irrigation pipes are not in place. You will need to purchase a sprinkler controller if you don't have one. The price of a sprinkler controller may vary between $30 to a few hundred dollars. I will go with a non-smart controller, which costs $30 to $60 dollars. Smart ones may cost up to a few hundred.
The sprinkler controller we use is an Orbit Sprinkler System 4-Station Standard Indoor Mounted Control Timer. This can control a maximum of four sprinkler valves. We are using the controller to schedule irrigation using two sprinkler valves — one for our front yard and one for our backyard. In this post, we will explain how to install one sprinkler valve. Of course, if you can install one, you can install four to water four zones of your garden at different times. The focus of the post is the sprinkler valve only. The pictures will show how to connect the wires from the sprinkler valve to the sprinkler controller.
What is a sprinkler valve
Really? Yes, we should explain this because we were not familiar with the jargon of plumbing and landscaping a few months ago. A Sprinkler Valve is simply a switch for water lines. Instead of manually turning a switch on or off, we would like to control the switch electronically from inside the house. We would love to control and schedule the watering time using a Sprinkler Controller. That's it — a sprinkler valve is a switch to turn an irrigation line on or off. It cannot control the amount of water. It has just two modes — on and off. Well … some valves have physical knobs to control water pressure but we are not focusing on those in this post.
What are my sprinkler valve options
Hmm … let me think. There are many tiny and vital features associate with Sprinkler Valves. To my understanding, there are two major features. One type of sprinkler valve contains anti-siphon technology and the other type does not have the anti-siphon thingy. Anti-siphon sprinkler valves prevent back-flow of water. That means water from the irrigation line CANNOT go back to the domestic line when an Anti-siphon sprinkler valve is used. It is necessary to prevent back-flow because the water inside the irrigation pipes may get contaminated easily by the garden soil.
When there is a "with" option, we have a tendency to avoid the "without" option. This is especially because "without" sounds negative. When it comes to sprinkler valves, the "with" and "without" anti-siphon options have some pros and cons. The following table shows a quick comparison.
Installation and maintenance

Anti-Siphon Sprinkler Valve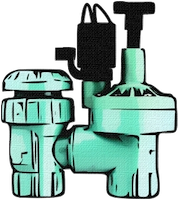 Must be installed at least 6″ above the highest sprinkler head.
Not possible due to height requirements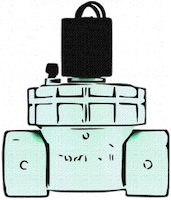 Can be installed at any height, even below the surface level.
Suitable for in-line placement
You will need to decide which one you prefer based on your requirements. The regular sprinkler valve is preferable when your irrigation line already has an anti-siphon mechanism installed. When we purchased our house, we found that we already have an extension of the water line coming out of the house which already has an anti-siphon mechanism installed on the extended part. Therefore, we preferred the sprinkler valve without the anti-siphon thingy. As an added safety, we included an in-line 3/4″ PVC check valve to further prevent back-flow of water.
The picture below explains how check valves work (and what it does). Very expressive … isn't it? A check valve simply maintains a one-way flow of water.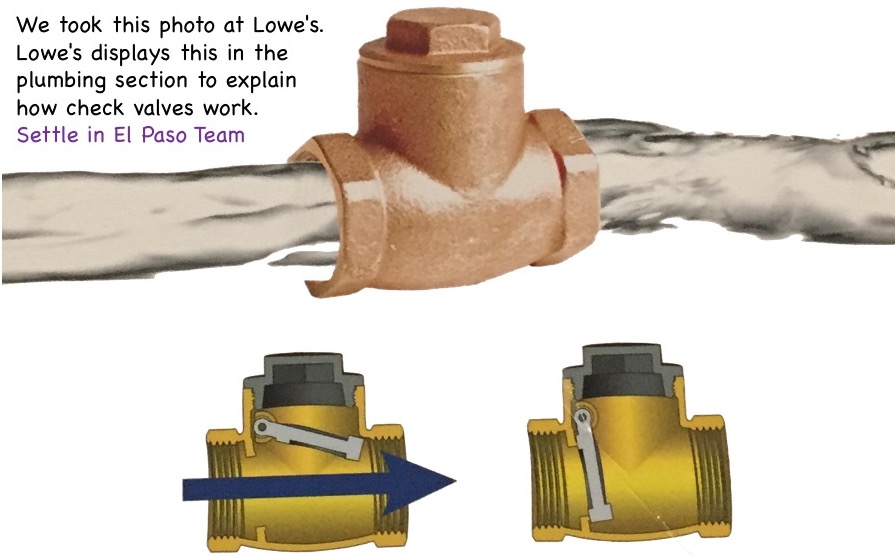 Just remember that a PVC check valve is made of plastic, not copper or any metal. If your irrigation line starts with PVC pipes, you will need a PVC check-valve. Please find a picture and details of a PVC check valve in this Amazon product link.
Sprinkler valve installation
Now that we know what a sprinkler valve is and what our options are, we can talk about how to install it. Installation is straight forward. If you use the anti-siphon version, you will need to make sure that the bottom of the sprinkler valve is placed at least 6″ above the highest sprinkler head. If you don't maintain the height requirement, I am sad to say that you will suffer some consequences. 🙁 It is how it is. The valve leaks here and there if the height does not meet the requirement. We installed the anti-siphon version first and then had to replace it because we did not maintain the height requirement. Since our plumbing system already has an anti-siphon mechanism, we then decided to use a regular sprinkler valve.
Each side of the anti-siphon sprinkle valve needs to be connected to a 3/4" PVC male adapter (Slip x MIPT). The MIPT (Male (Iron) Pipe Thread) part of the adapter will go inside the female thread of the sprinkler valve. Always apply PTFE seal tape on the male thread. Twist the male thread into the female thread of the valve and then hand tighten.
The installation setup for an anti-siphon sprinkler valve is shown in the image below. A PDF version of the image is uploaded in this link. The PVC pipes will directly go inside the Slip side of the adapter and be glued. How to glue is not explained in the picture below but it is explained in another picture later in this post. Use primer and PVC cement to glue the PVC pipe with the adapter.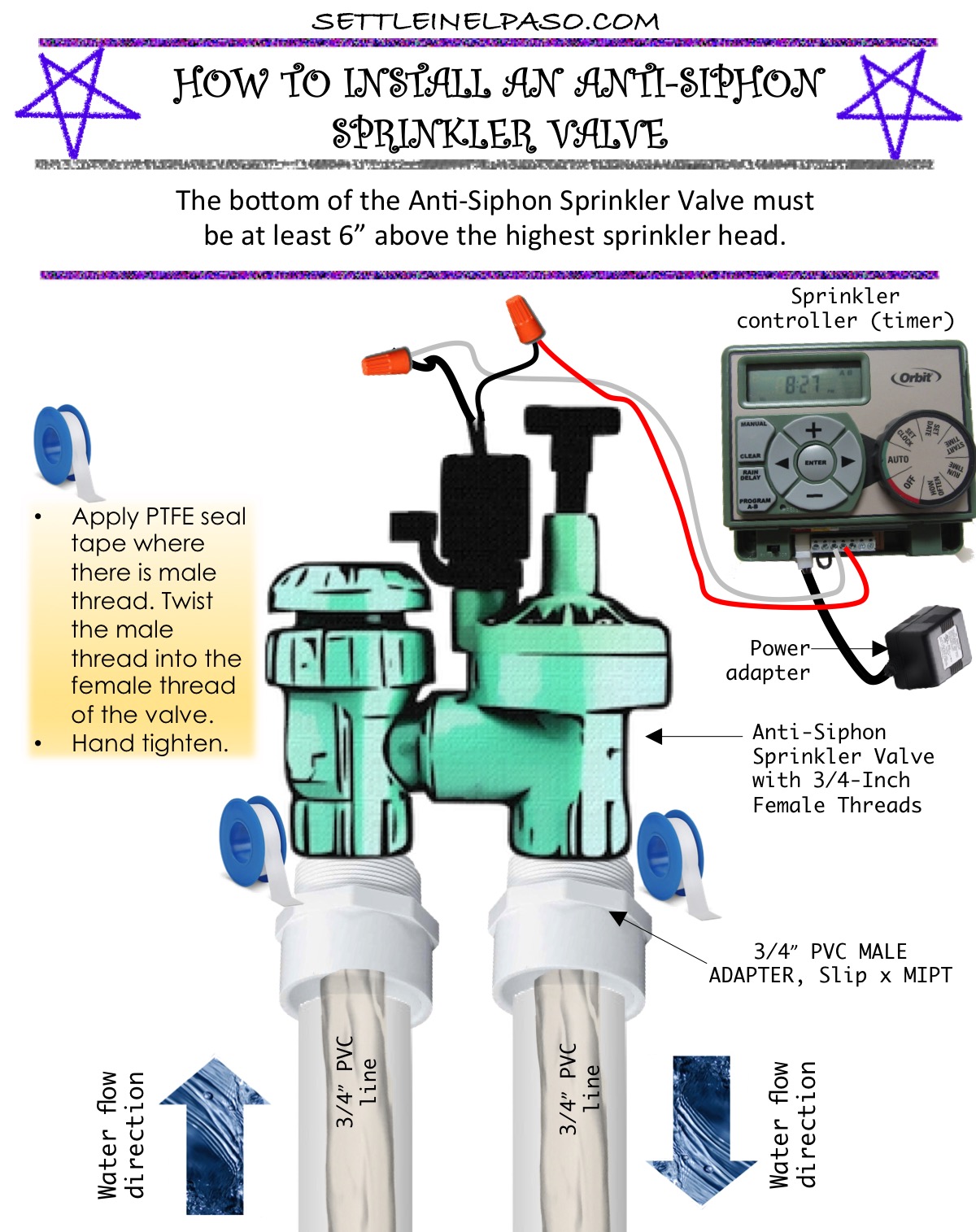 Installing a regular sprinkler valve is easier than installing the one with anti-siphon mechanism. You can install a regular sprinkler valve within the line without raising the level of the valve. The installation process is depicted in the following picture. Again, the PVC pipes will go inside the slip sides of the male adapters and be glued, which is not explained in the image below. We have uploaded a PDF version of the following figure in this link.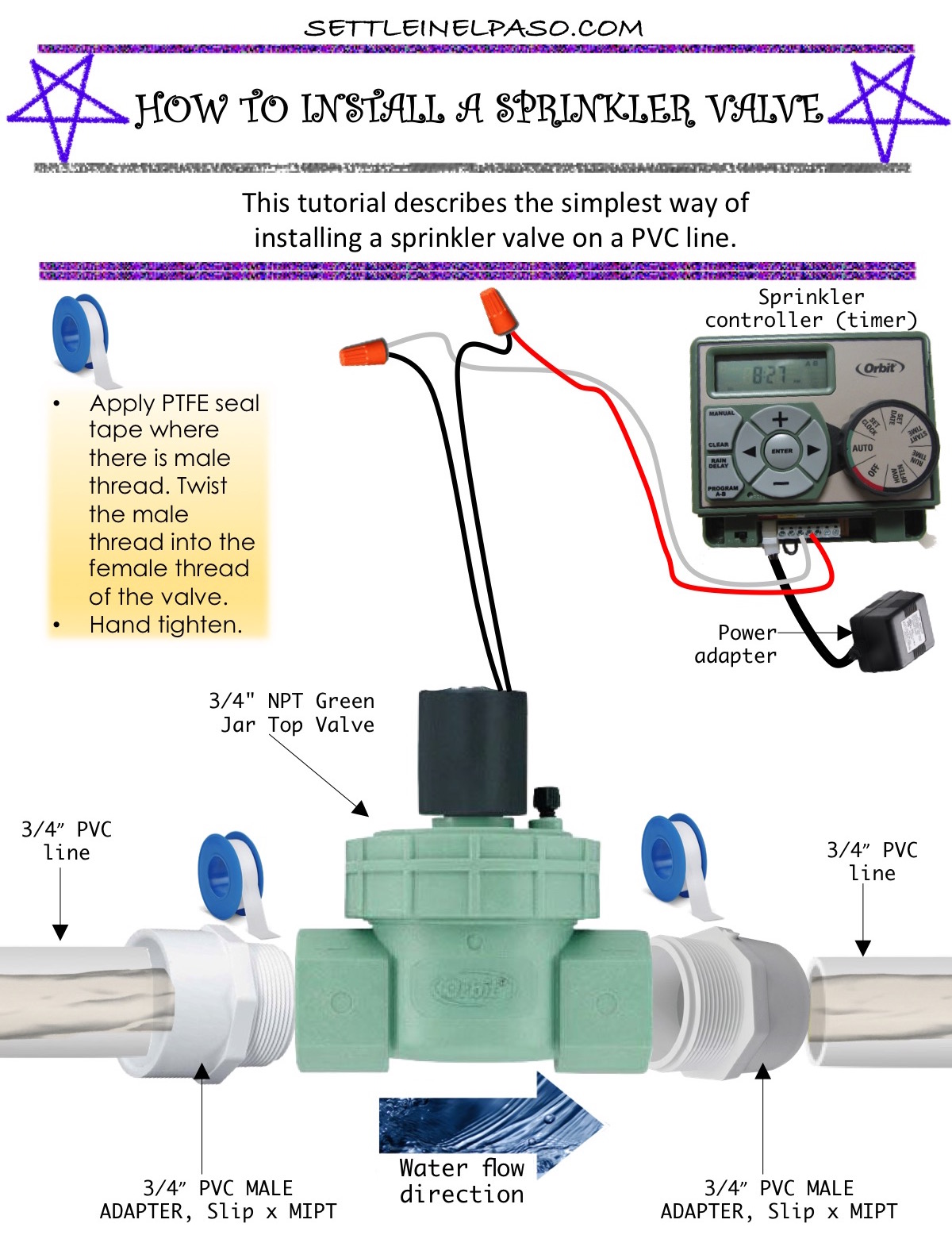 If you use a regular sprinkler valve (without anti-siphon), I recommend that you include a check valve to prevent back-flow even if you have an anti-siphon mechanism already installed in your line. You do not need a check valve if you use the anti-siphon version.
Additionally, we learned the hard way that it is better to make the setup easily changeable. What do I mean by this? If we add two PVC Slip Unions — one before and one after the sprinkler valve, we can replace the valve anytime without cutting the PVC pipes. Unions can be twisted and separated from the line easily. A picture of a PVC union we used is as follows (in its open form).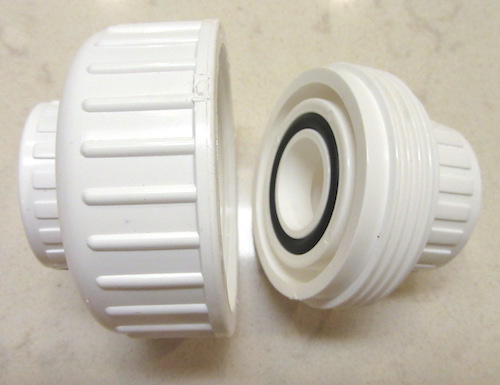 The following infographic representation shows how we may set up all these items when using a regular sprinkler valve. The picture also provides information regarding gluing and sprinkler wiring. Notice that you can twist the two PVC unions to detach the sprinkler valve and install a new one without any necessity to cut the PVC pipes. A PDF version of the following figure is available in this link.

There is a special wire available for sprinkler system wiring. You will find those wires in the plumbing section (not in the gardening section) of Lowe's or Home Depot. Or, you may purchase from Amazon.
Concluding remarks
Notice that you can now easily replace the sprinkler valve if it malfunctions. Sprinkler valve installation will cost you no more than $20. Why should we miss all the fun, while we can do it ourselves this easily?
From a Family Blog: Settle in El Paso
Other posts on gardening
---
Subscribe to receive notifications on our new posts.