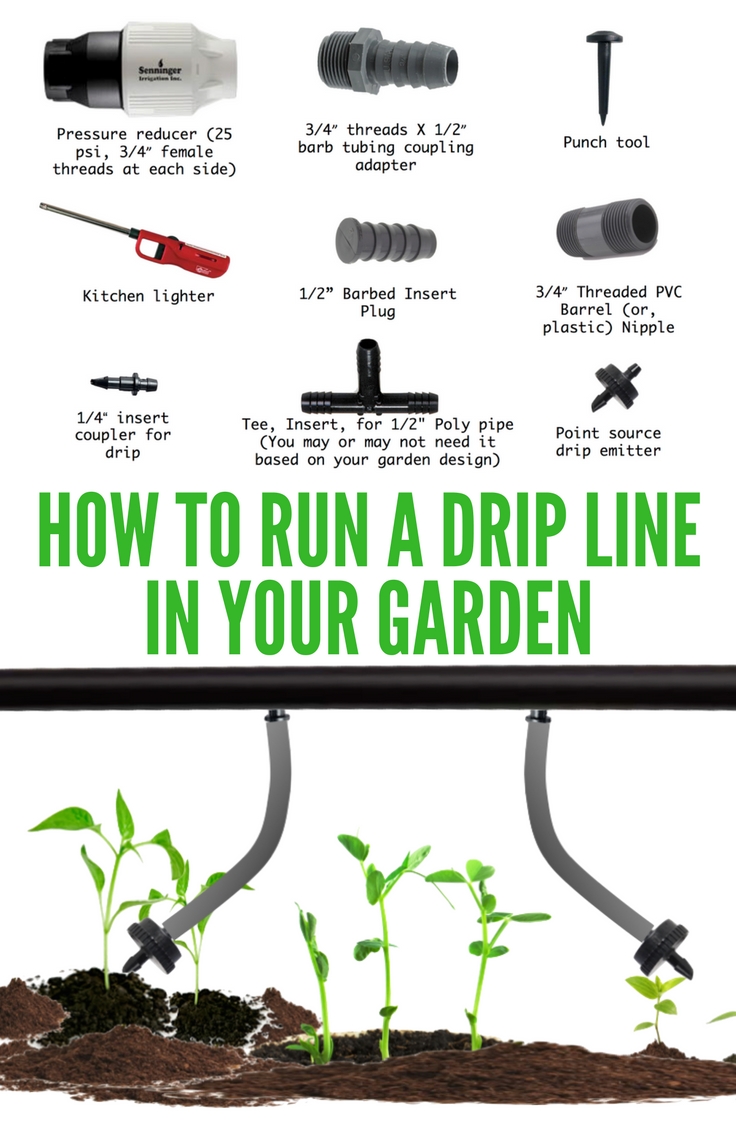 While it is great fun to use the garden hose to water plants, it might be difficult doing so every day. On the other hand, plants on the Chihuahuan Desert won't grow without high-quality love and affection from the garden owner. 🙂 An automated sprinkler system and drip line irrigation will automatically demonstrate the love to the plants, when we are busy during the weekdays or when we are out of town.
In some previous posts, we have demonstrated how to install a sprinkler valve on a 3/4″ PVC line and how to connect a PVC to a Poly pipe. Today we are outlining how we may run a drip line for trees from the poly pipe.
This post contains Amazon affiliate links, the meaning of which is that if anyone purchases anything using the Amazon links in this post, we will receive a commission with no additional cost from the buyer's side.
What is a drip line irrigation system?
I am sure you have seen drip irrigation lines many times before. Have you noticed those skinny pipes under the shrubs? Or, water dripping from the head of a pipe, as shown in the image above? Yes, those are parts of a drip irrigation system.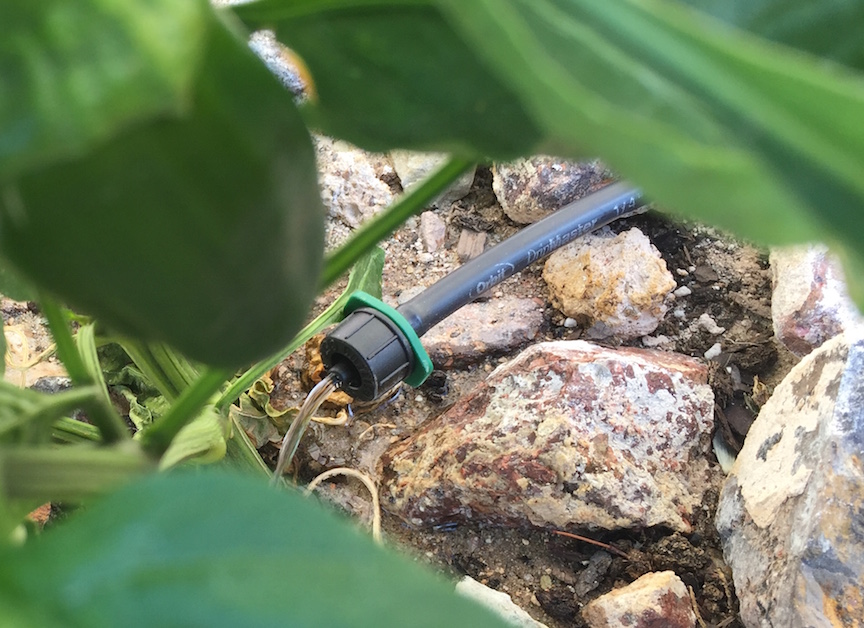 The idea of a drip irrigation system is …. well as the phrase "drip irrigation" implies — a system that will help water drip slowly instead or releasing too much water quickly.
Why is drip irrigation important for plants?
For shrubs and plants, dripped water for a longer period is more effective than pouring the same amount of water quickly. Why? The reason is, plants do not have tummies. The water humans consume, quick or slow, immediately goes to the tummy. Plants cannot drink as quickly as humans. They need hours to drink water. The longer we take to water our plants the more they can absorb it. When released quickly, the water will dry up even before the plant gets a chance to absorb it.
I have a main irrigation line. Can I build a dripline irrigation system?
Good question. Yes, definitely you can.
If you have the main irrigation line made of poly pipes and that line is not used up by sprinklers, you can definitely convert the main line to a 1/2″ poly pipeline from which you can run your 1/4″ drip lines (we will describe the details soon).
If your main irrigation line is already used by sprinklers, you will need a separate mainline, preferably controlled by another sprinkler valve, to run the dripping system. Please take a look at the following figure.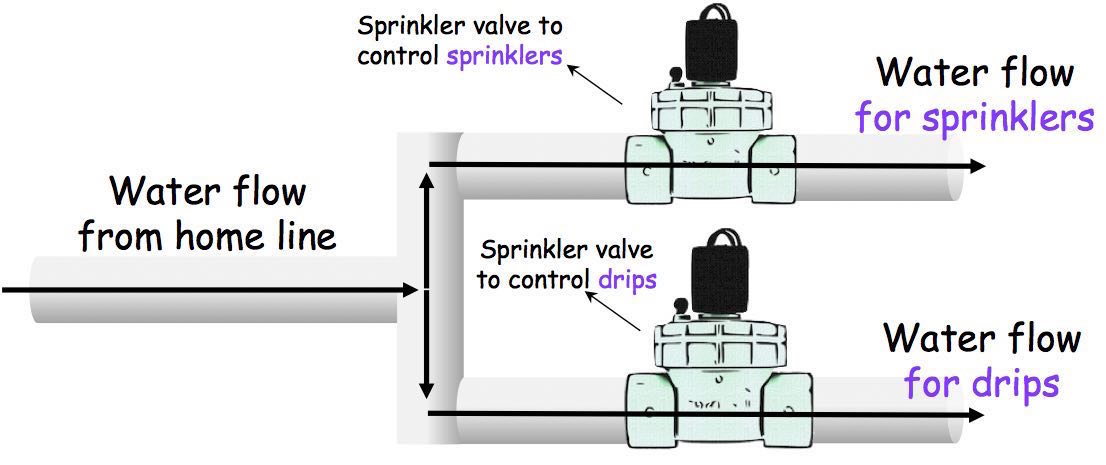 Two separate sprinkler-valves are used for two lines in the figure, one for sprinklers in the garden and the other for drips. Today, we are discussing how to run the drip irrigation lines.
What do I need to run a dripline irrigation system?
Great question!
Assuming that you already have a dedicated line that can be used by the drip system, the items you need are as follows.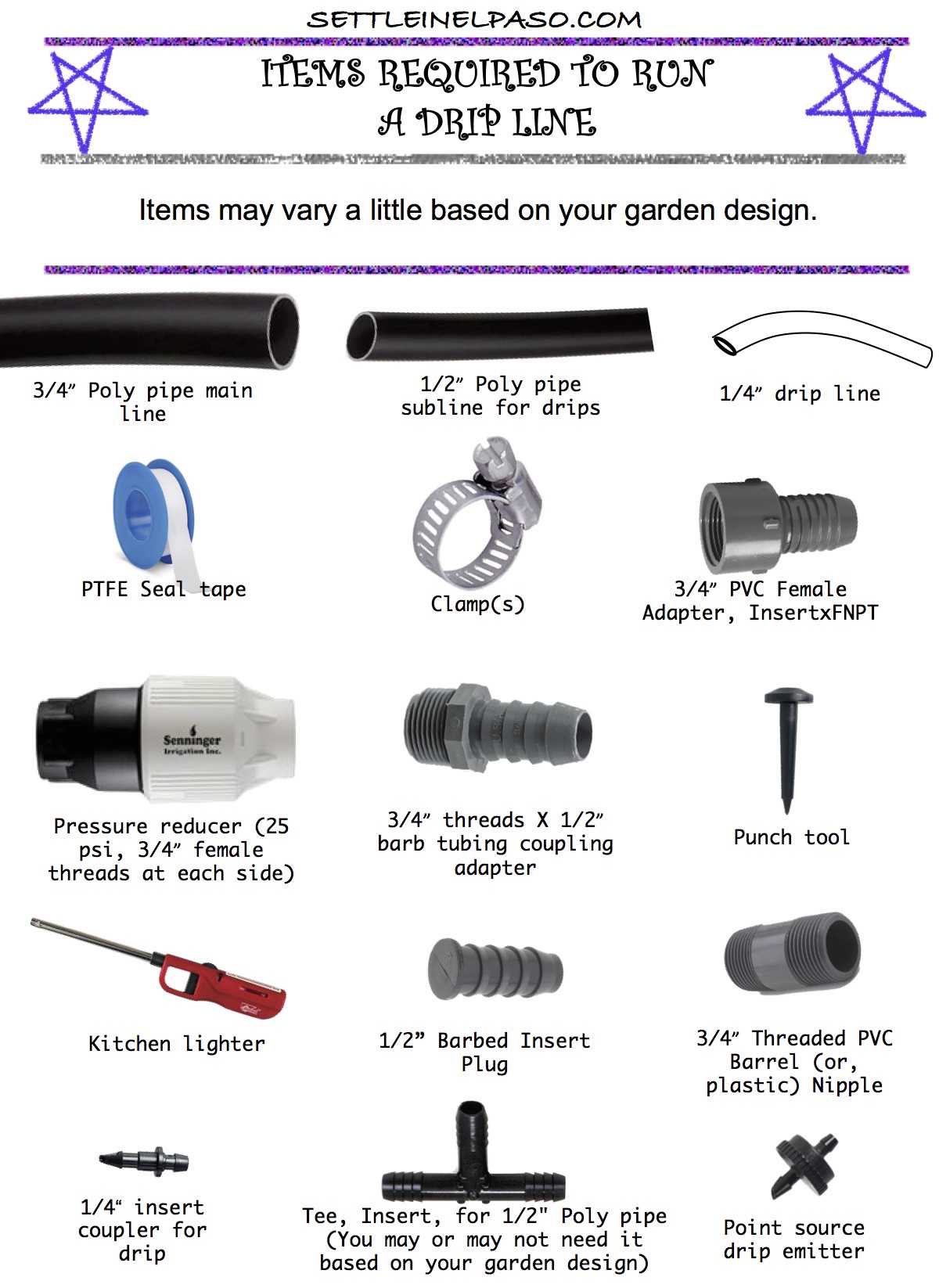 As a note, the items may vary based on your garden orientation. For example, I needed a Tee-connector because I needed to spread the drip line in two opposite directions. You may not need it.
The home line generally has 70 to 100 psi pressure, which is good for sprinklers but not recommended for drips. The preferred water-pressure for a garden drip system is 25 psi.
More pressure damages the drip emitters in the long run. Moreover, the idea of a drip system is to use slow irrigation, not a fast one. This is why we need a pressure reducer.
I purchased a pressure reducer from Lowe's. I am sure it is available at Home Depot too. An Amazon link for a pressure reducer is here: Pressure Regulator, 3/4-Inch Female Pipe Thread.
What type of clamps do I need?
We need clamps to seal poly pipe joints or when we connect poly pipes with any barbed fitting. There are several types of clamps. The most common one (not shown in the picture) needs a clamp tool to tighten it. I prefer the screw-clamps, commonly known as Stainless Steel Hose Clamps. A sample screw clamp is shown in the picture above.
The benefits of a clamp with a screw are three-fold: (1) you don't need the clamp tool, (2) it is easy to use a screwdriver to tighten and loosen the clamp, and (3) clamps with screws are reusable. A drawback is that screw-clamps are a bit more expensive than the regular ones. I felt that the extra expense is worth the convenience.
As illustrated in the following figure, the clamps seal the connections between barbed fittings with the poly pipes.

You may need to heat up the poly pipe-end with a lighter to insert a barbed fitting into the poly pipe. After inserting the fitting, place the clamp around the end-edge of the poly pipe and screw-tighten the clamp. This will seal the joint.
Please make sure to buy clamps that will even fit a little larger pipes than the pipe you have. If I have a pipe of 1/2″ diameter, I would purchase a clamp that fits pipes in the range of 1/2″ to 3/4″ or bigger. This is because sometimes it is hard to fit a clamp ranging from 1/4″ to 1/2″ to a pipe of 1/2″ diameter.
Are there varieties of drip emitters?
There are too many varieties. We started with a simple one — a point source drip emitter.
Some emitters will release one gallon of water in an hour, some may release two gallons per hour.
You will need to choose the right emitters based on how long you want to run the drip system using your irrigation controller and how much water the plants need.
What is a punch tool?
A punch tool is used to create a hole on the 1/2″ poly pipe so that you can run a 1/4″ drip line from it. After punching the hole, one end of a 1/4″ insert-coupler will go inside the hole and the other end of the coupler will go inside one end of a 1/4″ drip line.
How can I really install this dripping system?
Now that you have an idea about the items needed, you can easily set up a drip irrigation system based on the layout of your garden. The backbone of the drip system is generally a 1/2″ poly pipe because it is easier to handle 1/2″ poly pipes than 3/4″ or larger lines.
We can easily create holes on 1/2″ poly pipes to run the 1/4″ drip lines. We installed a dripping system that has the following setting. The instructions are provided with the picture.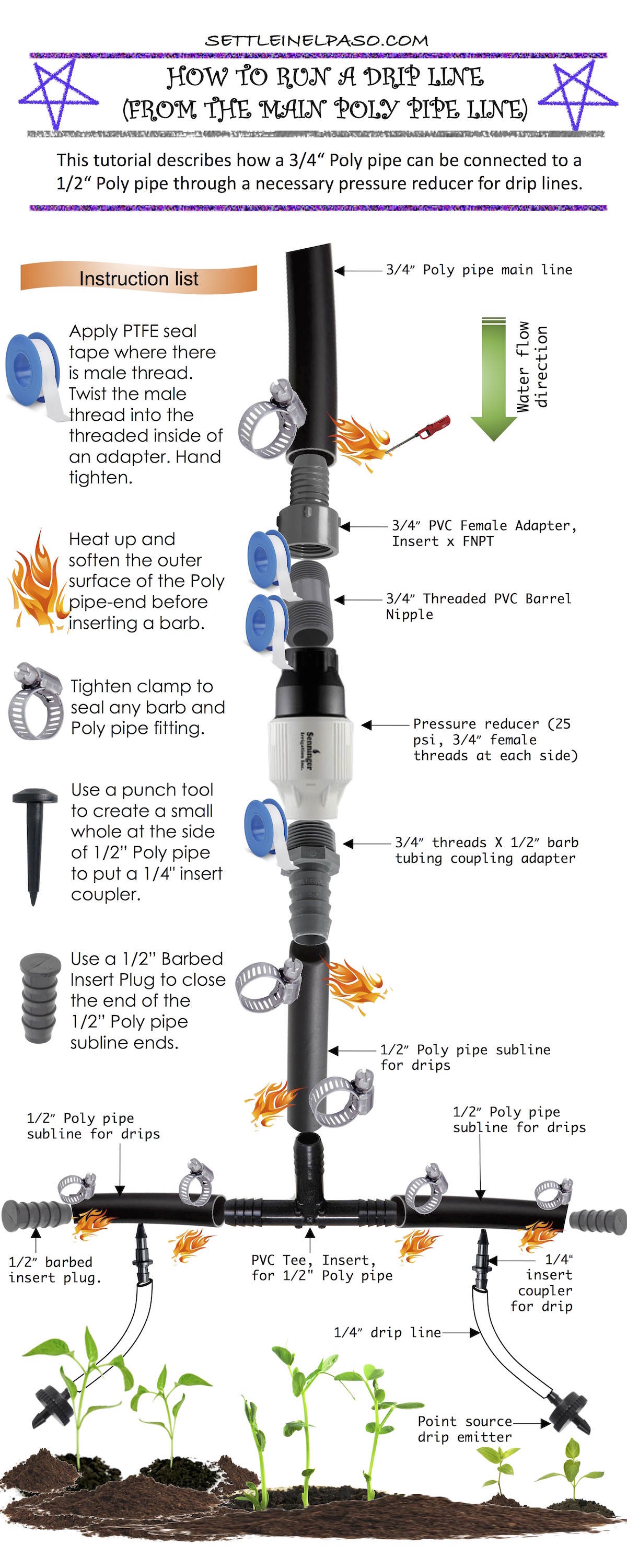 A PDF version can be downloaded from this link for printing.
Irrigation DIY is of great fun and something that can be enjoyed with the whole family. To our experience, the hardest parts are knowing the right tools and planning. The "doing" part is not that difficult. If we can do it, I am confident to say, anyone can do it. 🙂
Concluding remarks
We are a bit late in posting our drip line irrigation DIY. Who will do this DIY in Fall — unless someone is living in the Chihuahuan desert? That is not the point. The information will remain here for the coming Spring. So many more tales to tell in the meantime …
Other posts on gardening
---
Subscribe to receive notifications on our new posts.
<!–– Smart auto google ad ––>