Free printables
This page contains some free printables (PDF). All the printables are of high resolution. Feel free to print as many copies as you want on papers. Feel free to sell the printed copies. Just do not upload any PDF or an image created from the PDF on any other website. You can upload on your site only when you put a link back to this page as an attribution.
I am not weird. I am limited edition.
Click the image below to get the PDF posters. There are three versions of the same text in three pages of the PDF. The poster represents the power of being different. "Different" does not mean "weird". Let's embrace "different" as "special" or "limited edition".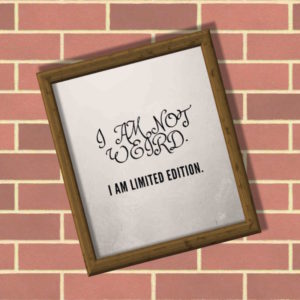 Nothing is going right. Go left
This is another funny poster that can make your wall shine, when set with a dark contrast. Click on the image below to get the PDF.
Locomotive
"The Locomotive" poster art is digitally created. It provides a nice "old-days" look when printed on paper and displayed on a wall. The PDF image itself contains a canvas texture. Click on the image below to download the PDF file directly.