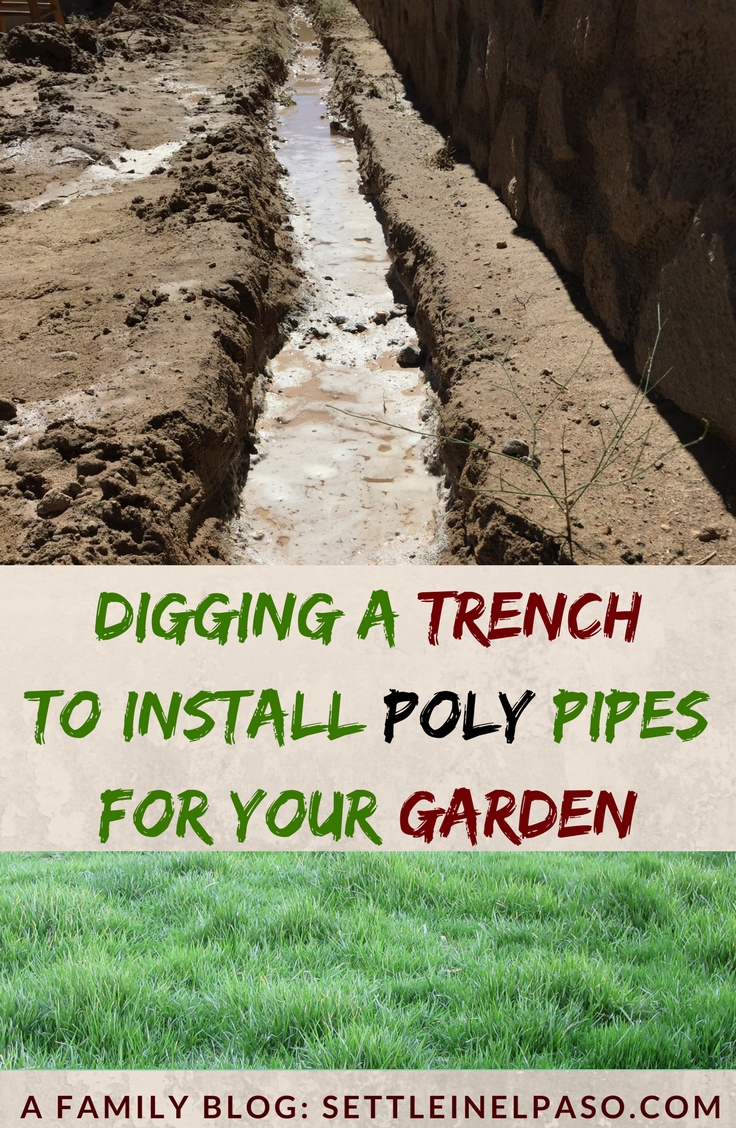 Digging a trench in the backyard for sprinklers can be a daunting task if the soil is rocky and if you do not own or rent a trencher. Now, why on earth will you dig a trench without a trencher. Well, since you asked, … here are a few reasons:
Your local hardware shops do not have a trencher that you can rent. I checked Home Depot in the Westside of El Paso. They do not have a trencher for rent.
You might not have a truck to carry a trencher to home and back to the store. That means extra cost to transport the trencher especially if you need a heavy-duty one for your backyard. Yes, you might need a heavy-duty trencher if you live close to the mountains, especially like the one we have — the Franklin Mountain of El Paso. Your backyard is full of sand, pebbles, and boulders.
You are like me (and I am like you). You do not want to hire people. Your budget is limited. You are willing to learn something that you never did before. Also, you are willing to do some heavy exercise. 🙂 Welcome! This post will be helpful for you, especially if you watch the video provided with this post.
This post contains Amazon affiliate links, the meaning of which is that if anyone purchases anything using the Amazon links in this post, we will receive a commission with no additional cost from the buyer's side.
Digging a trench needs some preparation that I learned over time. I am highlighting these items under the following headings.
Dress up for trenching
No. I am not kidding. Digging a trench has a dress code. 108° Fahrenheit temperature of El Paso in summer is not something that we can ignore. I am itemizing some preparations in the space below.
 Regular shirt
A long-sleeve shirt is better than a half shirt. You might be surprised by my suggestion. When the temperature is above a hundred degree Fahrenheit, it does not matter whether you wear a half or a full shirt. If you are going to work directly under the sun, it is better to wear a full shirt because it will cover your hands and save them from direct ultraviolet ray exposure.
 Under shirt
I put on an under shirt (tank) under the regular shirt. The tank soaks up the sweat and I feel lesser discomfort.
 Jeans trousers
It is summer. I will work in the backyard. Wearing shorts is tempting. Despite the temptation, please do not wear shorts while digging a trench during summer days. Use a pair of trousers. The target is to keep as much of the body covered as possible. I prefer jeans. Kneeling in jeans on the ground is less painful than kneeling in the bare knee or regular trousers.
 Hat
Wearing a hat is a must. You will be exposed to direct sun for a long time. Saving the head is crucial, at least I felt that way in ten minutes.
 Shoes
Wear comfortable shoes that bend a bit. I generally use light running shoes. I purchased a pair only to be used for gardening. This is because … well … you will understand after digging a trench.
 Gloves
You will need to use the shovel for an extended period of time, which may result in blisters on hands. A pair of gloves will protect hands from excessive friction with the shovel handle. A leather pair is preferable. Assuming that the soil has some boulders and you will need to move them, the gloves will save your nails and skin. I found some inexpensive leather gloves in Walmart's gardening section. If I remember correctly, a pair was two dollars only.
Sunscreen
Yes. I understand. You are the trenching man or woman. You are strong. I understand your steadfast refusal or forgetfulness to wear sunscreen. Trust me on this. You will feel the burning sensation if you are out there without sunscreen for more than fifteen minutes at a stretch. Sunburn may lead to fever, nausea, and fatigue. I request you to pick up the tube and generously apply sunscreen on your face, neck, and any uncovered part of the body. SPF-50 is preferred.
Drink plenty of water
I am cautious about this because I do not want to get dehydrated. I drink around a liter of water every hour when I am working in the backyard under the sun during summer. Sometimes I drink more than that. Drinking water round the clock every fifteen minutes or so keeps me fresh and energetic.
Apparatus we needed for trenching
I have taken this long to come to the point. Here is the list of apparatus you will need. These are all easily available and inexpensive tools that are handy in trenching in my experience when you do not have a trencher.
How to dig a trench without a trencher
Plan and mark your trench-line. I am assuming that you have an outdoor garden faucet. Attach the nozzle to the hose and spray using the Jet-setting of the nozzle on the marked lines. Voilà! You can dig around four to six inches using the hose alone if the soil is sandy and partly rocky. When you detect boulders, thoroughly water the surrounding to remove sand and pebbles. This will loosen the boulder. You will then be able to remove it. Watch the following video to find how I dug 6″ to 10″ deep and around 120 feet long trench for sprinklers in our backyard. I spent 15 hours to dig this 120 feet long trench. These 15 hours were spanning four days. Most of the 15 hours were spent on digging the rocks out of the wet trench.
I will place the poly pipes in the trench soon. The poly pipes will carry water to the sprinklers I will install. I am planning on documenting the entire backyard irrigation set up in several posts. We never worked on sprinklers and backyard irrigation before. Therefore, the process we will describe will not be an expert's opinion. Instead, it will be a naive way of doing it. Stay tuned to learn more about our affordable process of backyard irrigation. In the meantime, please share your thoughts or suggestions.
Other posts on gardening
---
Subscribe to receive our newsletters and notifications on new posts. Your email address is safe with us. It will not be distributed to any third-party.