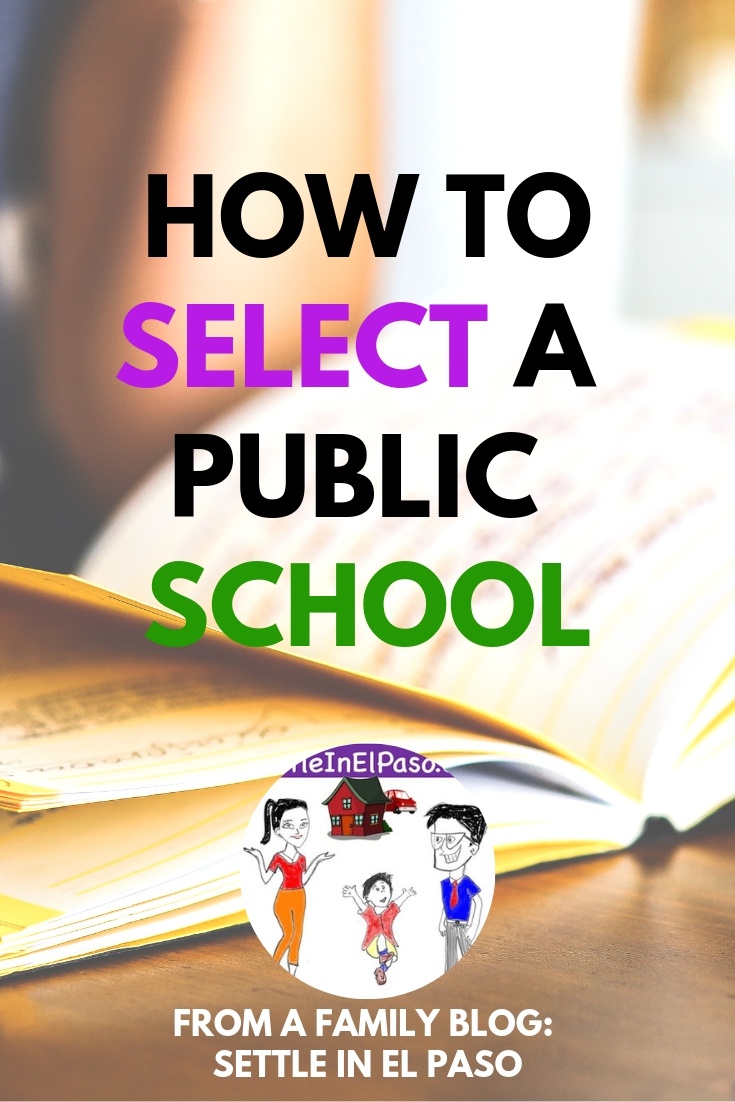 How to select a school or a school district is a difficult question. There are too many parameters involved. Selection of a school sometimes depends on the type of school — public or private.
Private and public schools
Let us discuss a little bit about these two types of schools.
Private schools:
If you are leaning toward private schools then 90% of your problem is already solved. You choose the private school based on the ranking, what location is convenient for you, and of course how much you will be paying per year. Please make sure to talk to the counselor or the principal before you sign a contract for the whole year. The tradeoff between a private school and a public school to us is basically a choice between the following two items: (a) securing lesser amount of college fund assuming that our child will be able to manage scholarships for college, and (b) securing a bigger college fund to make sure that we will be able to support undergraduate studies of our child in a good university when time will come. I think this is the tradeoff most families think about.
Also among the private schools, there are Catholic and general schools. Answer to which school is preferable depends on family values.
Public schools:
All public schools are subsidized by the state and therefore they are more affordable for fixed/limited income families like ours. School district is crucial when it comes to selecting a public school. We are, at this moment, mostly talking about elementary schools. High schools and middle schools have bigger geo-range and they have more flexibility in terms of the zone boundary.
Elementary school zones are smaller in size and you do not have much of a choice but to send your child to the elementary school of your zone of residence. Of course, you can send your child to another school but there is a particular set of complexities associated with that. If the other school is in another school district, parents will have to make a transfer agreement with the school district, in which case the receiving school district may charge a tuition fee.
If the other school is in the same school district, the office of the receiving school can arrange the school transfer. Of course, the receiving school must have enough resources to accommodate another student.
The paperwork has to be submitted every year in case a different school than the school zone of the residence is chosen. Texas Education Agency maintains a frequently asked questions page on school districts, which you might find very informative. I am sure all states have their own web pages.
Private school vs. public school
Private versus public is a well-discussed debate that has been in the literature for quite some time. Please see the article in this link, published in greatschools.org to learn more about the public and private school conundrum. Anyway, the purpose of our article today is not to raise the debate again, rather explain the options and let you know which path we are following. We will definitely NOT tell which school we have chosen but we will indeed say how we selected it. The most important idea is, all parents must do whatever they think is most appropriate for their kids and their family. No one else knows what is appropriate for a specific family. Therefore, the decision of which school to choose should be primarily driven by the analysis done by the parents.
What this article is about
In this post, we will explain the parameters we considered crucial when we choose a school for our child. Yes, we decided that we will send our son to a public school. Note that, if you are in the most suitable school zone then you will have both the options open. You can first try the public school since you are already there. If you are not satisfied, you can move to an affordable private school. Note that such a strategy can be sometimes quite expensive. A house in the best school area may cost 10% to 30% more than a similar house in another area. If a family of fixed income purchases an expensive house to ensure a great school, and afterward sends the kids to a private school, the sack for college fund will become lite.
Private schools do not have restrictions on the location of residence. Let us talk about how can we select a public school. The method can be used to select a private school as well. We now assume that the parents are currently renting and willing to move to a school district of their liking. The move can be by renting a house or an apartment in the preferred school area or through a more permanent solution — buying a house or an apartment within the preferred school district. OR, The family is in a city like El Paso, where transfer to another school is still an option.
The first step is to come up with a short list of schools. When we did this, we came up with a shortlist based on our job locations. Once we had the shortlist, we focused on the following items to evaluate the schools. The evaluation is somewhat qualitative with some quantitative elements.
Gifted Talented Education
What percentage of students enter the Gifted and Talented (G/T) program? Every public school has a G/T program as required by the state. The G/T program selects a group of students based on some kind of aptitude test. It promotes self-directed learning, research abilities, and leadership skills of the selected students. The more students are allowed in the G/T program the better chances a child has to be in the program.
Additionally, it is crucial to know about the curriculum of the general education who are not in the G/T program. There is no way one can predict whether a child will enter a G/T program or not. There is an entrance exam for the Gifted and Talented program. Sometimes parents might not be interested in the G/T program regardless of talents a child may have. Therefore, parents need to understand the quality of the curricula of both the general and the G/T programs.
Test Scores
Every public school needs to maintain a standard. There are standard assessments monitored by state agencies. For Texas, Texas Education Agency monitors and keeps record of State of Texas Assessments of Academic Readiness (STAAR) tests.
The tests are designed to assess different quality parameters in different grades for multiple subjects including English, Math, and Science. We have provided median scores recorded in different years in several grades of four Elementary schools in the table below. Most of the information pieces are publicly available.
Diversity
Diversity is one of the most powerful aspects of our nation. We believe that the more diversified the ethnicity of the students of a school is the better are the chances of learning from each other.
Student Teacher Ratio
This is an important feature that indicates how much care a child will get in the classroom. Our finding is that this ratio does not vary too much from school to school in El Paso, at least not for the shortlisted schools we have. There is probably a strict requirement to maintain this ratio.
After-school Care
Many working parents like ourselves are worried about childcare for two to three hours after regular school. Some parents prefer sitters while others prefer group care. YWCA provides after-school care in many of the elementary schools in El Paso. The tuition fees in these after-school programs are quite affordable. Students will not need to leave the campus because childcare providers from YWCA come to the school facilities every day.
Analyzing the School Report Cards
Every school has a school report card that illustrates the performance of the school. For Texas, School Report Card is published by the Texas Education Agency. I am sure other states have agencies that publish similar school report cards. All the report cards (PDF format) for the 2014-2015 academic year for the four schools we shortlisted are provided in the links below.
You can visit this link to retrieve the latest report cards of the schools in your shortlist.
Location
After our preliminary analysis, we decided that we will do a thorough comparative analysis between Polk Elementary School, Marguerite J Lundy Elementary School, Tippin Elementary School, and Mesita Elementary School. If you are from El Paso (the city where we live), you might have noticed that all these shortlisted schools are in the Westside. This is because we work in the westside. The process of selecting a school is more important than the area of our case study. When you will do the analysis, choose schools from your region of convenience.
Putting it all together
The Internet today is the best information provider. We collected most of the raw data about schools in El Paso from har.com and greatschools.org. We created an Excel file and came up with the following table. The table compares all the features side by side. Note that each family is different and may have many other additional parameters.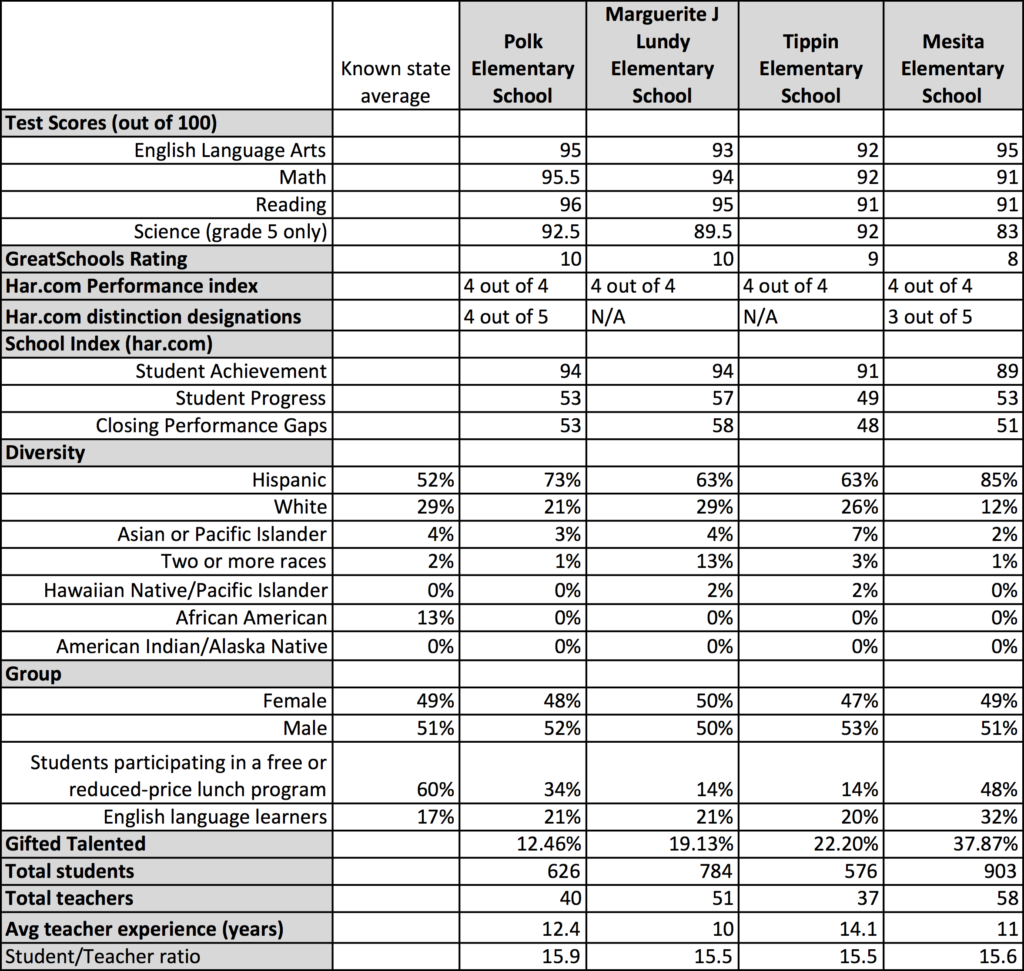 Once we created the table above and considered a few neighborhood-related preferences, it became easier for us to decide in which school zone we would like to settle into.
There are several Montessori schools in El Paso which at first we considered for our child but later removed from our list because of the expense and college fund tradeoff, as mentioned earlier. Moreover, after taking a look at a few of the Montessori schools we felt that we are leaning more toward the traditional education system. This is why an analysis of the schools in El Paso became a necessity.
Concluding remarks about selecting a school
After we knew which school we will target, we started to search for a house in that school zone. So far, we had been renting in another neighborhood. We will leave — How to organize a house shopping effort — for another time. Meantime, please feel free to ask us any question through the Comments section below.
Note: The links that we found helpful for our analysis are as follows:
Relevant articles
---
Subscribe to receive notifications on our new posts.
<!–– Smart auto google ad ––>