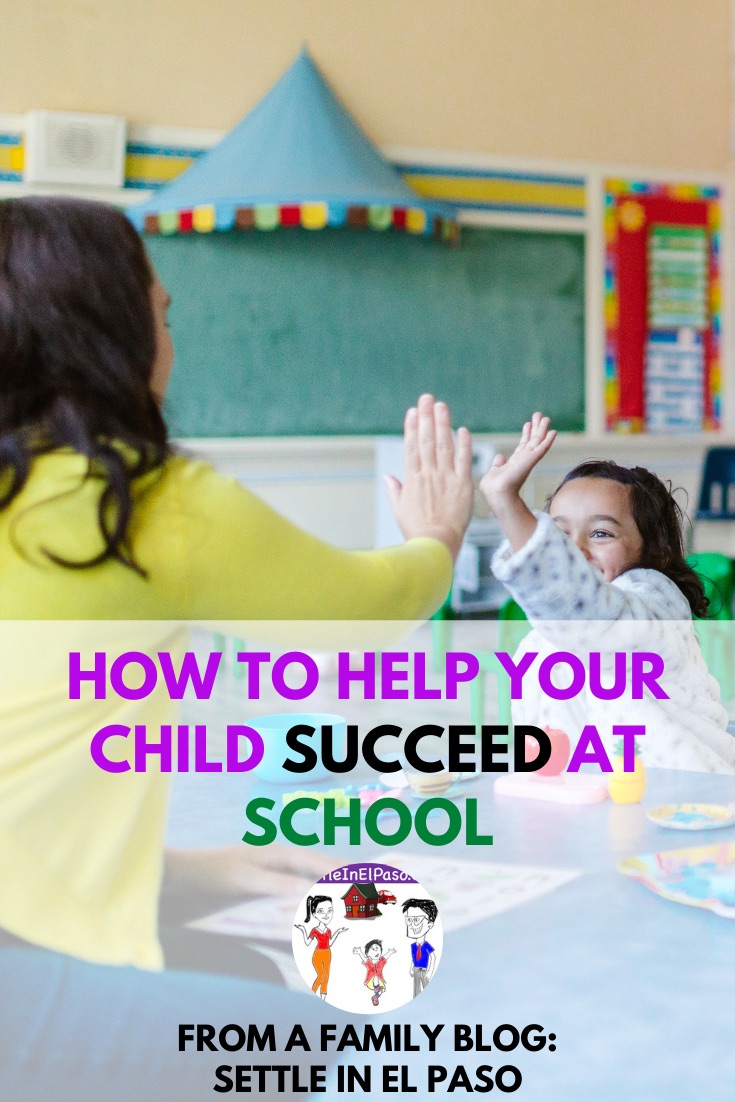 As parents, we have an excellent opportunity to help our children learn, grow and thrive. Of course, helping children succeed at school starts with assisting them in understanding school. We can help our children understand their own needs in a classroom, such as requesting the teacher to repeat something for better clarification. We can also talk to our children about how the school day runs and what is required of them to succeed. In addition, a home is a place where many other items need to be practiced to foster a child's academic growth. 
Here are some tips for helping your child succeed at school.
Learn about school and your child's education
Talk with your child's teacher about school and school programs, including class schedules, homework expectations, and what teachers expect from students. Remember that teachers are always busy, yet they are willing to communicate with parents. Be brief and respectful about their time. It is always good to ask the teacher a generic question — is there anything I can do at home to help my child succeed in school? Your target is to help your child develop academically, and you want to be a part of your child's education. We need to let the teachers help us foster our children's academic development beyond the classroom. 
Make sure your child has a good understanding of the school curriculum
When children are in elementary school, we might think that our children will not understand the complexities of the curriculum of the grade they are in. The fact is that they understand the curriculum very well if communicated with them about it. Try to figure out what topics will be covered in the school year. Talk to your child about how the topics will help them in the years to come.
Science, math, social science, arts — whatever subjects are covered — speak with your child about those subjects, and try to incorporate discussions into daily life. The discussion can be as simple as calculating grocery expenditure during shopping or as involved as a science experiment during the weekend. 
Remain involved: Don't wait until you have no more time to help
Remaining involved in your child's education will help your child develop into a well-rounded, productive person. 
Remain actively involved in your child's education, whether it's studying for school tests, helping with their school projects, or discussing homework topics. Encourage your child to start solving homework problems early. Do not wait until you have no more time to help your child. 
If a child is struggling with a subject, then a parent can help by making notes and offering suggestions. A parent can also help the child study for exams by reading the textbook with him or her, making flashcards, and even giving him or her practice tests.
Overall, encourage your child to talk to you about their school work. It's not about being a helicopter parent. It's about being a smart parent. It's about knowing your child's needs and providing them with the support that they need to succeed. If you do this, your children will thank you for it one day.
Be a good listener: Talk to your child about school
Encourage your child to talk to you about school. This will help your child to understand how important school is. You can discuss with your child any bad or good experience she/he had in school. The discussions will make your child comfortable speaking with you about her/his life, in general. Regardless to mention that you will be able to learn who are your child's friends in school and if there is a class bully.
Children spend many hours each day at school, whether they attend a preschool, elementary school, or secondary school. It is important to celebrate children's achievements at school and make sure they feel valued. Whether your child is excelling academically, making friends, playing sports, or doing well in the arts, celebrate all aspects of your child's success. Celebrating a success need not be overly glorifying. It can be a simple "thank you" with an explanation of why the child deserves to be thanked. 
Get help if needed: Have a good support network
If your child is having trouble understanding a subject or struggling to meet school requirements, find out who can help. Talk with your child's teacher and find out about educational services in your community. Parental denial of the weakness of our children will not help them — getting the proper help will. 
It's a good idea to talk with the school counselor. He or she will be able to tell you what your child needs to do to improve academic skills. You should also talk to your child's pediatrician. The doctor can give you ideas on how to help your child or refer your child to a counselor.
Do not shy away from speaking with other parents regarding help. A vibrant network of parents of children of similar age has the potential to help each other improve their children's academic skills. One parent might help study science, whereas another parent can tutor math topics. A part of socializing between families can be dedicated to helping each other's children in academic skill development. 
The summary is that when it comes to getting help for your child, you should have a support system in place for your child. The support system may include a network of parents, a tutor, a counselor, or an educational psychologist. 
Have a positive attitude: Let your child know that you will always be there for him/her
Let your child know that you will always be there for him/her. You can seek the help of other people or professionals if you feel that you cannot have positive conversations with your child. However, it is best if you can have a positive attitude when it comes to discussions with your children. If your child is having a hard time in school, it is better not to get angry at him/her. Rather, help your child improve by creating a flourishing environment at home. The negative attitude of parents will only make the child feel unloved and frustrated. 
Reading together with your child is one of the best ways to support their learning and their development. Reading is a great way to bond with children. Reading to your child will help her/him to develop a love for reading. You can start with simple picture books at an early age and then move on to more complex literature as your child grows up.
Spend quality time with your child
Reading together is not the only way to spend quality time with a child. Spend some quality time with your child every day. You can spend time with your child by playing with her/him. This will help your child to see that you love him/her.
You can spend time with your child by taking her/him to the zoo. You can take your child to the nearby beach or to a swimming pool. You can go fishing with your child. You can take your child to a museum. You can go to a park or to a playground. You can even play tic-tac-toe with your child. Your child's education fostered from school and whatever activities you initiate are intertwined. In summary, whatever you will do with your child will be helpful to her/him. 
Find out about the school rules and regulations
Understand the rules and regulations that apply to your child in school. Some schools may have a dress code, while others prohibit cell phones or other electronic devices. They may also have safety rules that apply to your child. Explain the necessity of the rules to your child to make sure that your child is respectful of the rules. 
Support your child's interests
It's important to support your child's interests, especially when younger. By supporting their interests, you will help your children to excel in the future. After-school programs allow children to pursue a special interest outside of the typical educational curriculum, including sports, the arts, special-interest clubs, and technology. Encouraging children to join some after-school activities is one way of finding out if a particular activity excites them. Your child's interests may change as they grow older, so be sure to check with them before enrolling them in any activities. 
Keep on learning new things. Help your child learn something new every day. Parents and children can learn about new cultures. They can learn about animal behavior by watching documentaries on animal lives. They can read books together to learn about fossils, rocks, and nature. Learning about the planet is no more a challenge as it was a few decades ago. Learning is at our fingertips with the advent of the internet. Each new element learned each day, with your support, will help your child grow as a knowledgeable and compassionate human being.