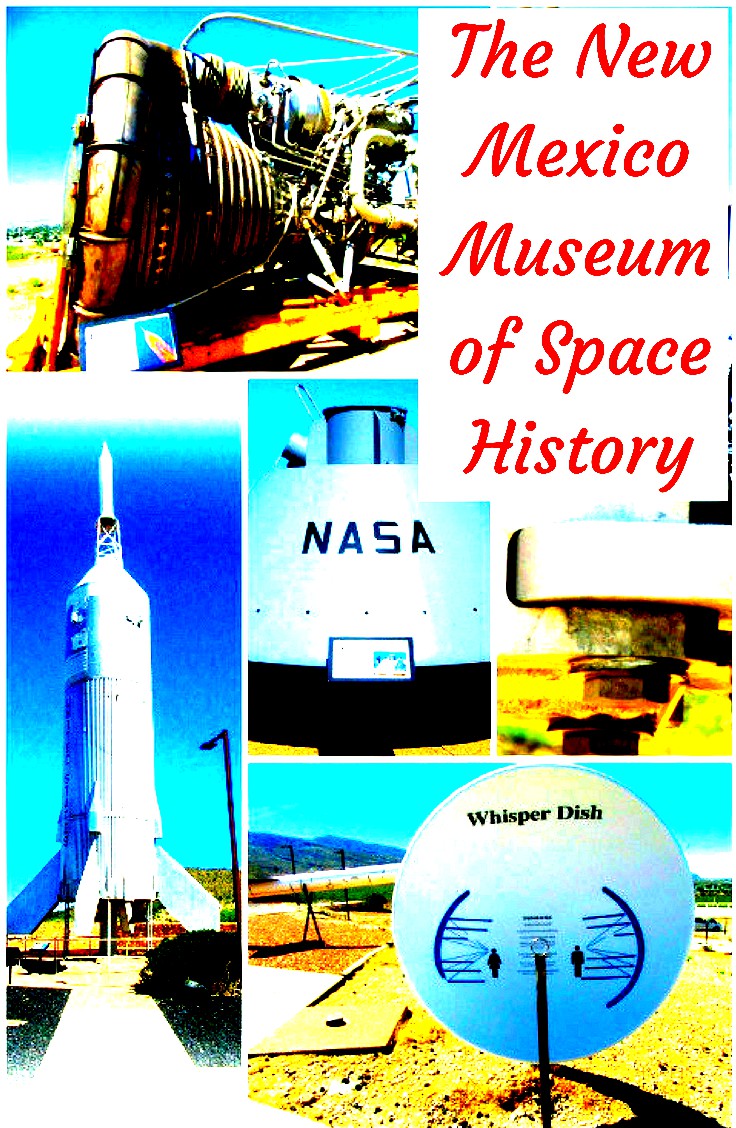 Living in El Paso, Texas has the charm of being close to many attractions. Not that we are travel-addict — rather quite the contrary. Just that — going here and there helps to charge up for some days. Moreover, Dear Son needs to see things, we want to create memories, and gather some tales to tell for the future. That being said, long drives irritate Dear Son and probably all five-year-old kids.
Although long drives are becoming better as Dear Son is growing up, we make sure to prepare well when we go for a day-long drive. Anyway, this post is not about travel preparation. Rather it is a story of a trip to a nearby place from our home.
New Mexico Museum of Space History is in Alamogordo, New Mexico and is only around 96 miles from our place in El Paso. It is a less-than-two-hours' drive — suitable to travel without planning to stop anywhere. If you are lucky, the journey will end before a tantrum-session of a little one starts. 🙂 Moreover, Dear Son's fascination (or maybe obsession) with aircraft and space makes this place one of his favorites. If you like to watch movie trailers, here is one for our visit to the New Mexico Museum of Space History.

An added benefit to visiting Alamogordo is that there are many other excitements around, such as,
Toy Train Depot of Alamogordo
,
White Sands National Monuments
, and
Alameda Park Zoo
. This post only focuses on the
New Mexico Museum of Space History
.
A brief history of the museum
The museum was created as the International Space Hall of Fame in 1976. The name changed to Space Center in 1987. Later it 2001 the museum got its current name — New Mexico Museum of Space History. The museum hosts many artifacts of historical space flights, space travel training modules, as well as structures of many space shuttles, rockets, and missiles.
The components of the museum
The museum has eight parts as the welcome leaflet describes. The parts are:
Theater and planetarium:
The planetarium has a full-dome projector system. The featured events here are — large screen films, planetarium shows, and live star talks.
John P. Stapp Air and Space Park:
This is an exciting park containing missiles, space shuttles, engines, and large artifacts. This is Dear Son's most favorite part of the museum.
Main exhibits building:
This is basically the main four-floor museum. You will find many interesting artifacts in this building including parts of space shuttles, engines, food items consumed during space travel, space suits, a hall of fame, moon rocks, boxes used to collect the moon rocks, and many many other pieces of artifacts.
Burial site of HAM:
New Mexico Museum of Space History has the burial site of the first astrochimp HAM.
Trail:
This is a 0.7-mile trail. There are signs — be aware of snakes. It is a must to be careful about wildlife while on the trail. I won't go much far on the trail with Dear Son. That is not because it is a rough trail but because I am an extra-timid person when Dear Son is with me.
Astronaut memorial garden:
This is a memorial garden for the lives humankind lost in Apollo 1, The Space Shuttle Challenger, and Columbia.
Daisy track exhibit:
This is a display of large equipment to test impact of G-force on human body. G-force is the acceleration felt in the opposite direction to the actual accelerating object. I think I have understood what it is. 🙂 You might have read it in science-fiction books or seen it in the movies – like the weight of the body is multiplied by some magnitude when the spaceship leaves a planet's gravity. The space travelers tightly fasten themselves with their special seats and tolerate the pain by grinding their teeth. I think G-force is that opposite force that increases the weight of an object. Daisy track displays the machines to simulate such forces and test the body's tolerance to G-force.
Hubbard archive, library, and research center:
It has some small artifacts, photos, and many documents. The library has a large collection of space science books.
Admission rates
The museum alone has $8 entrance fee per adult. The film requires $8 and planetarium $6. A combo of $16 includes all three: museum, film, and planetarium. (The rates were checked in March of 2019.)
John P. Stapp Air and Space Park, Burial site of HAM, Trail, Astronaut memorial garden, and Daisy track exhibit are outdoor. When we pass by Alamogordo, sometimes we enjoy a quick trip to the John P. Stapp Air and Space Park, which is Dear Son's most favorite part of the museum. No admission fee is required to visit the outdoor parts. Fees are for the main museum building, film, and planetarium.
I am providing descriptions of a few items in the space below.
John P. Stapp Air and Space Park
I took the following picture from the third floor of the main museum building. The picture covers a part of the John P. Stapp Air and Space Park. The park is full of so cool artifacts that any toddler, preschooler, or kindergartener would love to consider it as a playground.

While kids may think this is their playground, all the things here are pretty serious. I do not mean normal serious, I mean missile-like serious. The park has rocket engines, missiles, a missile tracking telescope, rockets, large broken pieces of space shuttles, parts of space crafts, Apollo Command Module, and several training modules.
Two items caught Dear Son's attention — Whisper Dish and Apollo Launch Escape System test rocker Little Joe 2.
Whisper dish
There are two white dishes in the open area, far away from one another. Apparently, simple and innocent. If you are in front of one dish, whispering bad things about your friend, and your friend is in front of the other dish — your friend will hear you clear and loud, even if you just whispered. This is what whisper dishes do — amplify the sound created near the other dish. It is not electrical, rather it is all based on reflection of sound waves.
This slideshow requires JavaScript.
Little Joe 2
Many experiments were conducted before Apollo 11 was launched in 1969 for landing humans on the moon. The solid-fueled Little Joe 2 was used to test the Apollo Launch Escape System and verify the performance of the command module parachutes, as described on the sign in front of the large Little Joe 2 of the New Mexico Museum of Space History. This huge rocket is a big attraction to many kids.
This slideshow requires JavaScript.
Five Little Joe 2 tests were conducted between 1963 and 1966. Little Joe 2 was powered by nine rocket motors. Once it roared to help mankind study the sky and put footsteps on the moon. Birds have made nests in the wings of Little Joe 2 today (Literally. See the picture above.) but its royalty has not diminished even a bit.
The main museum building
Four floors of a building are used to display space artifacts. There is a gift shop on the ground floor. Visitors pay admission fees on the ground floor too. From moon rocks to dresses of astronauts, rocket engines to missile guidance platform, starships of the Star Trek to the pilot training module, space food to space toilet — every bit of it is exciting. Some pictures from the main museum building are given below.
This slideshow requires JavaScript.
The Star Trek collection and history are quite extensive. They even have a dummy transporter. Dear Son and Dear Dad did not miss a photo session on the transporter as you can see in the picture below.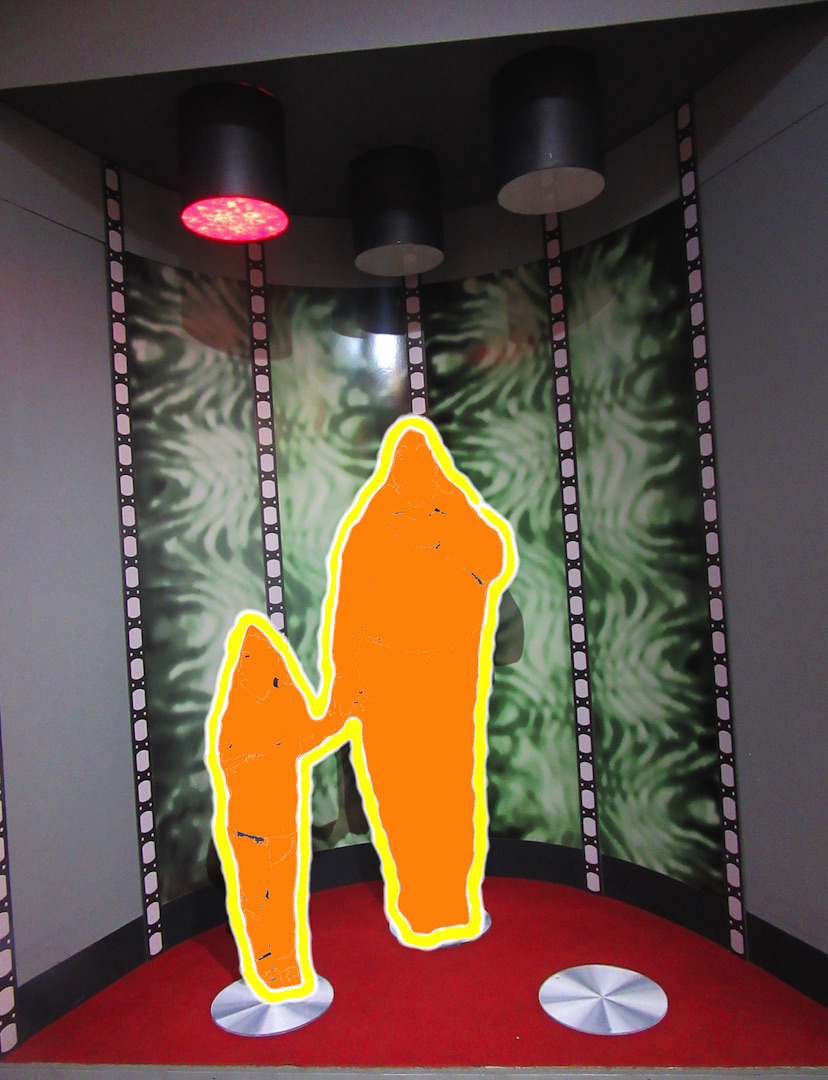 Astronaut Memorial Garden
Space travel did not become a success without a price. Humankind lost valuable lives.
Apollo 1's final goal was manned lunar landing. A fire inside Apollo shuttle during a test rehearsal killed all three astronauts in 1967.
All know about the 1986 Space Shuttle Challenger disaster. The space shuttle broke into pieces within 73 seconds after it started the flight. Seven astronauts died.
Space Shuttle Columbia broke apart in 2003 killing all its seven crew members. It was Columbia's 28th mission. All previous 27 space missions were successful.
Astronaut Memorial Garden is dedicated to the memory of those who perished in space missions.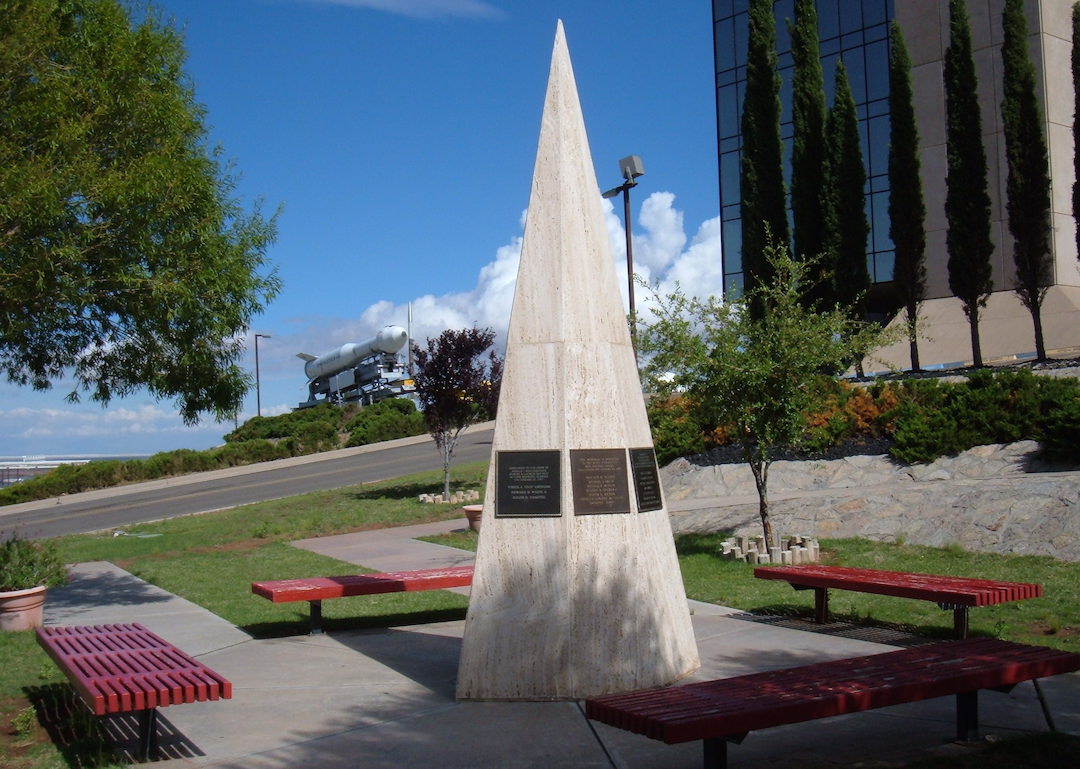 Burial site of HAM, the first astrochimp
The burial site of HAM reminds us that an astrochimp traveled through the space before humans. HAM's successful space travel on January 31, 1961 cleared the pathway for the first manned flight to space three months later. HAM died after twenty-two years, on January 18, 1983.
Concluding remarks
If you are around, pay a visit to New Mexico Museum of Space History. Do not forget the Toy Train Depot of Alamogordo. Then you may go to White Sands National Monument in minutes. Yes, its a lot of fun in a short distance.
Happy travel!
---
Subscribe to receive notifications on our new posts.
<!–– Smart auto google ad ––>