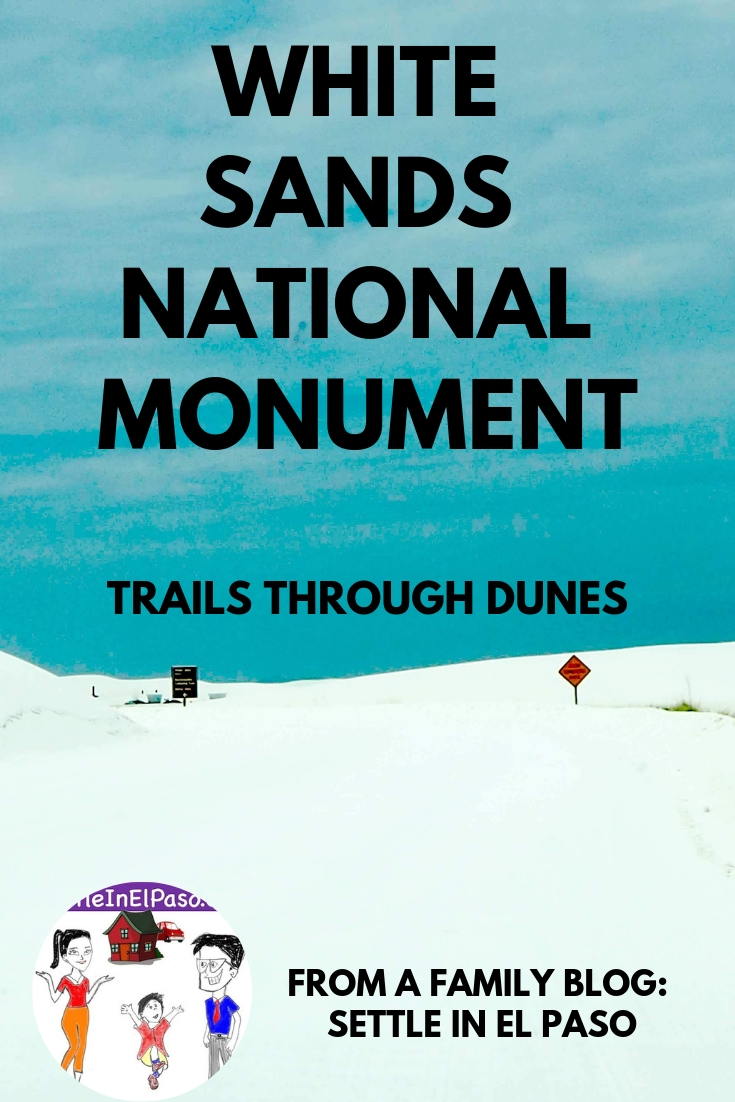 If you are in El Paso, you probably do not want to miss White Sands National Monument. In El Paso, if you meet relatives of your neighbors or friends, it is customary to ask them if they have visited White Sands. 🙂 White Sands National Monument is (technically) in the New Mexico state. However, El Pasoans call it an attraction of El Paso. White Sands National Monument is our common day-trip family getaway.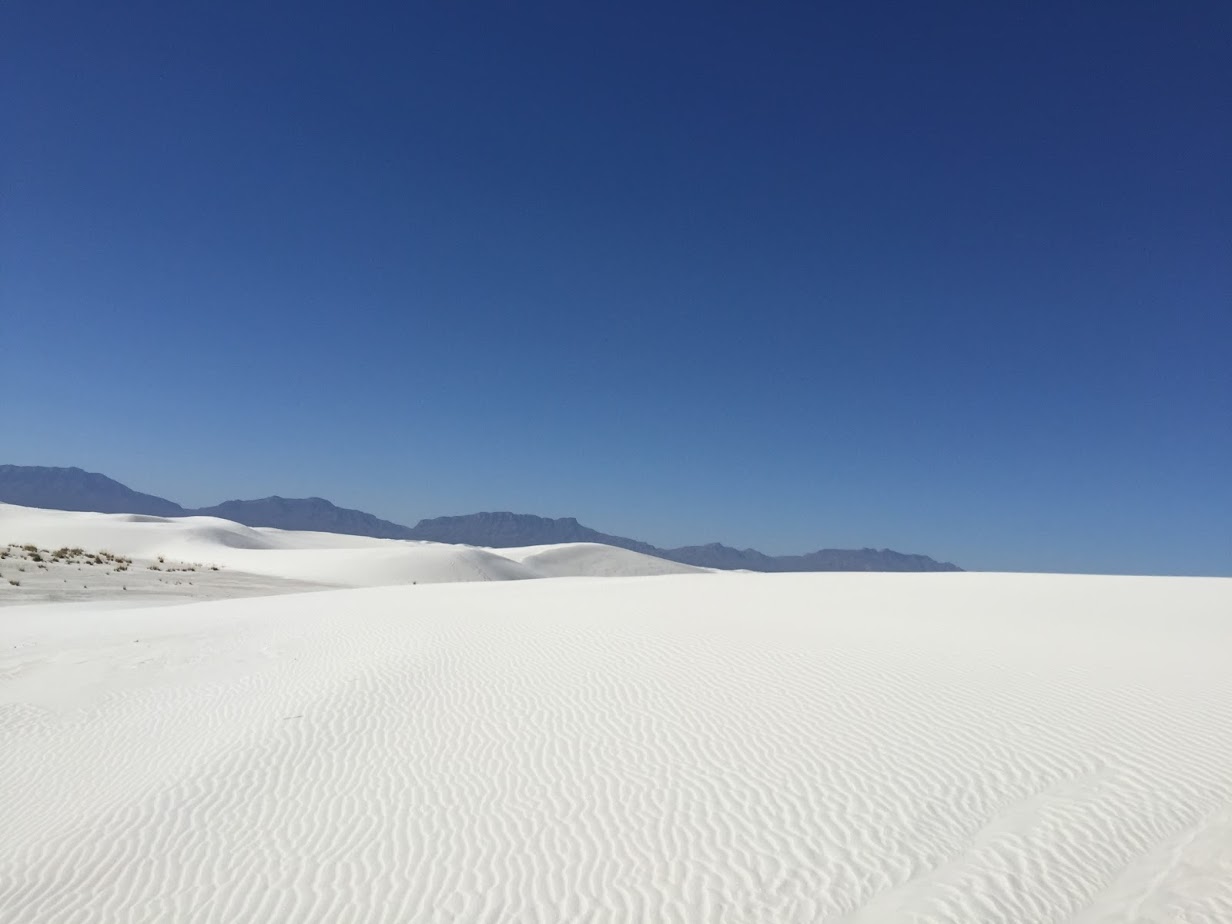 What is White Sands
I always become confused — is "White Sands" singular or plural? Well … since we know it as a location, let us use "White Sands" as a singular noun in this article.
White Sands is a 275 square miles of desert full of wavy dunes. It is in the New Mexico state. Gypsum sand makes the dunes all white. When you drive toward White Sands, you can see the boundary between the White Sands and non-White Sands, which is pretty amazing! 
The White Sands is in the Tularosa Basin of the northern Chihuahuan Desert. It is the largest gypsum dune field in the whole world. White Sands National Monument preserves a large portion of the dune-field and its lifeforms.
Best time to visit White Sands of New Mexico
September to April is the best time to visit the White Sands. Even August and May might be alright. December and early January would be a bit cold but still tolerable. I won't recommend visiting White Sands in the summer months of June and July. It is so hot at that time that it is hard to stay out of the car for more than ten minutes. If you must go there in the summer, evening or early morning would be the better times to see the dunes.
How far is White Sands from El Paso
White Sands National Monument is around 100 miles from the Westside of El Paso. It takes around 90 minutes to drive there.
There is a Department of Homeland Security checkpoint when you are about to reach White Sands. They might ask for photo ids of all adults. Definitely, foreign nationals must carry immigration-related documents if they plan to visit White Sands by driving from El Paso.
Lifeforms
There are lifeforms even in the desert. If you closely look at the surroundings, you will find footprints of animals. We saw footprints of birds only.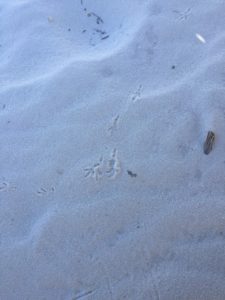 Along with birds, we were surprised to know that White Sands has amphibians and mammals. More surprisingly, it has fish. In the amphibian group, most common animals are Couch's Spadefoot Toad, Great Plains Toad, Mexican Spadefoot Toad, and Rio Grande Leopard Frog. Mammals like rabbits, foxes, coyotes, and bobcats consider White Sands as their safe home.
White Sands Pupfish is a small little fish and considered an endangered species. It is said that a lake filled the Tularosa Basin long ago. Whatever is left of the lake today is distributed among List River, Mound Spring, Salt Creek, and Malpais Spring. White Sands Pupfish is found only in these four waters around White Sands — nowhere else in the whole world.
Volunteers explain things
We saw a volunteer explaining how the dunes of White Sands were formed. You can look up things from the internet but hearing from a passionate senior volunteer was truly different, especially because she was using samples of rocks and other artifacts to explain Earth Science.
If you are lucky, you might find some volunteers explaining the footprints of different kinds of animals. Tracking animal footprints can be a fun activity for kids.
Interdune Boardwalk
There is a long Interdune Boardwalk at White Sands. Interdune Boardwalk is an elevated walkway that leads through some fragile sands to some scenic views. We could see the bird footprints on the sand from the Boardwalk. The Interdune Boardwalk is a roundtrip of less than half a mile. It is an easy walk even for kids. It is accessible for wheelchairs.
This slideshow requires JavaScript.
Driving through White Sands
The roundtrip through the dunes of White Sands is around 16 miles and takes 45 minutes to drive on a normal day. There is no shop or restaurant inside. Please make sure to keep snacks for kids and water for all.
This slideshow requires JavaScript.
There are a few shops, one of which is a gift shop (visitor center), near the entrance area. There is merely any food in these shops. If you plan to go there for a couple of hours and if you have kids with you, please make sure to take enough food and drink with you.
Picnic area
White Sands is great for picnicking. There are covered picnic tables and elevated grills. Personal grill are allowed as well. Please make sure to take a look at the NPS website for White Sands if you plan to use a personal grill.
The restrooms in the picnicking area might not be ideal for children. At least, Dear Son did not want to use them. We used the restrooms near the visitor center near the entrance area.
Sledding on the sand
Sledding on the sand is one of the most popular activities at White Sands. Sleds are available at the gift shop for purchase. Visitors can return the sleds on their way out and get some of the money back. We kept our sled with us because we are close and we visit White Sands often.

Hotels near White Sands, New Mexico
We think Alamogordo is the best city to stay near White Sands. The distance between White Sands and Alamogordo is just fifteen miles. You can find nice family-friendly hotels in Alamogordo. If you plan to stay in the region for a day or two, Alamogordo can be a center. Two of our favorite attractions in Alamogordo are New Mexico Museum of Space History and Toy Train Depot. There is also a zoo in Alamogordo but we have not yet visited the Alamogordo zoo.
Concluding remarks
There are many exciting activities that you can do if you plan ahead. I heard that full moon nights are amazing but we never went there for a Full moon night program. Full moon night programs are scheduled at White Sands on the nights of the full moon in the summer. Hopefully, we will visit White Sands on a full moon evening someday.
Did you visit White Sands New Mexico or any place nearby? What are the wonders around the place you live in? Please share your thoughts in the Comments section below.
From a Family Blog: Settle in El Paso
Note: We published this post first on June 24, 2016. We updated the content, provided some new pictures, and re-published it later.
---
Subscribe to receive notifications on our new posts.
<!–– Smart auto google ad ––>