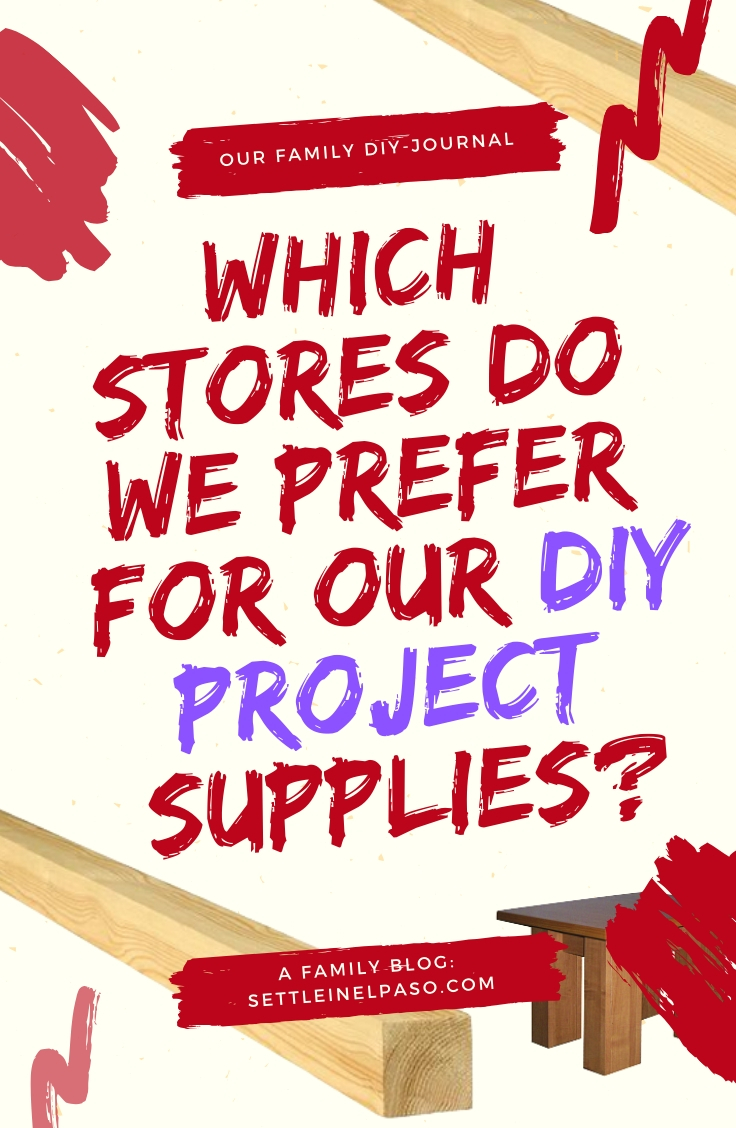 Lowe's
and
Home Depot
are our preferred stores for our DIY project supplies. They are like dream places for us. We, Dear Mom and Dear Dad, can spend hours in any of these two stores – walking through the aisles from gardening to plumbing, woodworking to cement-working, and paints to hardware tools – looking at the labels of things useful as well as not useful. However, we do not have the entire day to be there because neither the food will get cooked nor the laundry will be done itself. Well … most of the laundry will get done by itself since we are lucky to have a washer and a dryer, but there are many more chores to take care of, not to mention both of us need to spend quality time with Dear Son.
It does not matter how avid DIY-ers we are, we do not want to spend more time than required to shop even if we are in our dream store – Lowe's or Home Depot. All DIY-ers know about their local stores well-enough to make sure that they can spend more time on the DIY job itself and less time on fixing mistakes of shopping the wrong items.
Which one do we like most – Lowe's or Home Depot – in West El Paso?
Both stores are great, but we have a bias. Our bias is a result of accumulated takeaways from visiting Lowe's and Home Depot in the westside of El Paso for the past few years. Our bias is toward Home Depot (on Mesa in the Westside near the Walmart) because we received better services from Home Depot than Lowe's (on the Redd Rd).
Which store has more varieties, Lowe's or Home Depot
Hard to answer which one has more varieties, especially because the stocks change from season to season. Some comments based on our experience are as follows.
We like the plants/garden sections of both stores.
The plumbing section at Lowe's looks larger and probably has a better variety. The plumbing section was important for us because we did our sprinkler and drip irrigation systems ourselves. We purchased most of the items for those projects from Lowe's.
The lumber section looks richer at Home Depot in terms of variety.
Lowe's has a larger Paint section. However, Home Depot has more paint-finish varieties if you are looking at small DIY projects.

Tools and hardware sections have similar varieties in both stores. Most of the times, we check both Home Depot and Lowe's websites for tools and order online for a pickup from the store the same day, if available.
What made us lean a little toward Home Depot over Lowe's?
Mostly the service and customer care. Both Lowe's and Home Depot have excellent people working in different aisles or sections. DIY-ers ask many questions to the people working in those stores. Once or twice, we found knowledgeable people who could answer our questions well at Lowe's. Other times, we were misguided by the Lowe's staffs that led to the purchase of products that we had to return, or we ended up not using the item. One time, an attendant of Lowe's told us that the item we are looking for is not available. We found the item on a shelf when we searched ourselves.
Attendants of Home Depot do really well when it comes to finding a suitable product for a project. Most attendants can tell us which shelf may have the product we are looking for. Attendants at Home Depot do not just call over the microphone to help a customer and then vanish. They really make sure that you get the help you are seeking. One day, we spent an hour in the lumber section of Lowe's requesting every attendant we found to help us cut a piece of wood. Each of the attendants called for help over the microphone. No one came to help. After trying an hour we could not get the wood cut. It took us five minutes to get some desired cuts of some wood pieces when we went to Home Depot.
There is a man with a beard in the Paint section of Home Depot, who answers all our questions all the times, even when we are just purchasing a sample-size paint. The paint section at Lowe's seems too busy. Once we requested some sample-size acrylic paints in the Paint section at Lowe's. The person who took the order told us to wait twenty minutes. When after half an hour they were not done and we enquired, another person in the Paint section told us that they had not started to work on our order yet. We had to leave because our five-year-old was already bored. Another time, we waited for close to an hour for a sample-size paint as suggested by one employee at Lowe's, and later told by another employee that they don't have the sample for that kind of paint.
Where do we go for acrylic paints?
We like to go to Home Depot for acrylic paints. Most of our small projects require fresh sample-size acrylic paints. Lowe's does not have sample-size paints with a matte finish. Their sample containers are all satin. In contrast, Home Depot can produce several fine levels of finish for your acrylic paints – from full flat or matte to satin – even if you are purchasing just sample-size containers.
Where do we go for our lumber?
We go to Home Depot because it has a great lumber service. We looked for melamine boards and different sizes of lumbers at both Lowe's and Home Depot for one of our recent projects. Home Depot had all the varieties we were searching for. Moreover, Home Depot had the people to give the service of cutting the lumber.
What is the best time of the day to go to Lowe's or Home Depot?
Morning. We found that the stores are less crowded in the morning part of any day. We get quicker service when we go to these stores around 8 am. Some aisles may be closed if we go earlier but they open the aisles if we ask.
Closing remarks
We will keep using both Lowe's and Home Depot. Although Home Depot is our most favorite so far, we are loyal customers of Lowe's too. DIY-ers love options. 🙂
Which one is your favorite local store for your DIY projects or crafts? Do you feel more comfortable in going to one store over another? Please share your experience with us in the Comments section below.
---
Subscribe to receive notifications on our new posts.