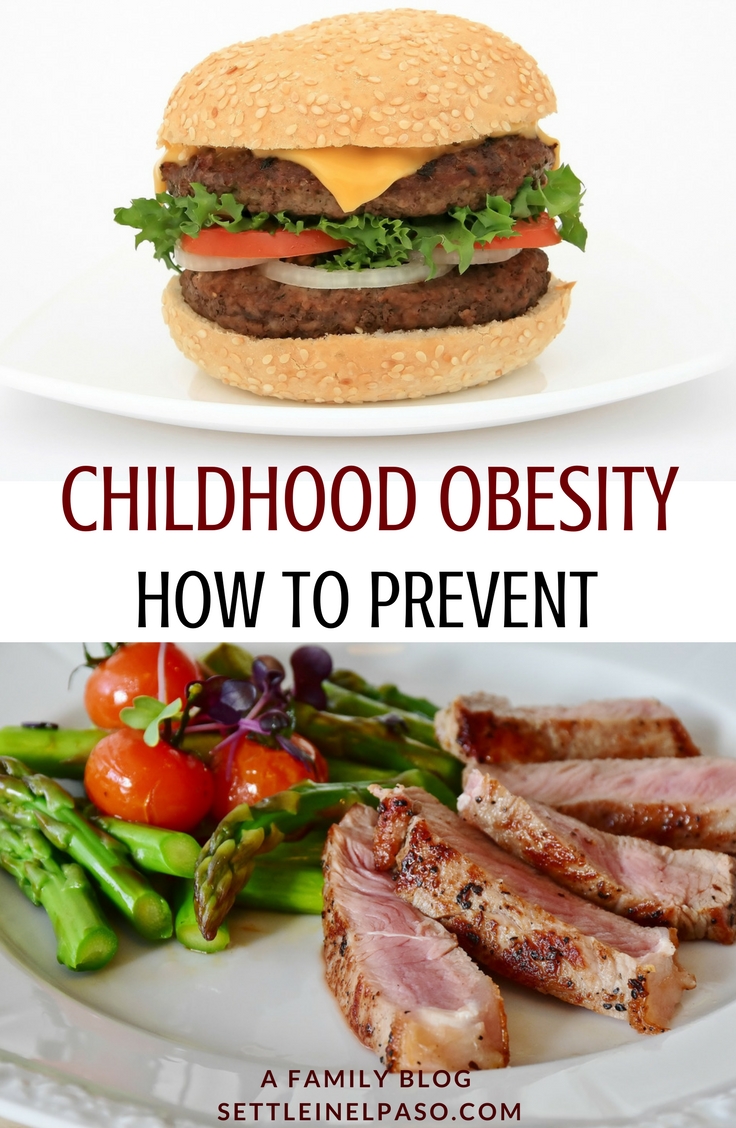 This is one of our awareness posts. This time the topic is — Childhood obesity and overweight. Childhood obesity between ages 2 to 19 in the United States is concerning. More than 12 million children and teenagers in the USA suffer from obesity, which is around 17% of the population between ages 2 and 19. That means, if you go to an elementary, a junior, or a high school, you are highly likely to see one out of five kids with excessive weight.
There are some Amazon affiliate links in this post. We will receive an incentive if you use the Amazon affiliate links to purchase anything with no extra cost from your side.
Why is childhood obesity a concern?
The answer is simple. Children with overweight are highly likely to remain overweight when they will grow up. Obesity damages physical and emotional health. Some examples are as follows.
Hypertension
Hypertension is actually high blood pressure. Headache, tension, restlessness are some of the symptoms, whereas hypertension can even go unnoticed. Regular checkup will detect high blood pressure. Now-a-days, there are free blood pressure measuring machines in many departmental stores including Walmart.
High cholesterol
Childhood obesity results in high cholesterol in the blood stream, which may become the root of many heart diseases in the later time of life.
Diabetes
Obesity is sometimes a reason of children's type 2 diabetes. Symptoms of type 2 diabetes are extreme weakness and/or tiredness, extreme thirst, increased urination, abdominal pain, nausea, and in many cases, blurry vision.
Sleep disorder
Obesity is a reason of sleep disorder in children, which results in tiredness, lack of focus, weak immune system, and lack of control over emotions.
Is it possible to prevent obesity?
Oh, yes. This is what we can do for prevention.
Restrict sugar-intake of your child. Avoid juice. I mean, the juice that we purchase from stores — avoid it because there is added sugar in purchased juice boxes. If possible, make juice directly from fruits. Orange and watermelon are juicy and it is easy to make juice out of them.
Limit screen time. That means no television, cell phone, or tablet for kids. Engage them in activities that would require physical movements. Take children to parks whenever you get a chance.
Avoid fast food restaurants. Seriously avoid fast food. They contain too much calorie.
Prepare food at home.  Home-cooked food is healthier and you have a better control over how you will balance the meals with six types of food.
Encourage vegetables and fruits. Introduce your family with a variety of vegetables and fruits. Make sure that children have veggies and fruits everyday.
Reduce fatty substances. Reduce the use of fatty food substances like oil, butter, and cheese in meal preparation. Lessen the use of vegetable oil. Use cholesterol free ones, if you must.
More fish and seafood. If possible, reduce the amount of red meat and increase consumption of fish and seafood.
Ask for advice from pediatrician. Ask the pediatrician of your child if any specific type of food needs to be included in your child's diet.
Comment:
Frances Wiedenhoeft from Blog Ground provided us with some valuable information in the comment section that we think should be included in this post. The information she provided is as follows.
For some children, heredity is a major factor and insulin resistance plays a role. For these children exercise is critical to not developing type 2 diabetes. Getting accustomed to and enjoying whole grains helps with insulin resistance and obesity. Psychological factors like changing a relationship to food, avoiding snacking and taking care to help children understand that sweets are a special treat, not a food group, as well as being a good role model in all of these things.
What is the difference between overweight and obesity
An overweight child may not be obese. In another sense, overweight is in between normal weight and obesity.
How would I know if my child is normal, overweight, or obese
Determination of obesity has become more statistics based. You cannot just say that a child is obese or overweight or normal based on how heavy he or she looks. Body Mass Index (BMI) and historical data will put your child under certain percentile. The BMI percentile of your child tells if a child is below normal weight, normal, overweight, or obese.
Calculating Body Mass Index (BMI)
There are many tools online that you can use to calculate the BMI of a child. I would recommend the one that Division of Nutrition, Physical Activity, and Obesity of CDC provides: Calculate BMI of children and teens.
Calculating in which percentile my child is
After the calculation of BMI, you will need to mark your child's BMI on one of the following two charts provided by CDC. One chart is for boys and the other one is for girls.
For Boys between age 2 to 20
For Girls between age 2 to 20
The horizontal axis in the chart is for age and the vertical axis is for the child's BMI. The chart has the percentile lines from historical data. Once you put your child's BMI on her age on the chart — Ta-da! — the chart will tell you your child's BMI percentile.
An example
As an example, if a boy is 5 years old and his BMI appears to be 15, then his BMI percentile according to the chart is 35-ish (it is somewhere in the middle of the curve of 25th percentile and 50th percentile). The red dot on the plot below shows where BMI 15 is placed at an age of 5.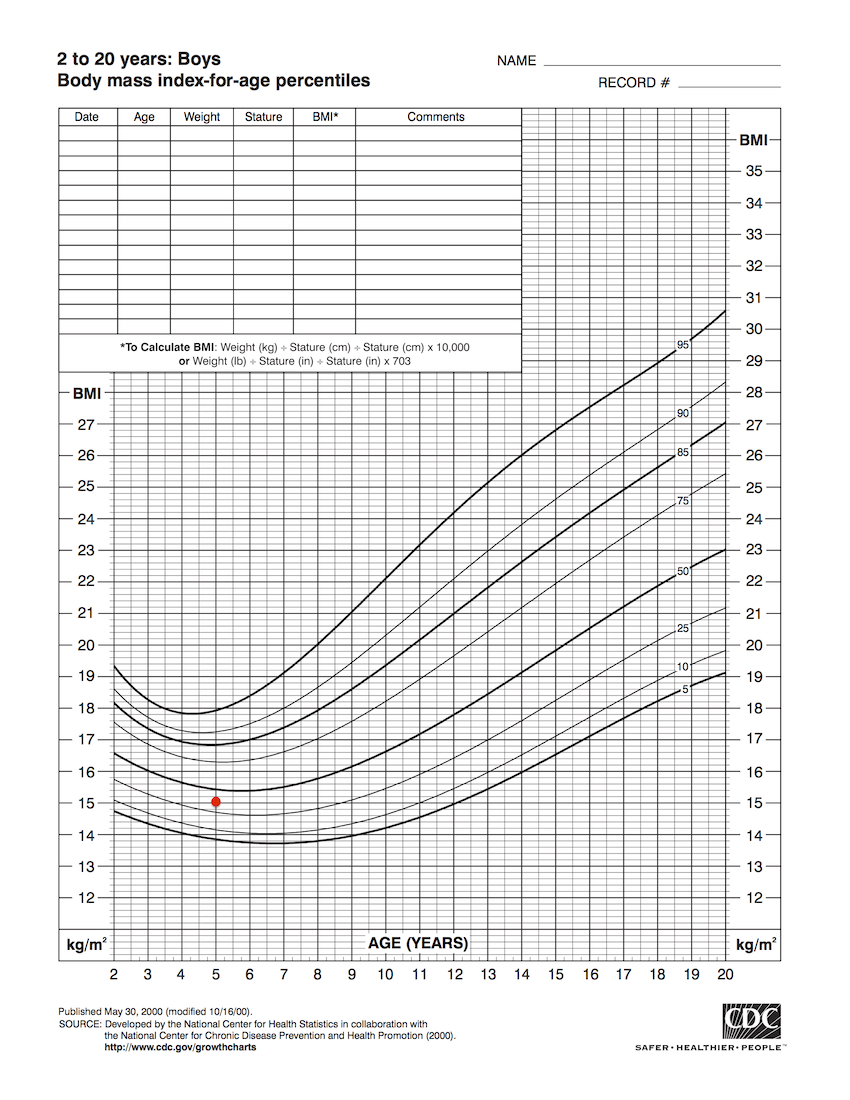 How would I know if my child's BMI percentile is normal, overweight, or obese
The following list describes the ranges of BMI percentiles.
Less than 5 percentile is underweight.
From 5 to less than 85 percentile is normal weight.
From 85 to less than 95 percentile is overweight.
95 percentile or above is obese.
Is obesity becoming a national problem?
Yes, it is a national as well as a global issue. El Paso Times published that USA is one of the top three countries with huge obesity. Historical data shows that obesity among youth as well as grownups has been increasing consistently in the United States over the last fifteen years. A relevant CDC report can be found here.
Any particular reason why children may become obese?
The major reasons are outlined here.
Too much sugar in food and drink.
Unhealthy choice of food.
Family history of obesity.
Too little activity.
WHAT NOT TO DO TO TACKLE CHILDHOOD OBESITY
Do not put your child on a diet unless recommended by his/her pediatrician. The implication of putting children on diet is severe. Their growing bodies need the necessary nutrition consistently. More exercise, an active lifestyle, and healthy food are the keys.
Let us know your thoughts on childhood obesity and overweight.
From a Family Blog: Settle in El Paso
Other posts related to parenting and children
---
Subscribe to receive notifications on our new posts.
<!–– Smart auto google ad ––>