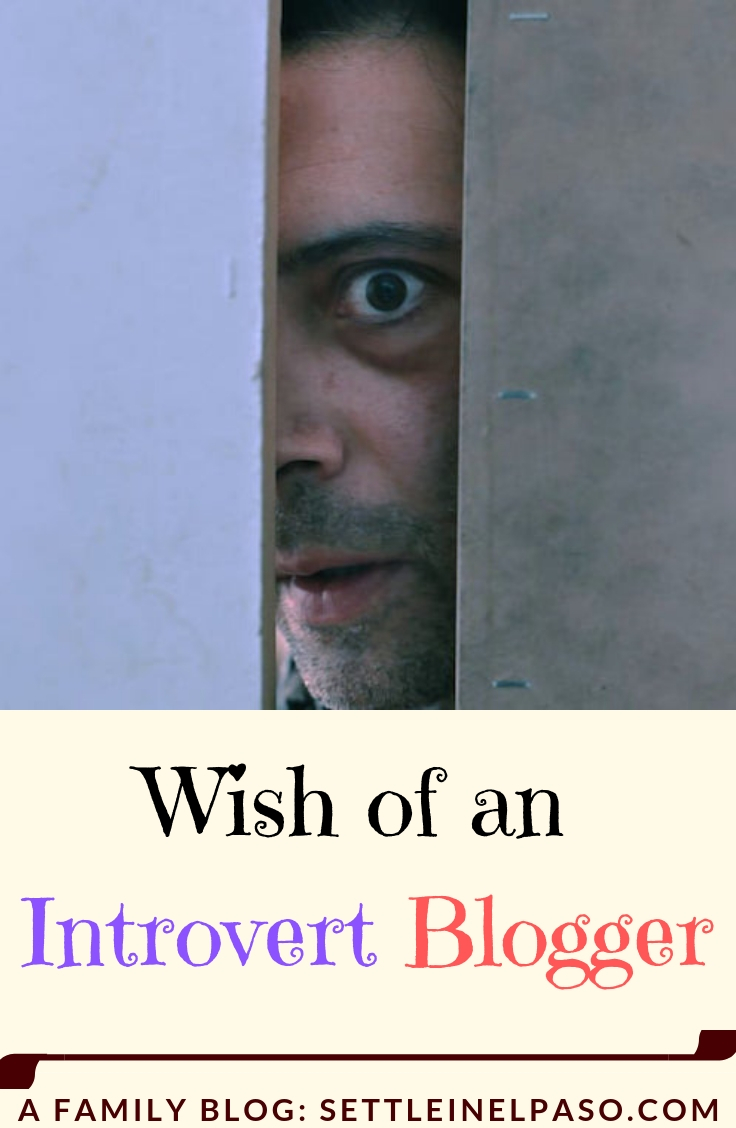 I am an introvert but do not worry… I will not bite you. You do not have to fix me either.
For a long long time, from my childhood through adulthood, I thought that being an introvert is a disorder (I probably did not think that it is a disorder, rather I thought that it is a bad thing). Dear Son is growing up and I am noticing that he is going a lot after me. He has shown me that introverts are lovable and adorable. Of course, otherwise there was no way Dear Wife would have said "yes" many years ago. 🙂
Introverts are perfectly normal human beings
Hah … Who defined that extroverts are normal? Psychologists, doctors, or extroverts? If the number of extroverts is greater than the number of introverts than the definition of being normal is already biased. Introverts are simply not outgoing people.
An introvert's comfort-zone
Introverts do not feel comfortable in crowds. Is this because crowds have too many extrovert people? I really do not know. However, I know that I feel comfortable in some crowds. Most of the times, I do not feel comfortable in a crowd that is occasionally called a "party".
Am I afraid that I will be bullied? Sometimes I feel uncomfortable because there might be too many extrovert people who would bully me. Sometimes, I do not feel comfortable because extrovert people will not allow me to speak. They will ask me a question but won't bother to hear what I am going to say. They will complete my sentences with their words. It has happened many times before that some people completed my sentences and later claimed that I said this. I had to correct them that I never said that. I had to remind them that they completed my sentence with what they thought I would say.
Am I afraid of extrovert people? Not necessarily. I am not afraid of any nice and normal person, with whom I will be able to speak normally. I am afraid that I might have hard time speaking with any person regardless of the person being extrovert or introvert.
Am I afraid of social gatherings? If the question is, whether I am social or not, the answer is — I am 100% social like any normal human being. Being an introvert does not necessarily imply that I am unsocial. Sure, I can hold a conversation from time to time but you'll rarely see me start one.
Are introverts angry people?
No. You can say that introverts are shy people. There can be angry introverts and there can be angry extroverts. That means, anger is not a definitive feature of an introvert neither of an extrovert. Introverts are not angry people.
What are the strengths of an introvert person?
Introverts are deep thinkers and individuals of great depth. (At least, I like to define my kind this way. 🙂 ) They enjoy one-one dialogues, which makes the Helping Profession an ideal one for them. A Helping Profession nurtures growth and addresses problems related to well-being. Helping Professions include education, medicine, counseling, nursing, social work, and coaching. It does not mean that extroverts do not like these jobs. I am just saying that I, as an introvert, will enjoy such jobs.
Introverts love quiet reflection and enjoy time with their family. Introverts have large hearts and care greatly about individuals. They'll go the additional miles to help someone in pain.
Introverts can be the best marketers. Because introverts are good at one-to-one conversations and their care is reflected in their communication, clients love to return to them. This makes introverts the best marketers in many industries. If I need to purchase another car someday, I will go back to the sales representative from whom I purchased my current car. I am saying that an introvert sales person may generate a lot of referral and possibilities for her/his organization.
What are the weaknesses of introverts?
Introverts are not good at self-advertising. Introverts are good at training themselves to secure any skill including advertising. Once an Introvert gets to the swing of advertising, they are likely to enjoy it and feel fairly comfortable with it. However, introverts may frequently slow down and even stop advertising, if they do not feel that advertising is an absolute necessity.
Introverts can struggle to expand their networks. Introverts have hard time expanding their social boundary. So far, I did not have any problem because Dear Wife is in charge of the network-expansion department.
Introverts sometimes encounter considerable anxiety in some crowds. When introverts think about advertising their work in public, they often encounter considerable anxiety. Introverts imagine having to make inane dialogue with people they do not know and the thought sometimes makes them nervous.
What is an introvert's wish?
There are many wishes. First, I wish people knew how much we love people. Second, I wish people understood that just because we are not talking does not mean that we are upset. Third, I wish people took it easy when we separate ourselves from others for a little time in a party. Fourth, I wish I had close friends instead of some people with whom I just say hi and hello. Fifth, I wish I could write more in this blog because introverts often love to write their feelings instead of saying it loud. 🙂
Prompt: Temporary