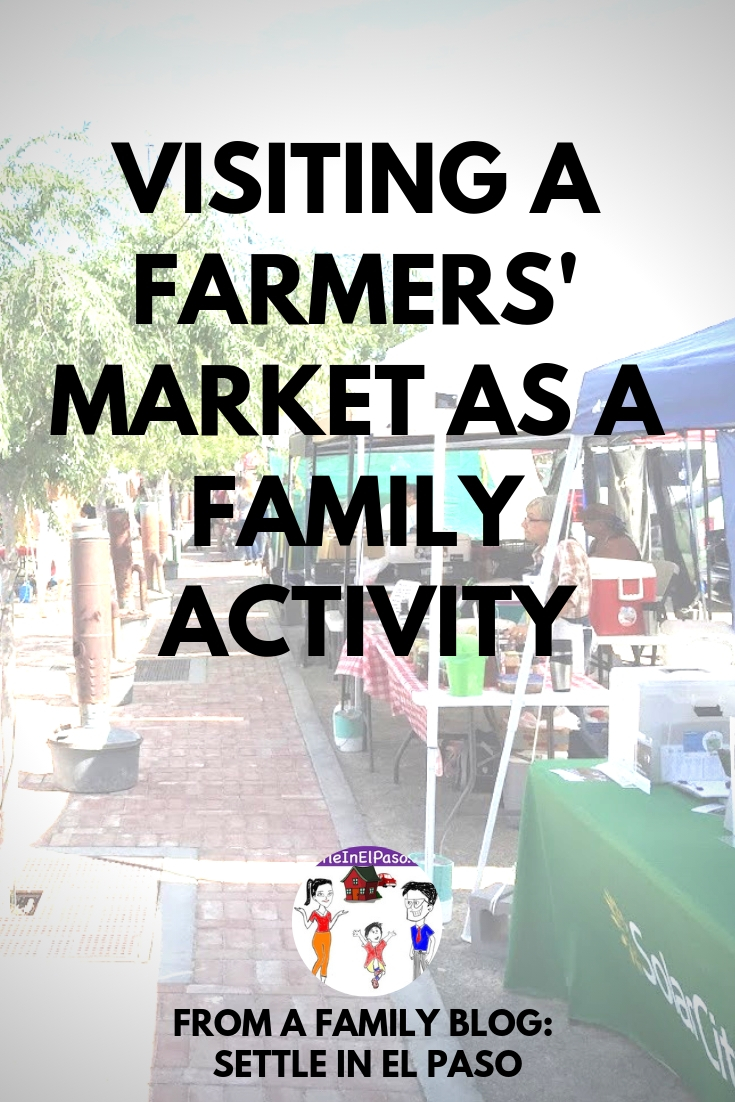 Ardovino's Desert Crossing Farmers' Market
Like all kids, our son loves sowing seeds and watering plants. He even grew strawberries last year. He says, you need four things to grow plants: water, light, air, and love. While growing plants with love and then happily eating their fruits sound an odd kind of affection for plant-kind, gardening activities make adorable memories. Anyway, this post is not about our gardening activities, rather it is about gardening by others (and we being the consumer of the produce). The post is about a farmers market called
Ardovino's Desert Crossing Farmers' Market
.
Location of Ardovino's Desert Crossing Farmers' Market
The address of Ardovino's Desert Crossing Farmers Market is 1 Ardovino Drive, Sunland Park, New Mexico 88063. You are right, it is not in El Paso. It is not in Texas either. However, it takes just five to ten minutes to go to this farmers market from the Sunland Park Mall in El Paso.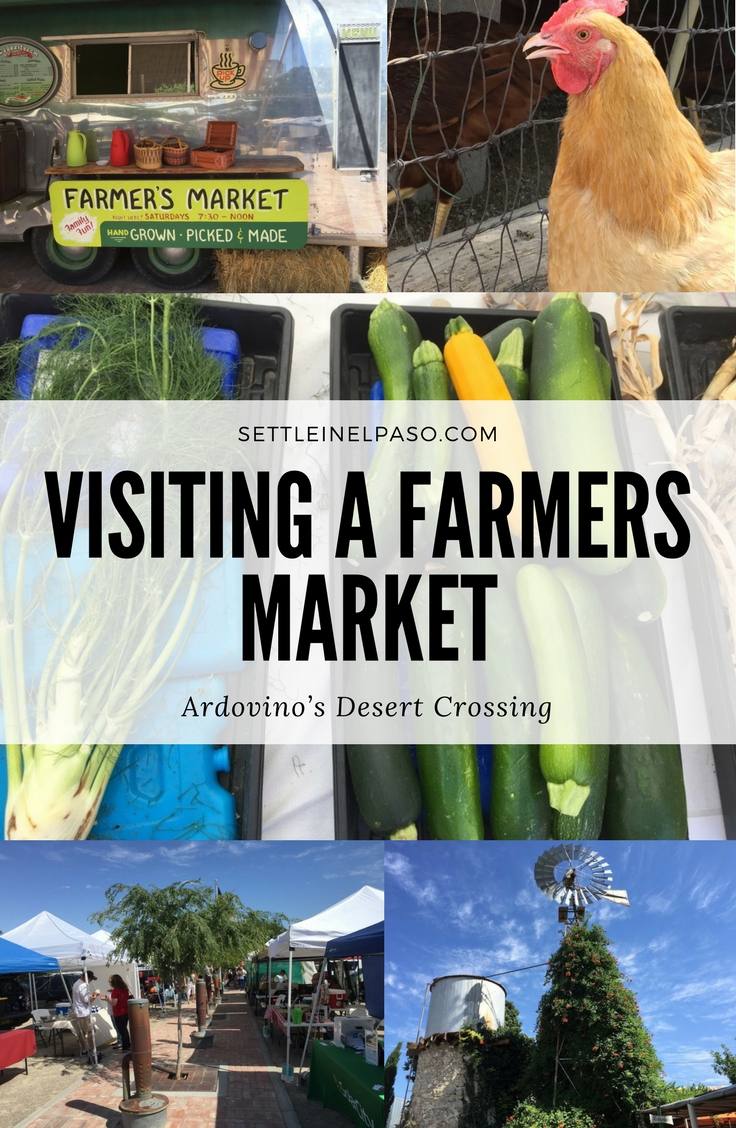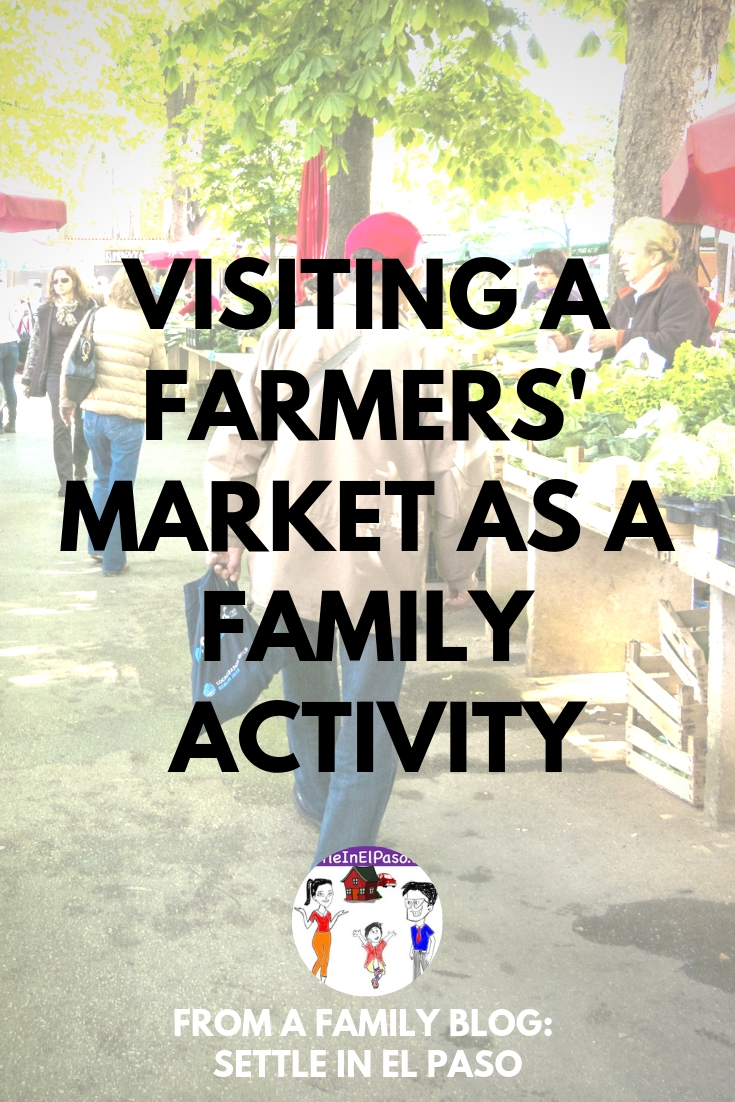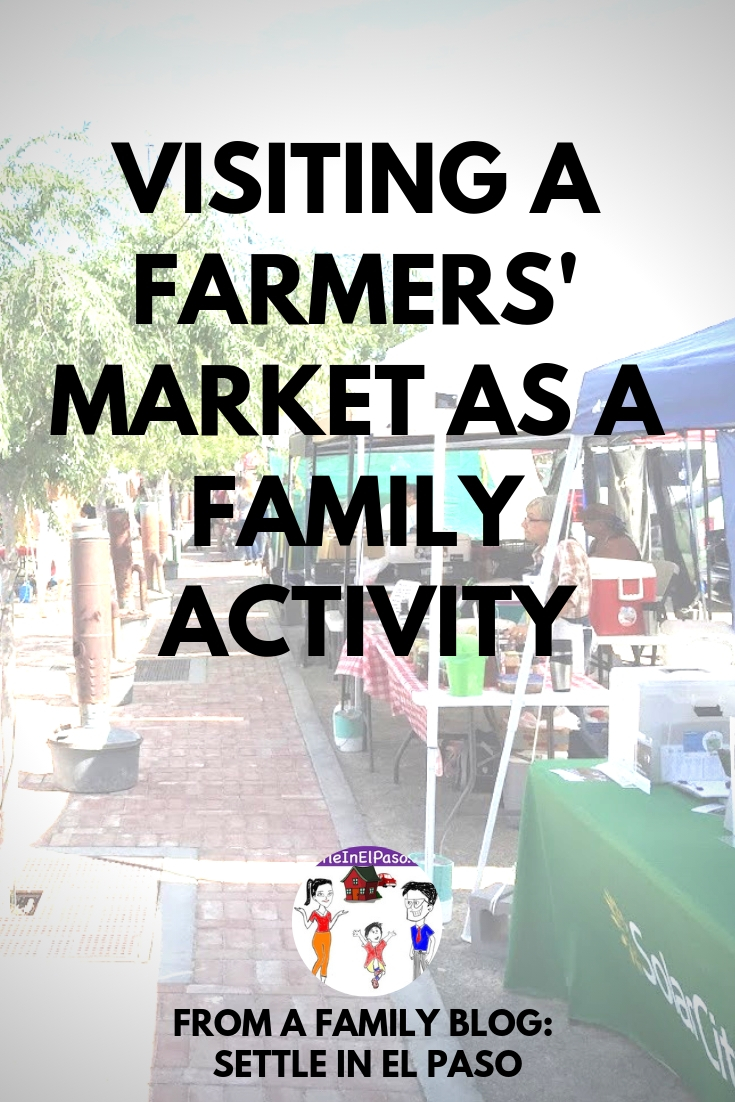 Operational hours of the Ardovino's Desert Crossing Farmers' Market
The farmers market is open only on Saturdays from 7:30 AM – 12:00 PM during summer and 9:00 AM – 1:00 PM during winter.
We drove to the market area around 10 AM on a sunny hot summer Saturday. When I said "hot", I really meant more than 100 degrees hot, not 85 degrees kind of hot.
One of the many nicest things about this region of the country is the low humidity. In the East Coast, summer days with 85 degrees of temperature may become unbearable due to the humidity. The temperature tolerance is higher in this region due to lesser humidity. Sunscreen is a must during the whole summer in the El Paso region.
Parking
At first, we directly went to the market area where parking was limited. We had to drive back to the large parking lot near the entrance.
North Franklin Mountain was visible from the parking lot. Duh… you can see North Franklin Mountain from almost anywhere in El Paso and from nearby towns.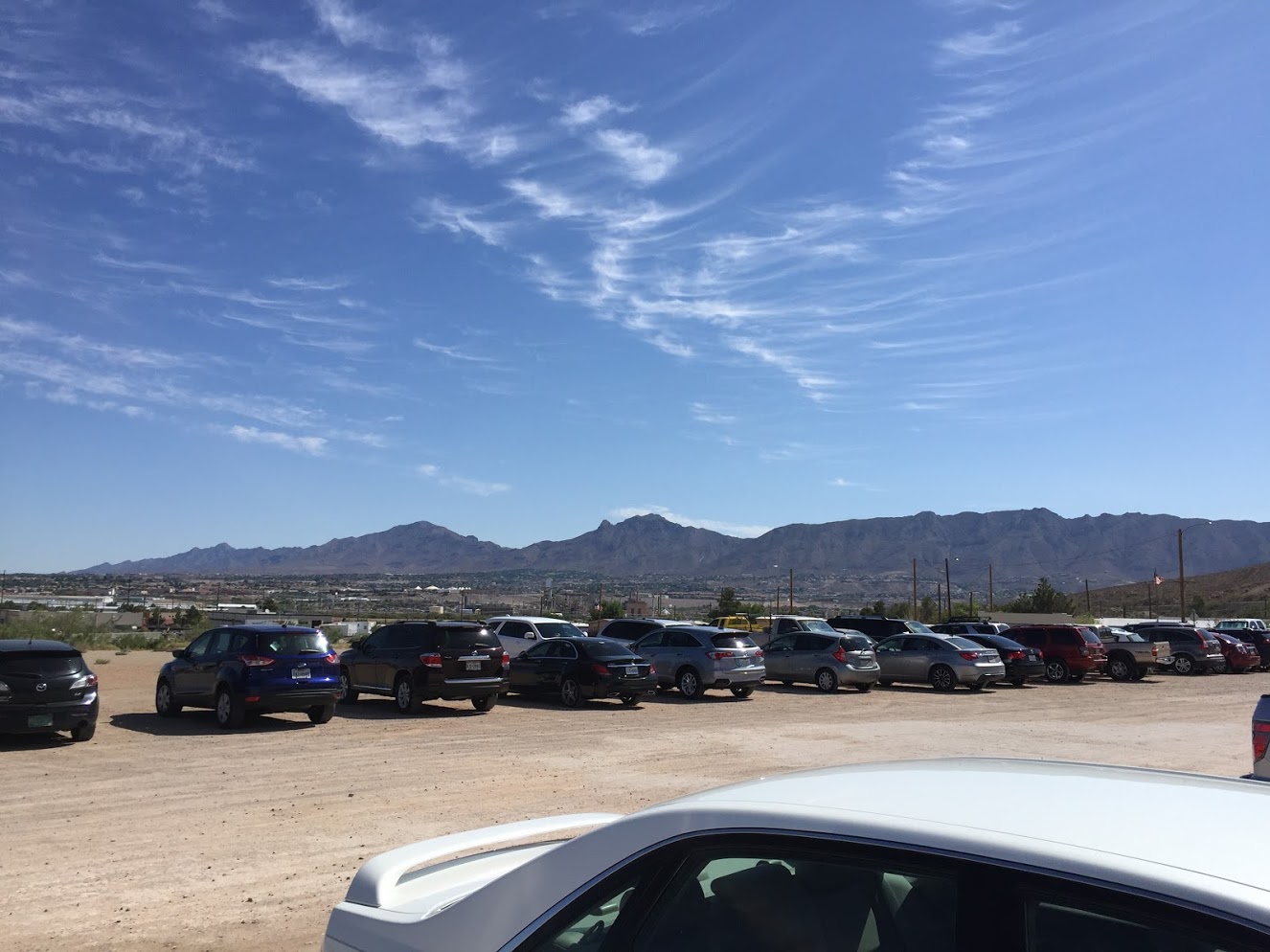 History of Ardovino's Desert Crossing
Ardovino's Desert Crossing has accumulated a long history since early 1900's. It went through many transformations  — from residence to an Army barrack to a border patrol outpost to a casino to an inn.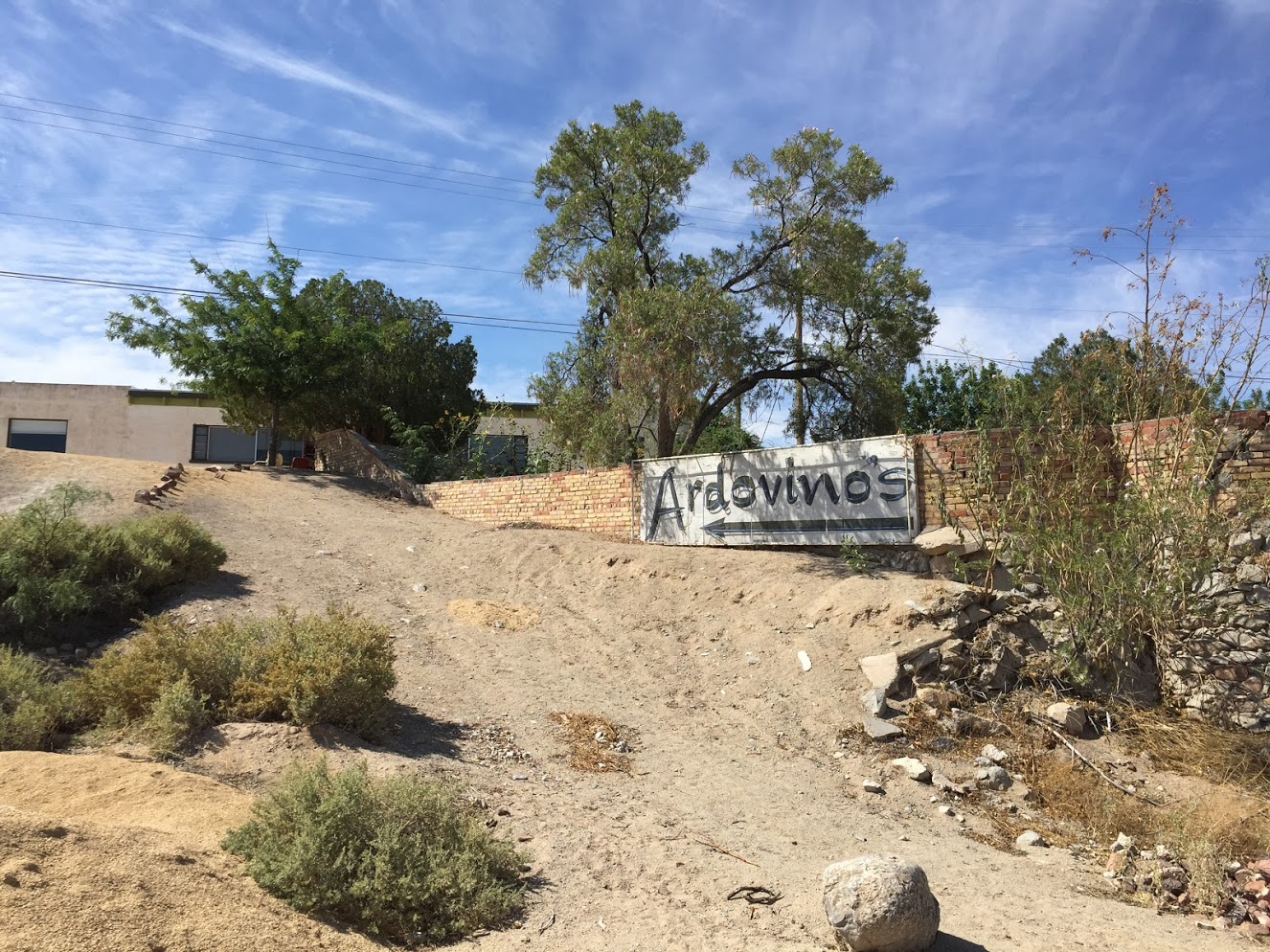 Ardovino's Desert Crossing was, once upon a time, Ardovino's Roadside Inn, which was closed in 1973 after the passing of the owner, Frank Ardovino. Twenty four years later in 1997 the Ardovino's Desert Crossing was opened by the heirs of Frank Ardovino.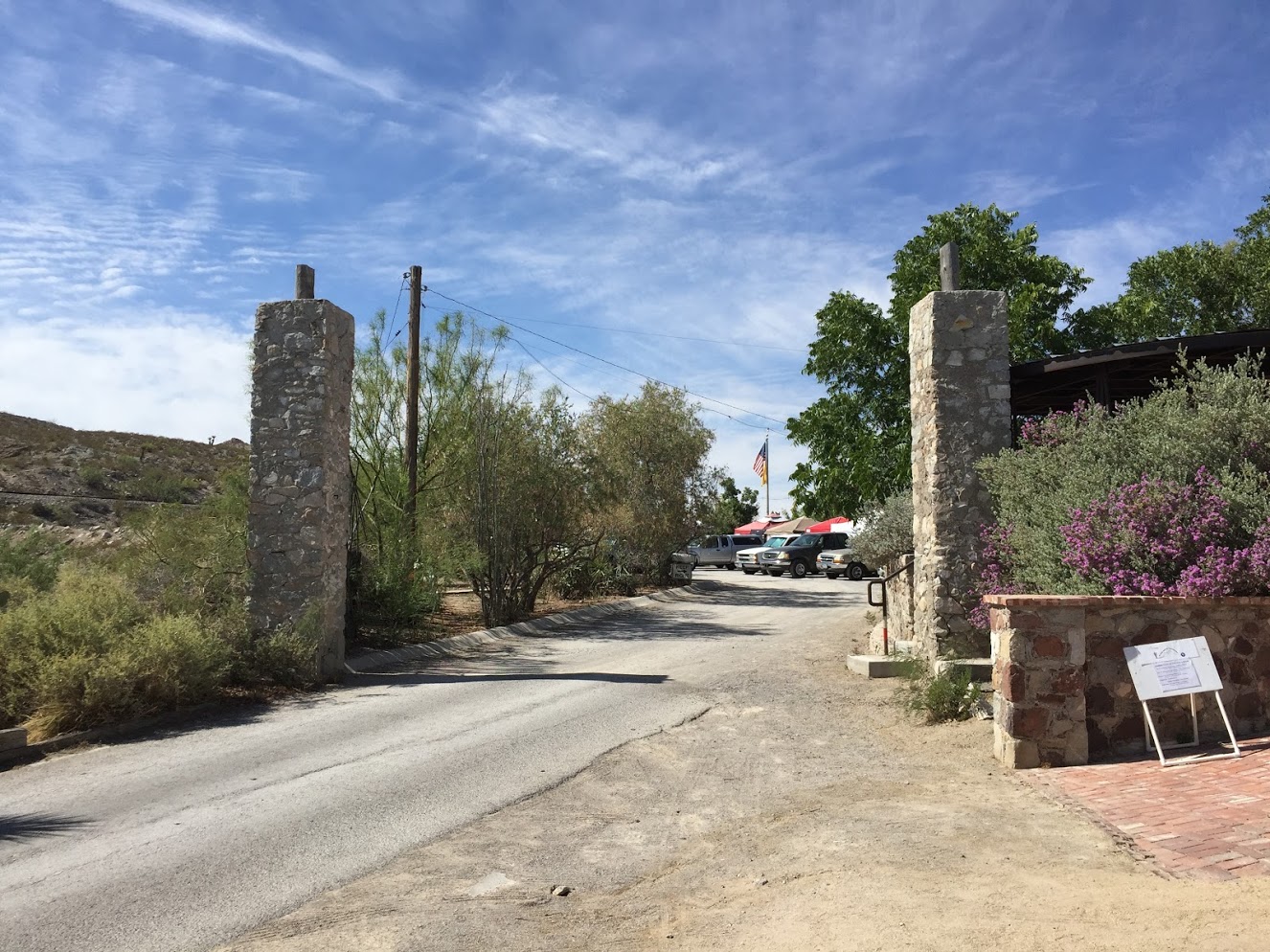 Ardovino's Desert Crossing Restaurant
In addition to the farmer market, Ardovino's Desert Crossing now has a restaurant with beautiful lounges. The restaurant offers full fledged banquet services. We have been to the restaurant several times so far on different occasions. We loved their food each and every time.
Our visit to the Ardovino's Desert Crossing Farmer Market
Now that we have told you the history of Ardovino's Desert Crossing, we can move forward with our experience visiting the farmers' market. There were around twenty stalls, or may be more than that, on that day. There were a variety of stalls: garden produce, handicrafts, jewelry, art, food stalls, as well as a nursery.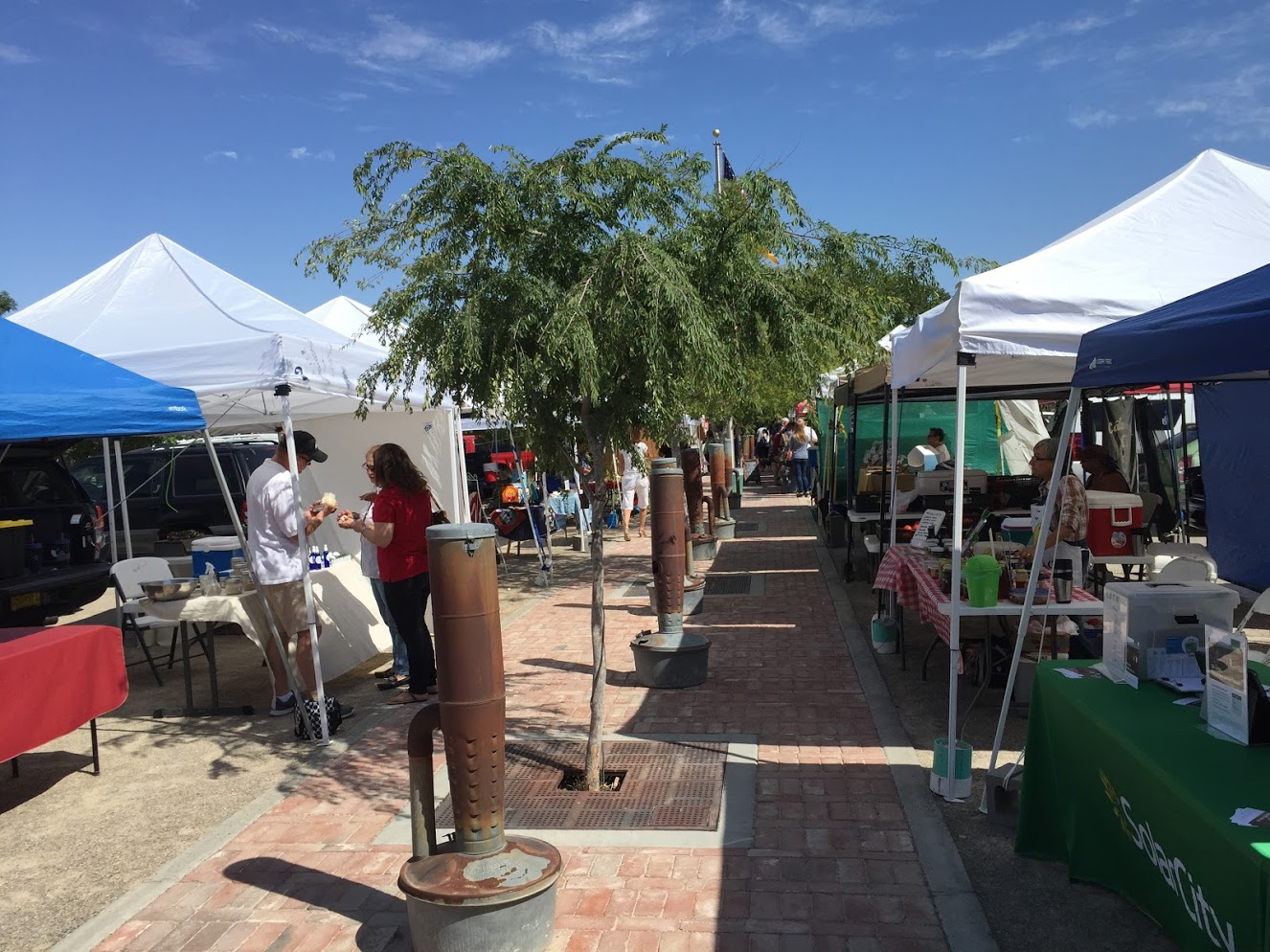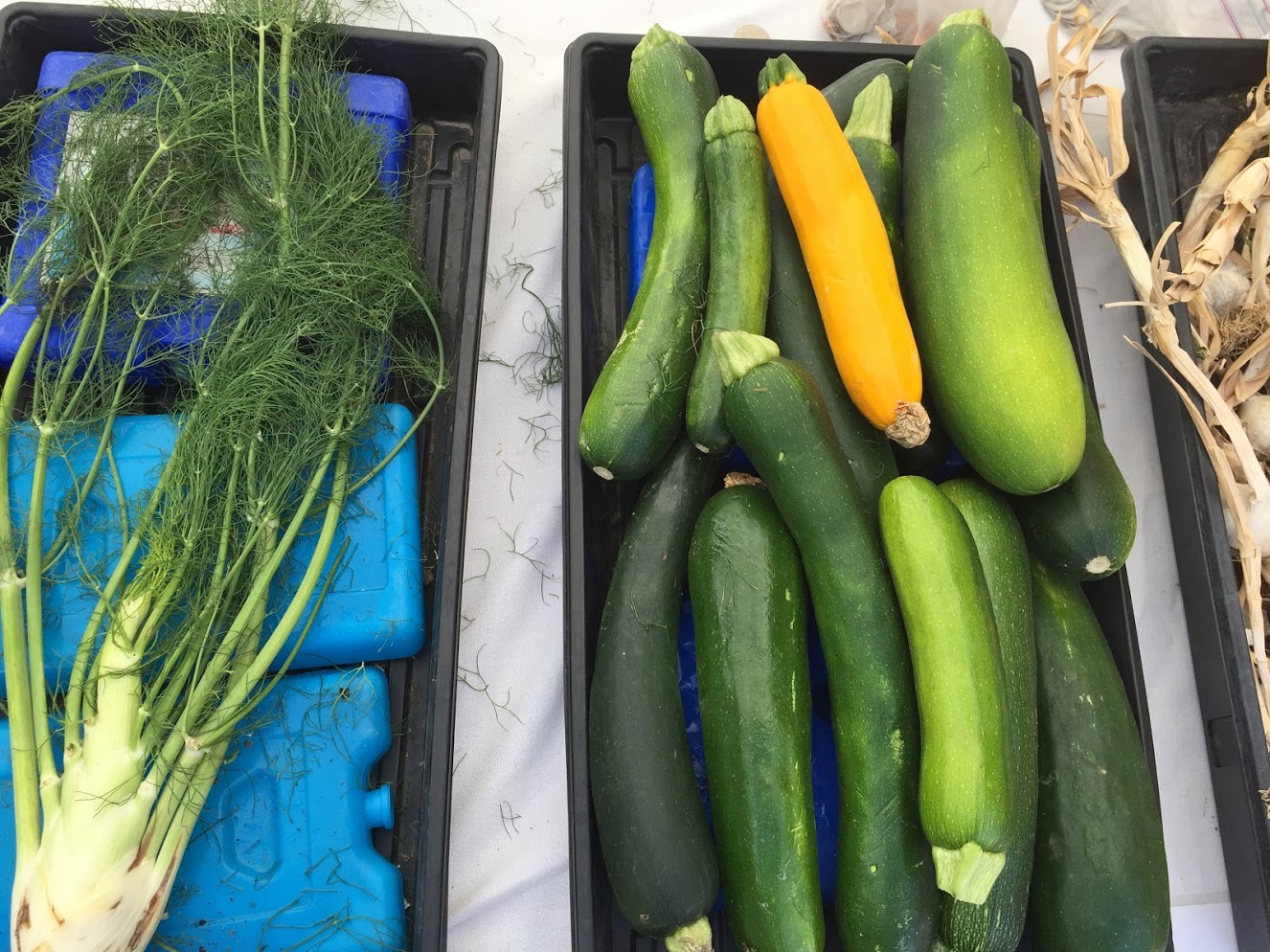 Produce
There were a number of produce stalls full of fresh and organic vegetables including herbs, tomatoes, fruits, cucumber, varieties of squash, and many kids of peppers. We were excited to find squash blossoms because we know a few squash/zucchini/pumpkin blossom recipes. We purchased two bags of squash blossoms; each bag contained ten to fifteen flowers. We also purchased some cucumbers and zucchinis.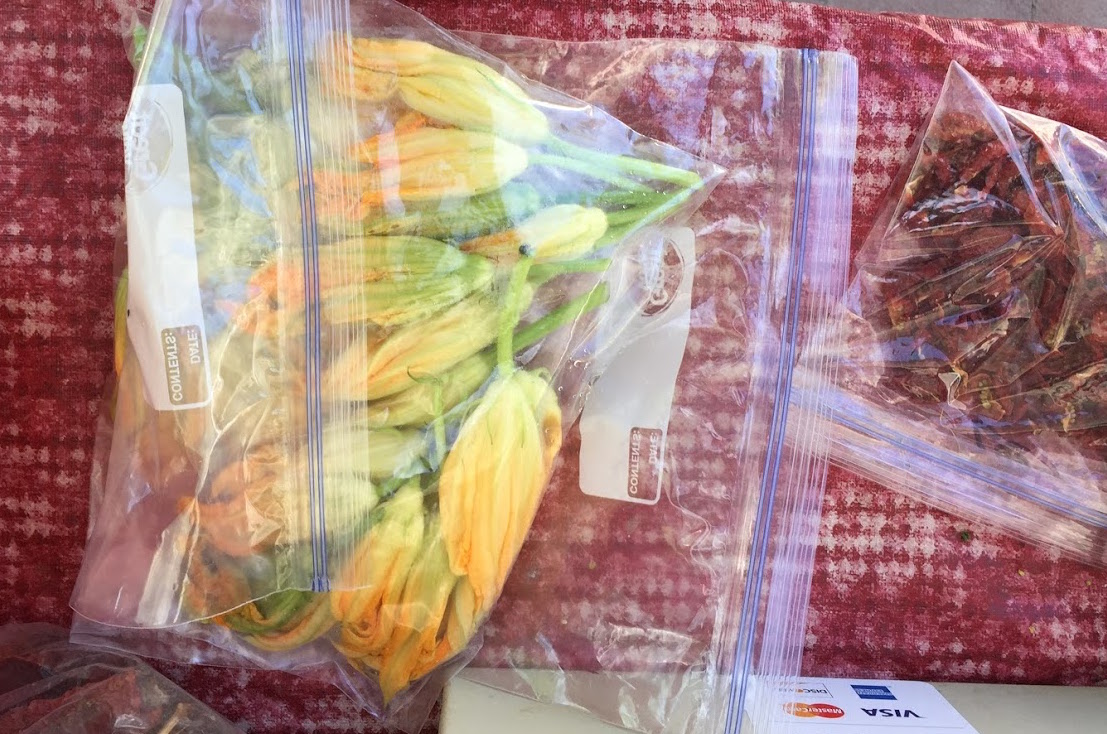 Homemade food
Some stores had different types of homemade jam, jelly, and butter. The place was smelling great with baked items.
Poultry and eggs
Some stalls had frozen meat and poultry. We bought a dozen eggs. The eggs were different in size and in color. Some of the eggs were light brown, some red-ish brown, and a few of the eggs were green. The seller told me that the green eggs are from a type of hen called Americana. The seller raised the chickens himself — that is an attraction of a farmers' market.
Other things
Ardovino's heirs know how to preserve history. An old windmill is still standing there by the restaurant. There is a large furnace underneath.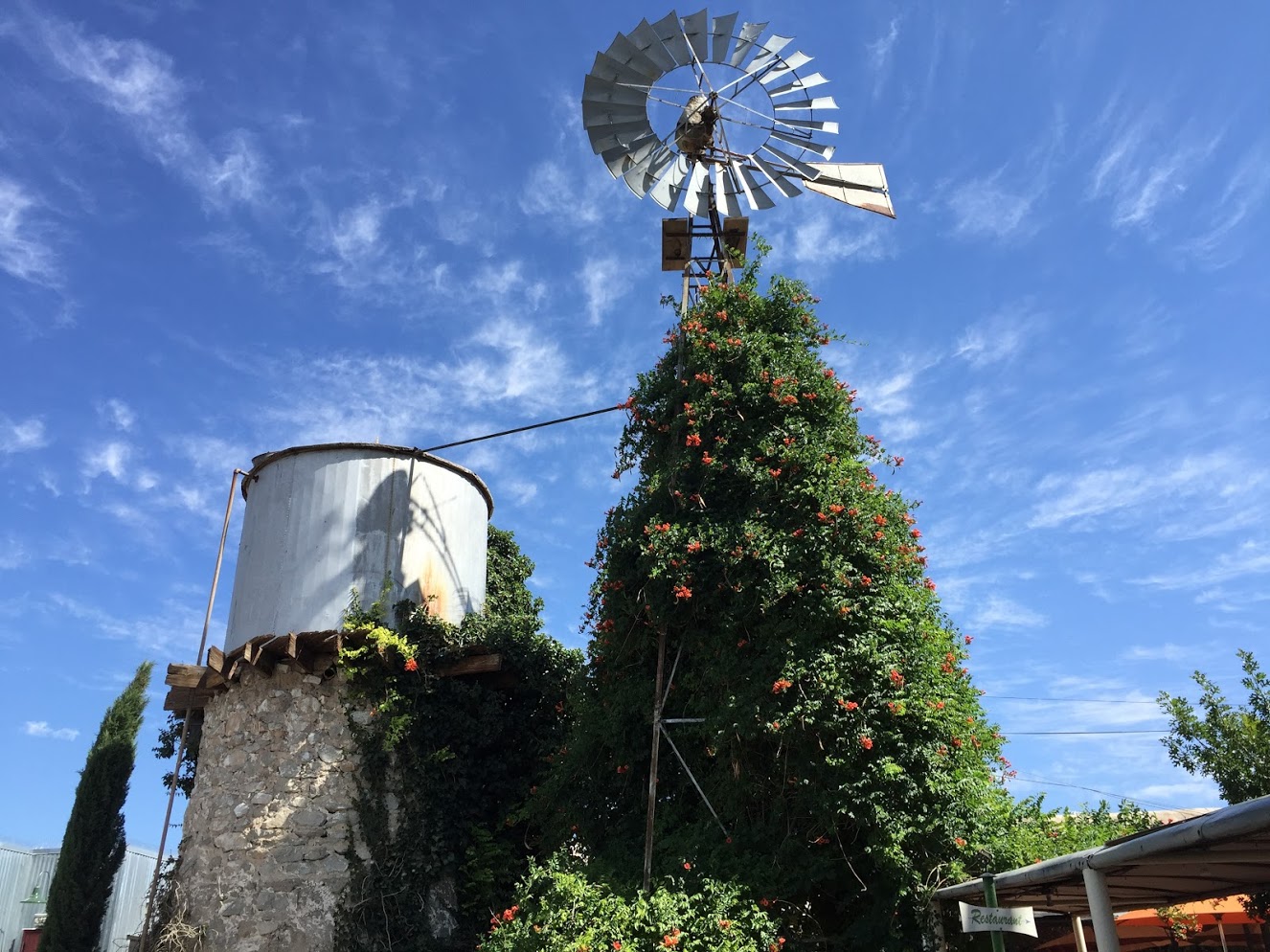 There were some green bean plants (not for sale) with red flowers near the shaded entrance of the restaurant. We took a few pictures of the plants, one of which is shown below.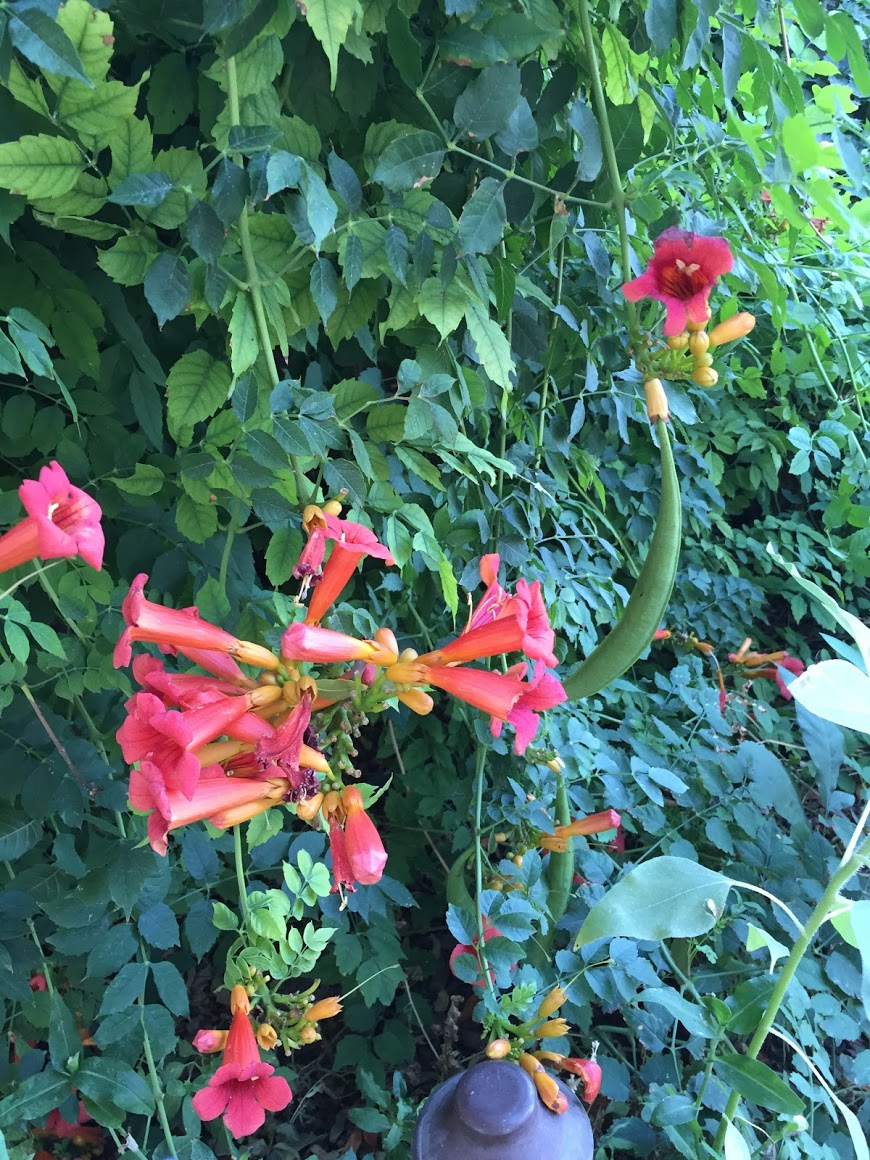 There is a small water garden. The water is not clean but the small garden looks nice. It gives a soothing feeling.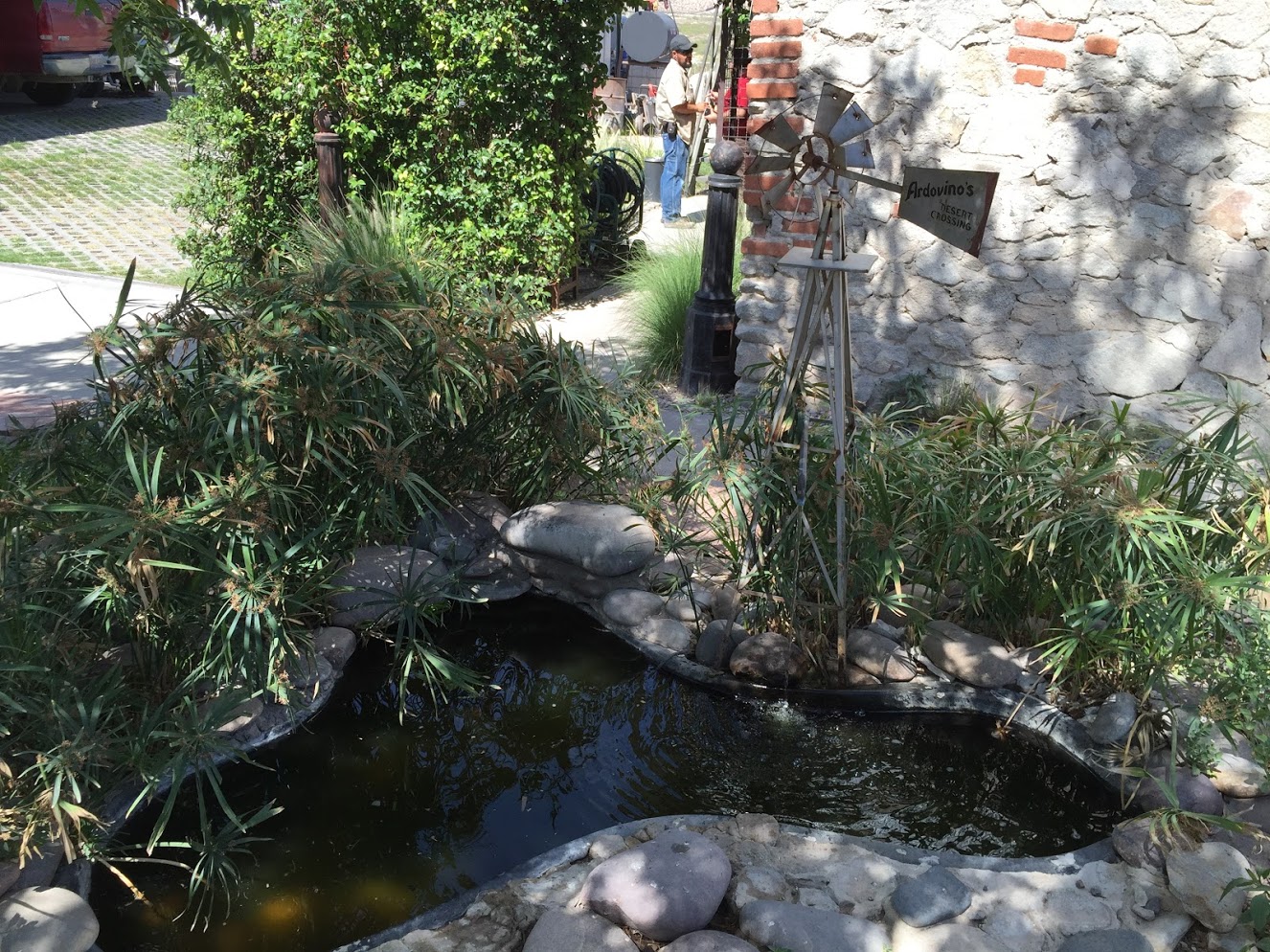 The old food van is still there. They serve food from the van on Saturdays.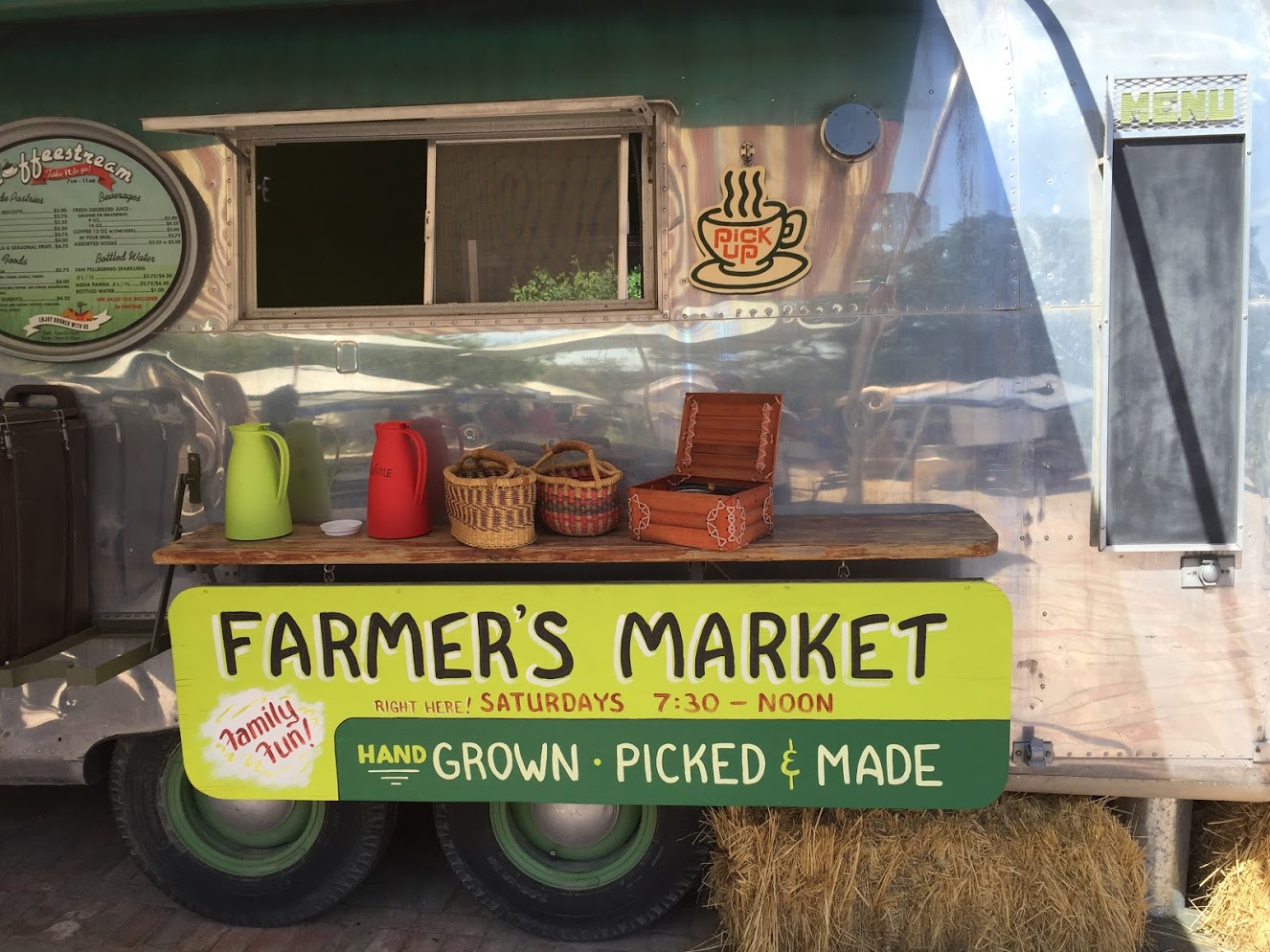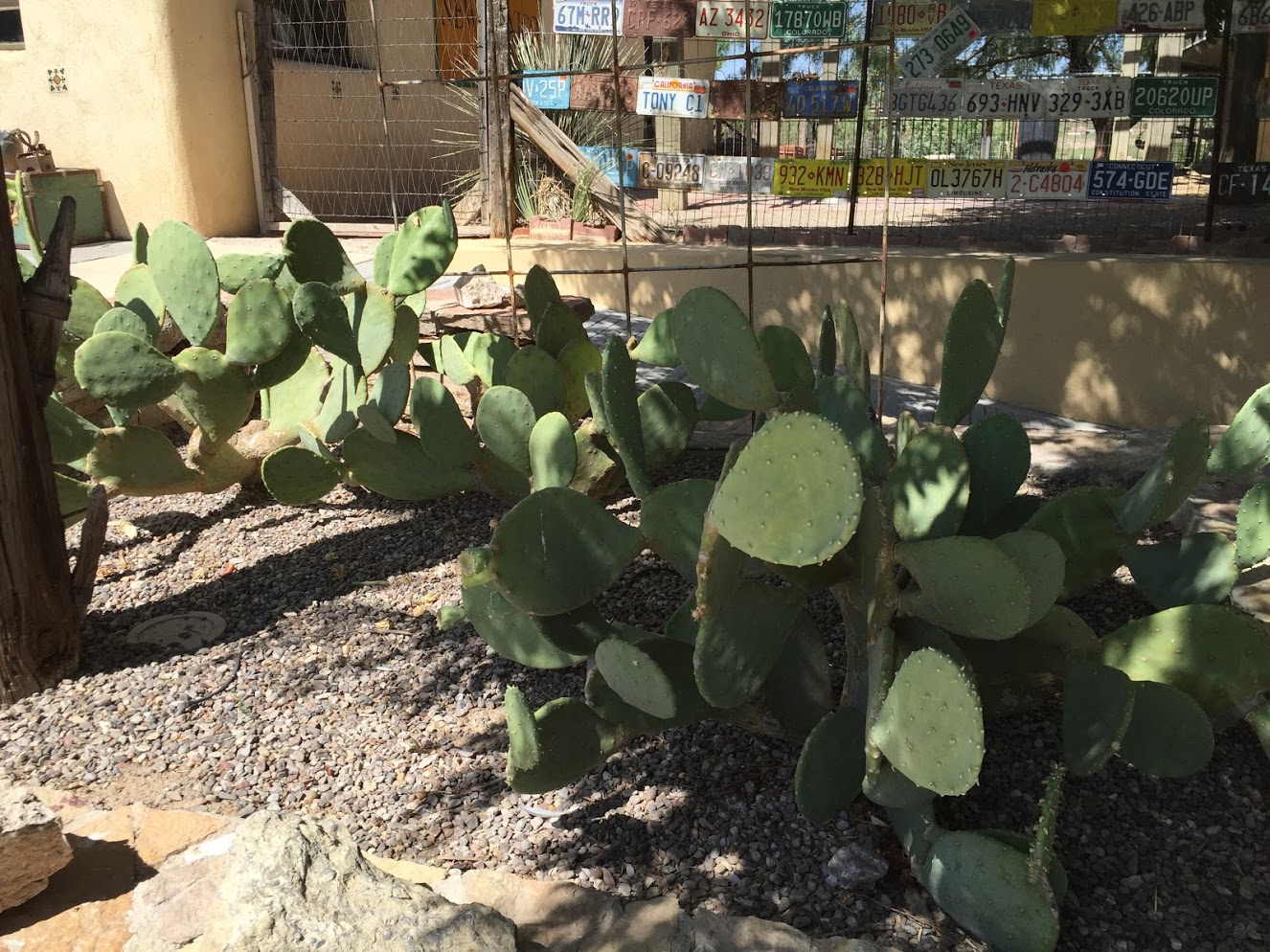 There is a small cactus garden after which there is a large chicken cage. Chicken cage was a major attraction for Dear Son.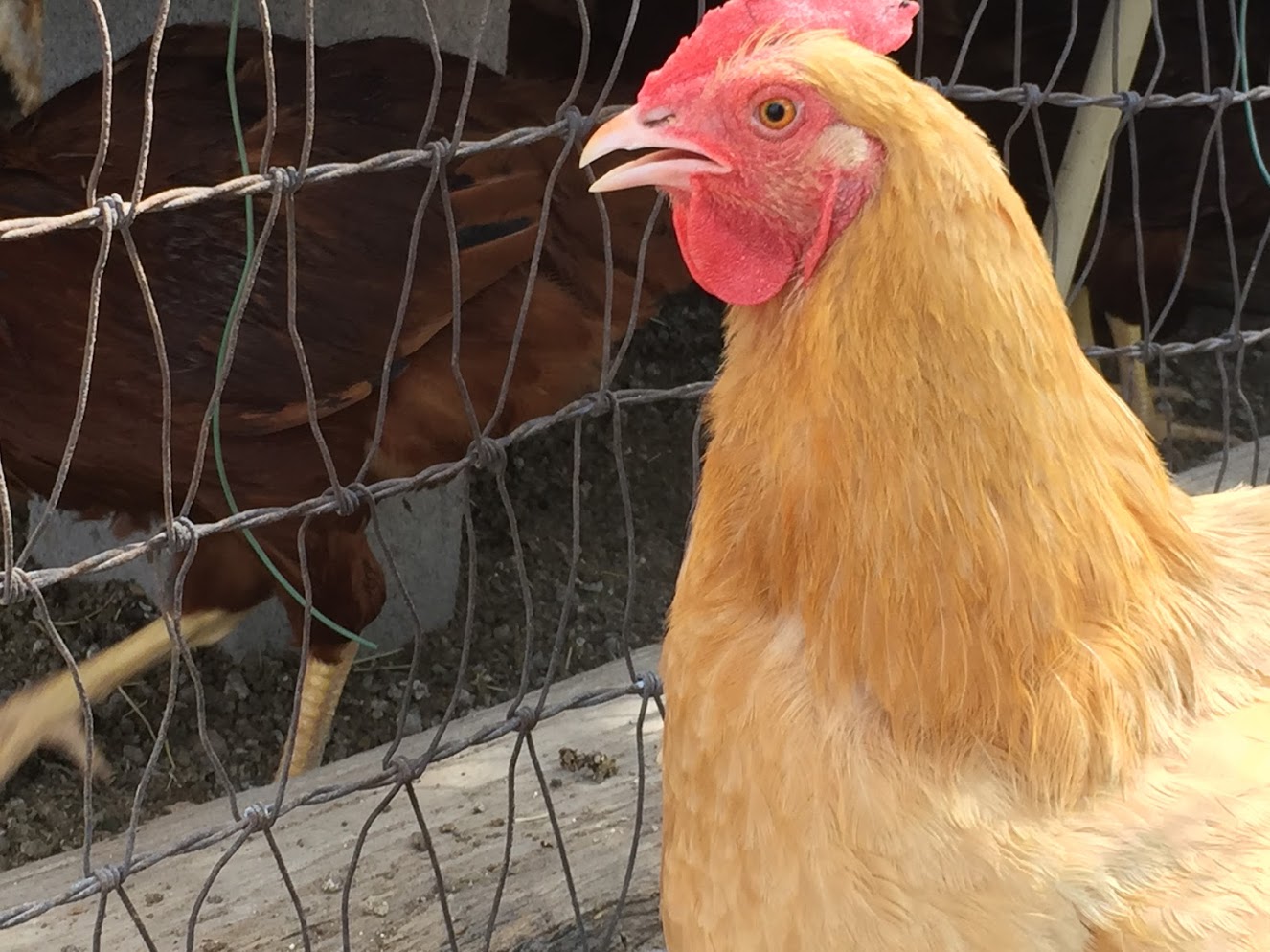 There is a fruit tree shading the chicken cage. We think, it is a jujube tree but we could be wrong.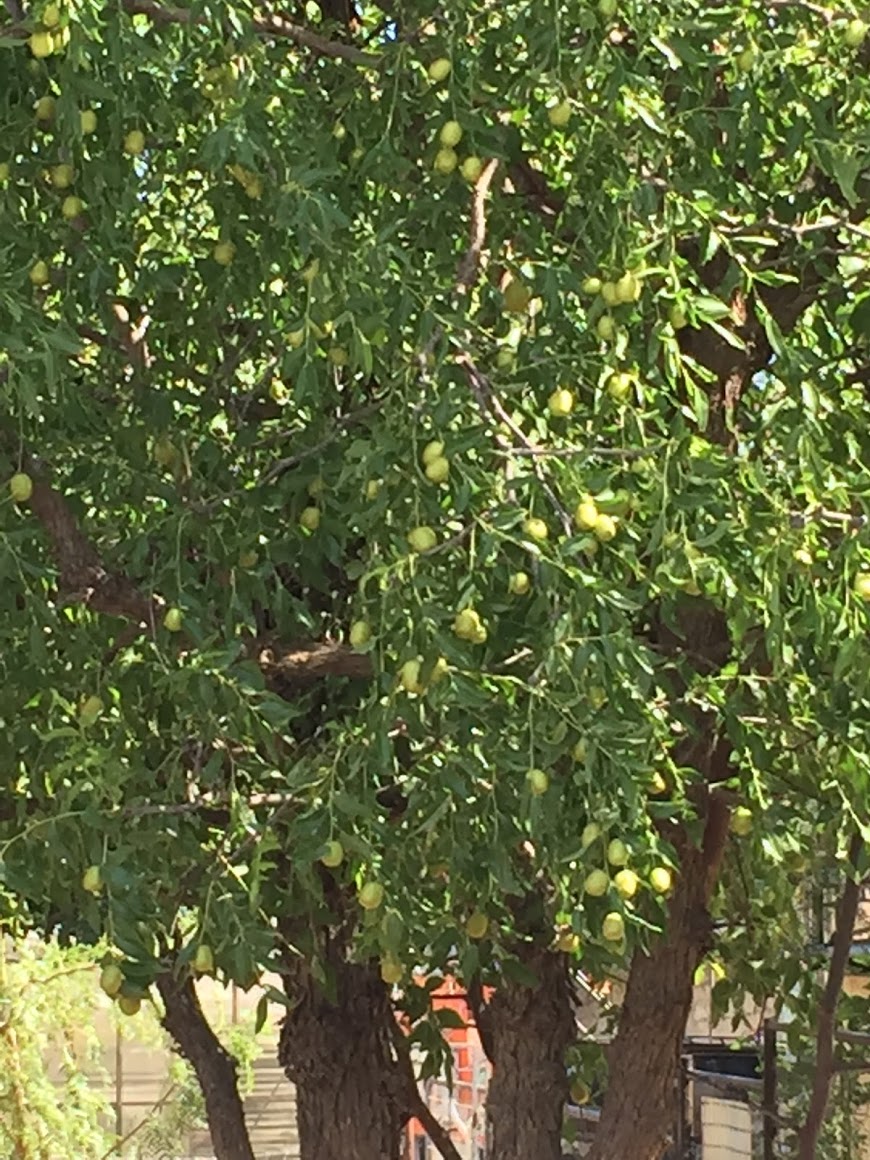 We saw trains going back and forth on the nearby tracks. There was a stall from the Heart Animal Rescue. There were some adoptable pets there. Overall, the farmers' market is an excellent educational and fun place for kids.
Sabino Segura River Levee Park
On our way back, we stopped by Sabino Segura River Levee Park (Latitude: 31°47'57.50″N, Longitude: 106°33'21.08″W), which is within one mile of Ardovino's Desert Crossing. The park itself did not look well-maintained but it was good enough for taking a nice family walk near the bank of the Rio Grande River.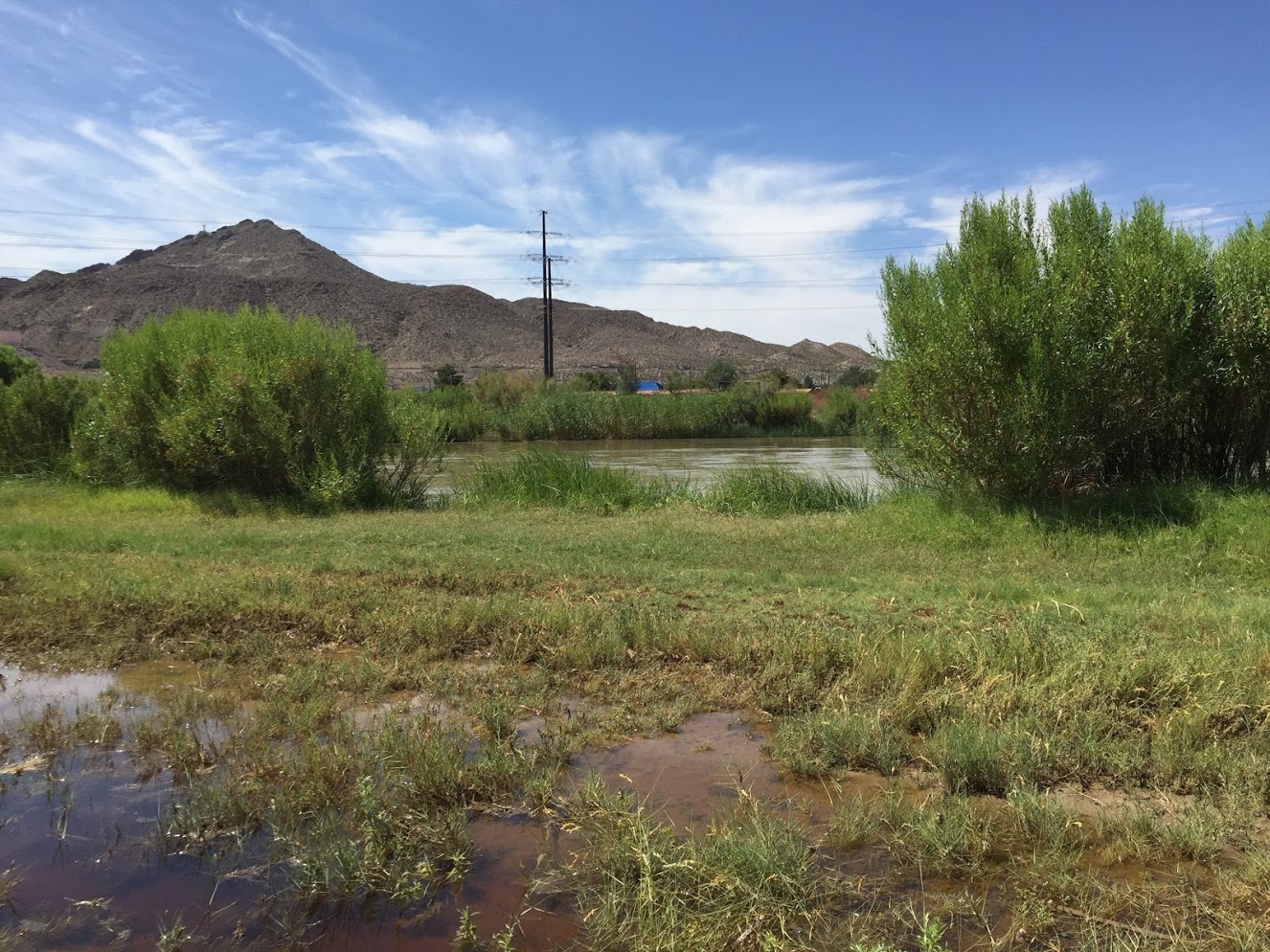 The river water looked great. Hearing the sound of the water was amazing. We felt sad when we saw the sign stating that fishing was not allowed due to the polluted water.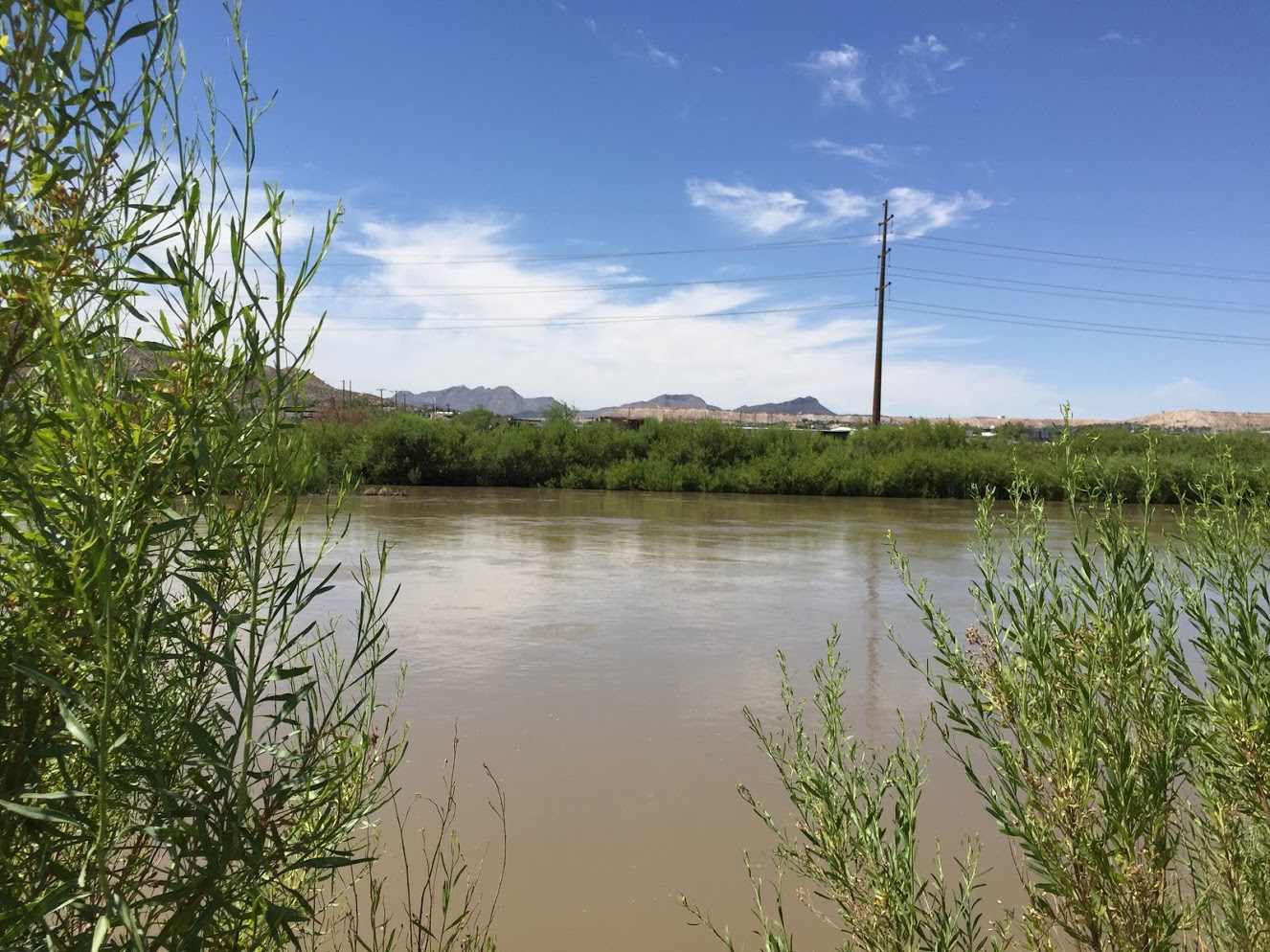 The sun was straight on top of us. It was not helping in staying any longer. We came back to our car and headed toward home.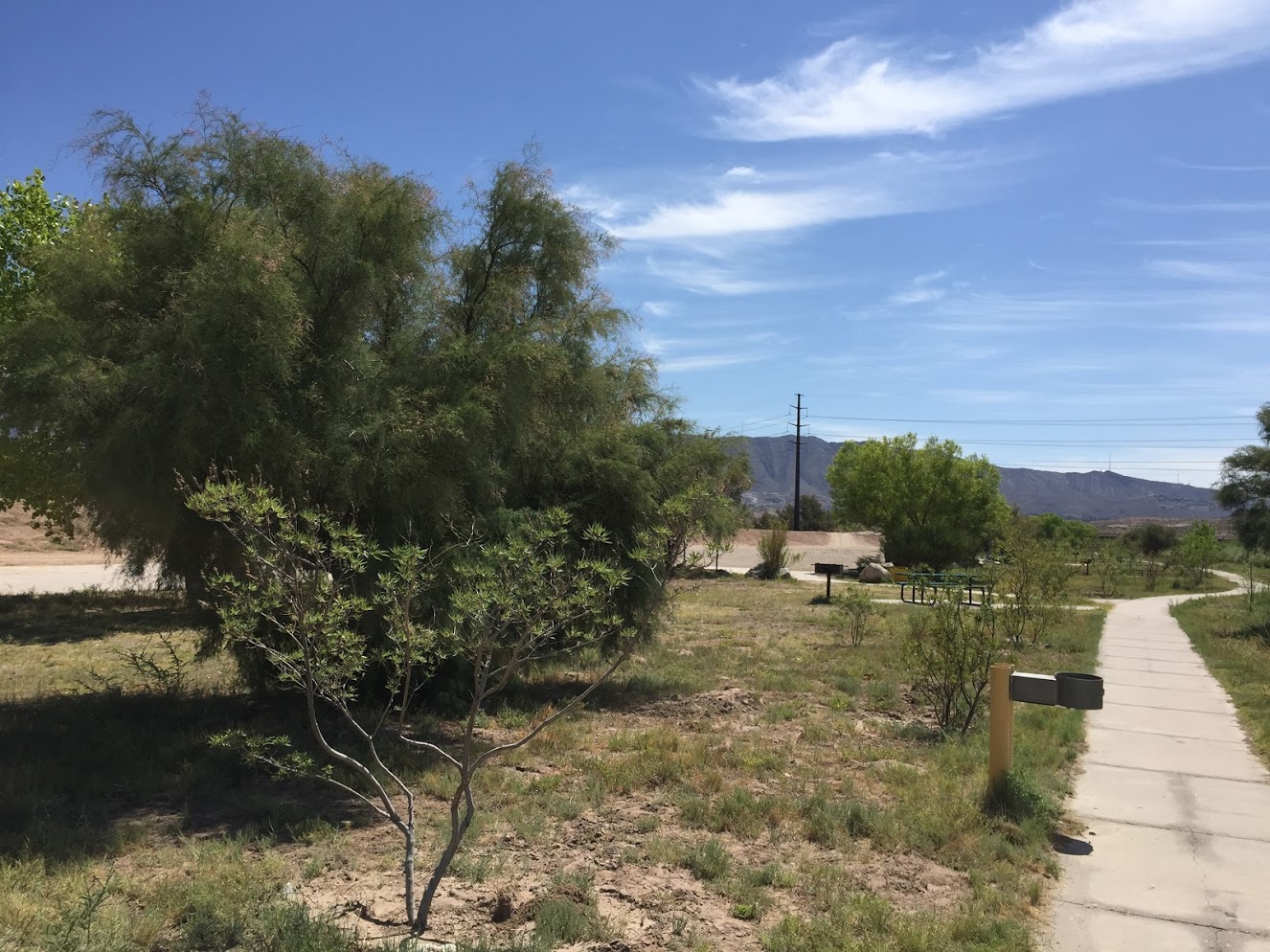 Note: We published this article first on July 14, 2016. We updated the post in December of 2018.
---
Subscribe to receive notifications on our new posts.