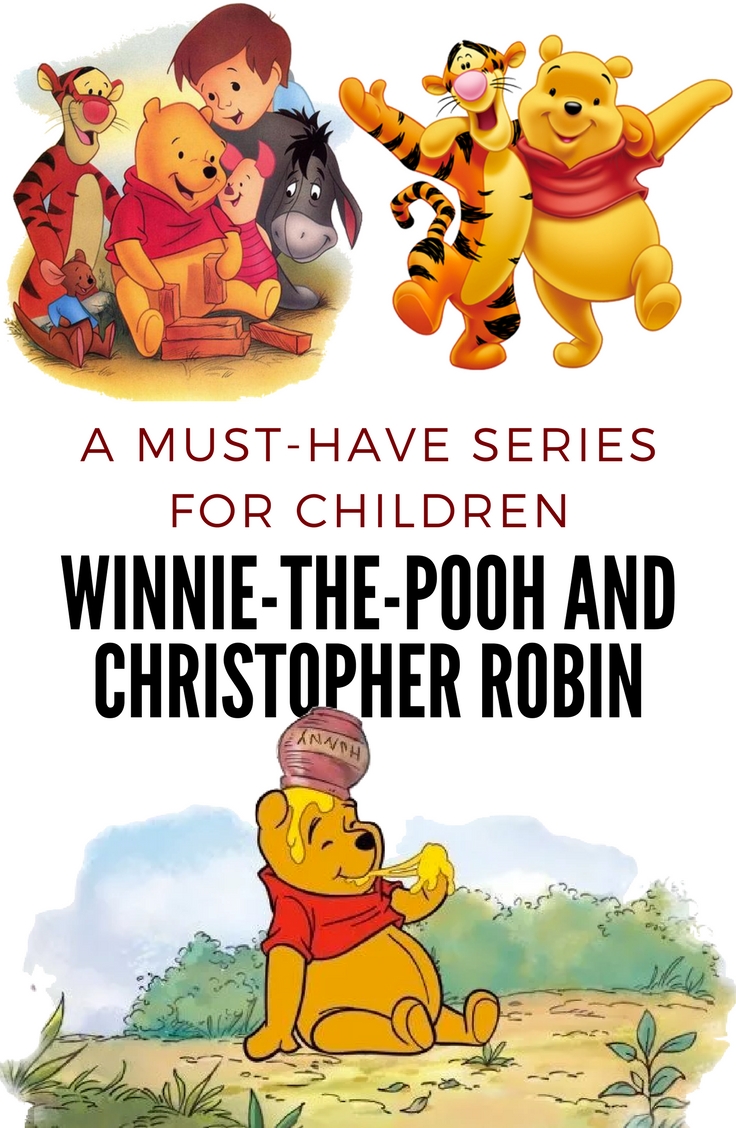 This post is written in the voice of a (cranky) great-grandma of a neighbor. She will tell us today about Winnie-the-Pooh and Christopher Robin. I was patient with her and as a result I received great information about some great books. I suggest you remain calm as well. She is "all talk" and in real life, harmless and sweet.
This post contains some links to Amazon. If you use any of these links to purchase anything, I will get an incentive from Amazon with NO extra penny from your purse. I am being stereotypical here because I said purse. I did not say wallet.
---
Who does not know Winnie-the-Pooh? Of course it is a silly question. It is as silly as it can be. Everyone knows that he is the best friend of Christopher Robin. You know who Christopher Robin is, right? Ok … since you asked politely, I am going to answer all your questions.
Who is Christopher Robin?
Give me a break … Definitely you are an American (from USA). You only know Rapunzel and Cinderella for your baby girls and Spiderman and Superman for your baby boys. There is another world out there beyond princesses and superheroes, one of which is Christopher Robin's world.
All the animals in the Jungle know who Christopher Robin is. He is the one who helps all the animals in distress. Christopher is the one who hammers a nail to attach a tail to a donkey. He is the one who helps a bear collect honey. He is the one who roams around the jungle with a gun and shoots bees. I guess, you have recognized Christopher Robin by this time.
Who is Winnie-the-Pooh?
You never stop amazing me. Someday you might even ask, "who is Paddington Bear?" (I kept quiet because I really did not know who Paddington Bear was.) Anyway, Winnie-the-Pooh is the best friend of Christopher Robin. All the animals of the jungle know that Christopher Robin and Winnie-the-Pooh are fond of each other. Many of the animals are jealous about the best friendship-ness of these two. It seems only Christopher Robin knows why Pooh Bear is called "Winnie-the-Pooh".
Is any other character involved in this story?
My, oh, my. This is not "Life on a Pie" (She was referring to the Life of Pi book or the movie). There are so many characters in the Pooh Bear story — the Piglet who is a clever writer, the Owl who always speaks wise, the Donkey who loses a tail but cannot say where he left it, the Rabbit who thinks that a jungle is a strange place, and many other nameless and named characters.
---
I used up my last ounce of courage to ask the three question above. By this time, I had enough information to Google. Therefore, I am providing answers to two more questions based on my search.
Is this a storybook?
If I asked this question to the great-great-grandma of our neighbor, she would have told me, "I am delighted that you have asked this question (after so long). I started to wonder if parents nowadays read storybooks to their children at all."
Anyway, I am not her. I am providing some details without throwing some skin-burning comments. British writer A. A. Milne (1882 — 1956) was the creator of Winnie-the-Pooh. Ernest H. Shepard (1879 — 1976) decorated the books. The toys of Christopher Robin Milne, the son of A. A. Milne, were the inspiration for the Pooh book series. There are many tales of Winnie-The-Pooh and Christopher Robin. I am providing a few links below (click on the images to visit the links).
Anything else?
Dear Son loves to read the books and hear the audio books. Great-great-great Grandma of neighbor would have said, "Lazy parents of these days, who do not want to read storybooks to their kids that much and at the same time who do not what to give their kids gadgets, may use the audio CDs, especially when in a car." Anyway, I am not going to say this because I am not her. I am rather providing some excellent links to the audio CDs (click on the images to visit the links).
Have a wonderful week.
---
Subscribe to receive our newsletters and notifications on new posts. Your email address is safe with us. It will not be distributed to any third-party.