Because both of us have full-time jobs outside home, not everything is well-maintained in the home-front. Dear Husband could care less about the lack of tidiness in a home, but my world is driven by visual input. I see things scattered all over the home and my mental to-do list starts growing. Well, now that I am thinking, Dear husband also has strong opinion about things left on counter-tops! He demanded that he be given certain part of the kitchen counter and that the counter should always be empty – ready for him to use when he drives into his cooking frenzy.
Usually, there are tons of other chores waiting for us at the end of the week like cooking, cleaning, grocery, vacuuming, and laundry. So, instead of a restful weekend, we somehow end up with a chore-full weekend. I start dreading wasting the weekends in these mundane tasks and not doing something weekendy, like picnic, going to museums, or doing something fun. So, last week I had a light-bulb moment! Why don't we try doing some of those chores during the week! Well, to be fair, we are tired by the end of the day, but it is possible to do a thing or two every day or every other day! And doing a few things here and there throughout the week should help to reduce the number of chores during the weekend, right?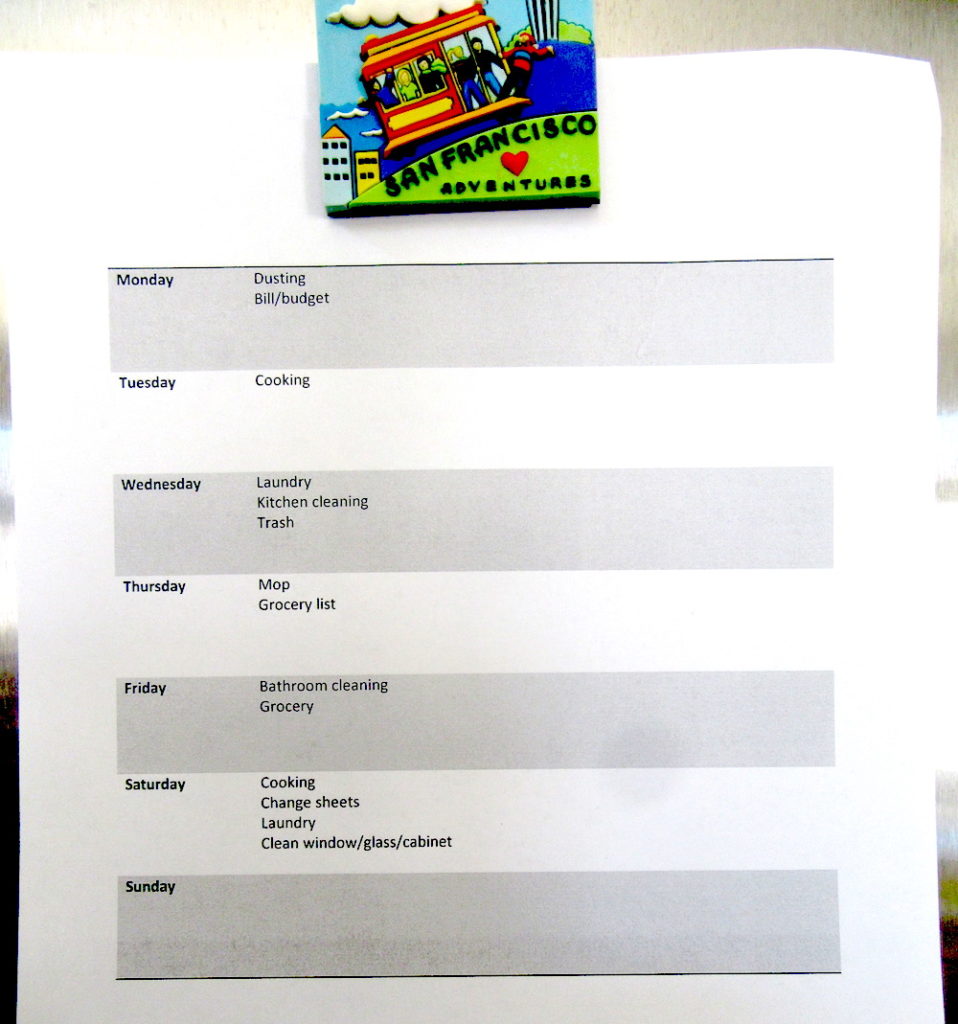 So, this is what I did – I created a document with seven days and a few chores for most of the days. I had it printed and put up in the refrigerator. These are some things we 'try' to do. It's OK if we miss; it's just a list of things without any particular order. For last two weeks, we skipped many of these; we did something meant for the other day. And for most of the time, I forget to look at the list! But when I finish a thing or two of these during the week, I feel good about the coming weekend!
I guess this is our first step towards a restful weekend. Overtime, we will have to make new habits of adding at least a thing or two non-chore-thing during the weekend. I would love to hear any ideas or suggestions you may have about having relaxed weekends. Have a great weekend!
---
Subscribe to receive notifications on our new posts.
<!–– Smart auto google ad ––>