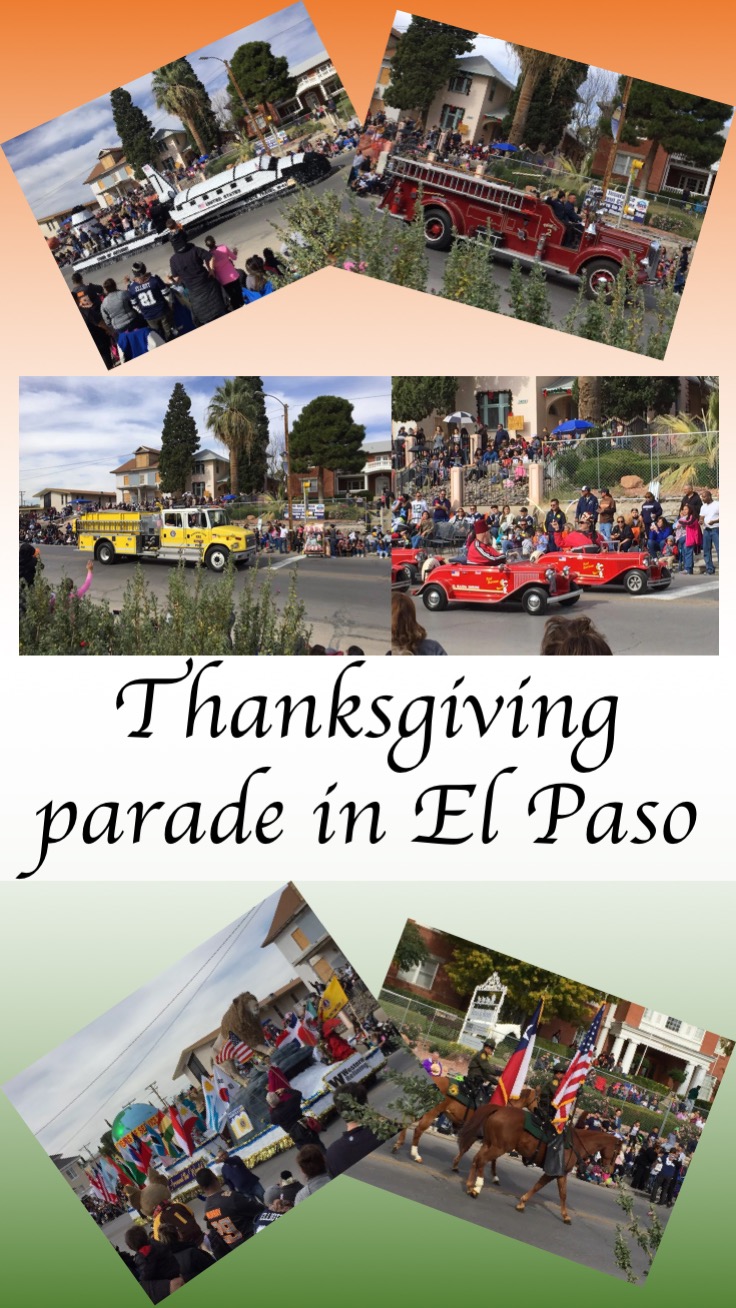 The content below was prepared based on the Thanksgiving Parade experience of 2016
Legend has it that the Thanksgiving Parade in El Paso was previously a New Year's Day Parade. I said "Legend has it", not because the information is mystical but because I like the sound of the phrase "Legend has it". 🙂 Actually, it is a historical fact that the town of El Paso arranged the parade on New Year's day from 1936 to 1978. The parade was scheduled on the Thanksgiving Day in 1979. Since then, El Pasoans have been enjoying the parade on the Thanksgiving Day. In El Paso, it's not this time of the year without the parade. It has been 80 years since the first parade. The theme of this year's parade was "80 Years Around the World".
We have been in El Paso for around three years but this is the first time we attended the Thanksgiving Parade, which is known as Sun Bowl Parade. Many organizations including local schools and colleges, police departments, fire departments, border security, local businesses, and nonprofits walked in the parade. A few wrestlers act-wrestled; shooters fired their guns; cheer-leaders back-flipped and performed a somersault; gymnasts showed their acrobatic moves; mascots hi-fived kids; police-cars ran with sirens. Both sides of Montana Avenue, from Ochoa to Copia, were full of people. Legend has it 🙂 that more than 250 thousand people watch this parade every year.
We went to the parade with a few friends who have been watching the Thanksgiving Parade of El Paso for decades. Based on their suggestion, we parked around half a mile away from Montana Avenue in a residential area. Of course, parking is always an issue in such a big event. Walking half a mile was not bad because the weather was great on the Thanksgiving Day. In fact, as El Pasoans, we enjoy great weather even in November. 🙂
The event was great for kids. We found a good place to watch the parade. Dear Son played with a few other kids of his age. He was graciously sharing his toy-car with other kids. Dear Son's socializing skill is improving. I need to work on mine. 🙂 Dear Wife is so great in this department that I never felt the need of improvement. I have started to realize that I need to improve my social skills because Dear Son seems to be mimicking me on some matters. For example, Dear Son was saying "It's hot" when I took off my jacket on our way back to the car. 🙂
We watched the parade for an hour and half. After being sated by the event, we all walked back toward car. It was fun to see all the kids playing in the nearby residential areas. We enjoyed viewing the beautiful gardens of the houses in the residential areas near the downtown. We said bye to all our Dear Friends and headed home. If you are in El Paso next year during the Thanksgiving Day, please plan on spectating the Thanksgiving Parade.