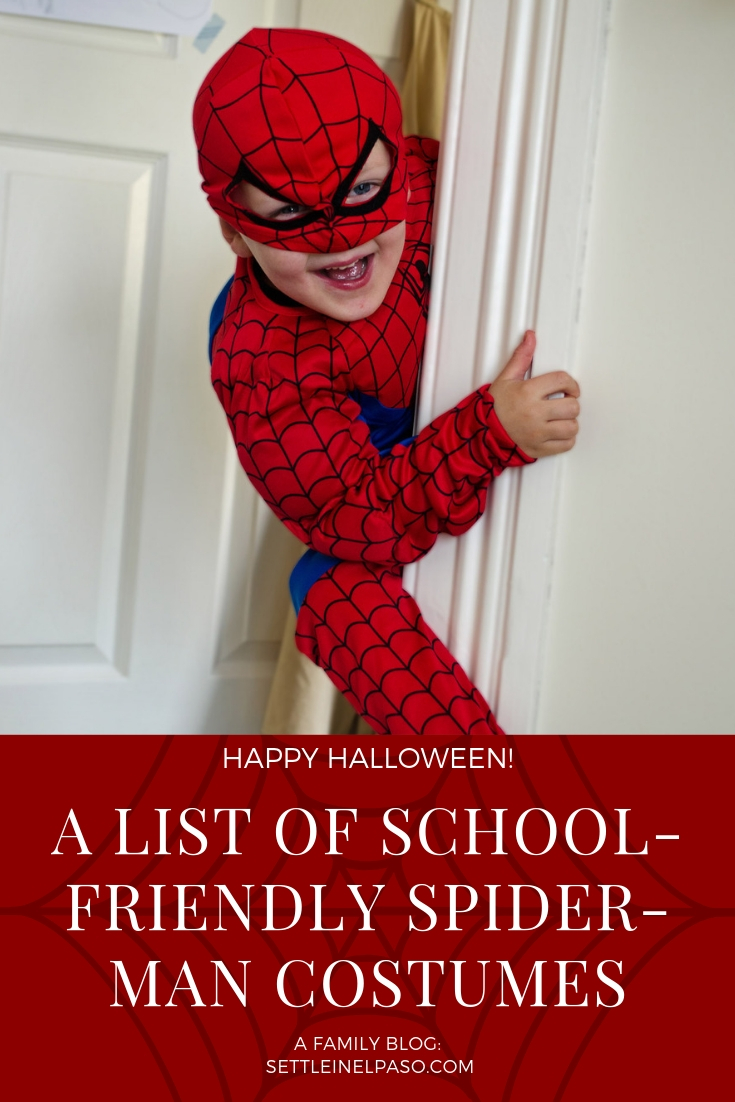 Most of the halloween costumes come as overalls. As a result, little ones have hard time in using the toilet. Teachers need to help every time the kids go for potty. You might recall from another post that Dear Dad wrote two years ago
on how he applied his DIY skills to make the Spiderman costume he bought more school-friendly
. The idea was to make sure that Dear Son can go to the toilet by himself while wearing the costume in his daycare. Dear Dad separated the bottom half of the costume and made pants out of it. 🙂 It was hard work but totally worth it.
Things have not changed much. Dear Son has started his elementary school though. We are still afraid that he will face the same trouble in school on the coming halloween day. Didn't I say things haven't changed much? That includes his choice of costume — it is still Spiderman. This time, instead of going through the trouble of DIY-ing an overall costume, we have decided to search for a multi-piece Spiderman costume — with a shirt and pants. Surprisingly, options are not huge even on the Internet. Many of the Spiderman costumes are pajamas, which will do just fine as long as trousers are separate. We have listed some of the costumes below that have multiple pieces and include a separate pair of trousers. We think the listed costumes will be comfortable for little kids who go to daycares, preschool, kindergarten, or in early stages of elementary.
If you decide to use the list, please make sure to go over the reviews on the product pages. Also take a close look at the features and Q&A. A few of the costumes have their feet covered, which you may or may not like. The list does not contain any costume with padding. I personally do not prefer padding because Dear Son will stay in school for the entire halloween day with his costume on. A costume with too much muscle-padding will not be comfortable.
Sorry that we have not covered other superheroes in the list. The list contains Spiderman costumes for boys only.
The post contains Amazon affiliate links. We will receive an incentive if you use the affiliate links to purchase anything with no extra cost from your side.
Marvel Boys' Toddler Spiderman 2-Piece Uniform Set with Webbing, Webby Red, 4T (Apparel)
SPIDER-MAN: Your little superhero can rest easy in these cute Spider-Man pajamas. Whether they want to fight side-by-side with Iron Man, Captain Marvel, Black Panther, or Captain America, they will always fade to dreamland. Officially licensed Marvel product.
WEBBING: This set comes with a short sleeve top, long pants, and arm webbing. Your little one will feel like a friendly neighborhood Spider-Man in these pajamas.
SIZING: To follow safety regulations this item is flame resistant and snug fitting. Please buy size accordingly to ensure your child's safe slumbers with their favorite characters.
COMFORTABLE MATERIALS: This pajama is made from soft and comfortable fabrics, so your little one can fall asleep easy. Made from 100% Polyester. Our products are made with the highest quality.
EASY CARE: Because we've crafted this product from high quality fabrics, it's also incredibly easy to care for. Please machine wash. Product also holds up well to repeated washing.
Marvel Spider-Man Costume PJ Pals for Boys,Red,5 (Apparel)
Marvel Avengers Spider-Man Infant Baby Boys Cosplay Bodysuit and Pants Set 12 Months (Apparel)
Interlock, 60% Cotton , 40% Polyester
Officially licensed Marvel Comics Avengers infant boys short sleeve bodysuit and cute, comfy and stylish pants
Lap shoulders for easy dressing and quick diaper changes; 3-snap closure for quick and easy diaper changes; Dress-up cosplay design; Awesome screen print design; Bodysuit with rib knit binding; Elastic waist for better fit
Stylish clothes for babies 0-24 months with fun and playful character designs; cute creeper and pants set with a comfortable fit that is easy to dress your little one in
Durable and long-lasting baby apparel made of a soft clothing material that is safe for newborn and infant skin
Perfect for birthday gift, every day wear, Christmas holiday gift, crawling around and indoor play, baby shower gift, outdoor play and Halloween
Spider-Man: Homecoming Child's Deluxe "Homemade" Costume (Toy)
Rubie's Baby's DC Comics Superman Costume, 0-6 Months (Apparel)
Officially licensed onesie features superman's logo, perfect for your super baby
Pants, hat, and booties are all included
Newborn fits up to 17 pounds and 27 inches, infant fits up to 22 pounds and 30 inches
Rubie's makes it easy for everyone to join the party with fun costume for all ages, look for dc comics costumes for parents and siblings for a fun family look
Family owned and family focused, rubie's has been a world leader in bringing you fun for every season since 1950
$31.69
Concluding remarks
Our special feature for Dear Son's costume is school-friendliness — actually toilet-friendliness to be more precise. Please let us know what costumes you are planning for this year for your children or for yourself. Is there any special feature that you want in the costumes?
Happy Halloween … Well … Happy Halloween preparation!
---
Subscribe to receive notifications on our new posts.