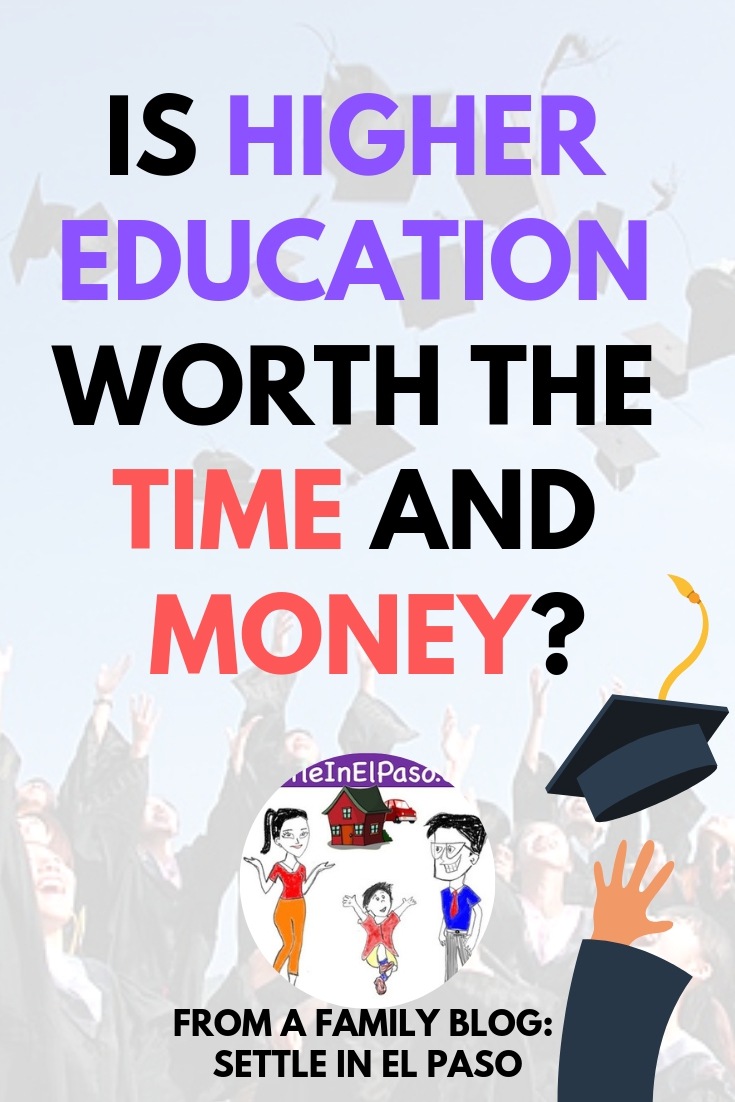 By higher education, we mean any education after High School. Based on
2015 Census report
, around 88% of the U.S. population have high school diploma, around 59% have some college or higher degree, 32.5%  have Bachelor's degree or more. 12% of our population have advanced degree (like Master's or Ph.D.). While the population with a High School diploma is quite large (although a 100% will be the best), higher degree holding population is drastically small.
Is higher education worth the time and money?
Now the question comes, Is higher education worth the time and money? That is, should people continue with their studies after high school?
It is true that higher education costs money. Student loan is a common source of finance. Most student loans have low interest rates. Moreover, the first installment can be paid after graduation, upon getting a job.
Should one start enjoying life earlier and not worry about student-loans? Oh, Yes. One could start earning right after high school. In extraordinary circumstances, one can earn six figures per year. There are even examples of millionaires who did not have higher education. However, exceptions are never good examples. They are what they are — "exceptions".
What is the relationship between well-paying jobs and higher education?
Most of the well-paying jobs require completed university education in the shape of a Bachelor's or a Master's degree.
Most jobs that pay above minimum salary need one to have a senior high school diploma at the absolute minimum. Nevertheless, in certain areas, experience is valued far greater than education. However, education is critical to get hired in the first place that leads to the experience. Higher education is also necessary for promotion and getting paid more.
The story of John and Jane
Let me describe a hypothetical scenario. John Doe and Jane Doe graduated from the same high school. Upon completion of high school, John decides to go for a job. Jane decides to go for a bachelor's degree at a state university.
Both John and Jane were born and raised in El Paso, Texas. They decided to stay in this lovely city.
John works at Home Depot as a Sales Associate
After High School, John started to work at Home Depot as a Sales Associate. He earns $11.35 per hour, which is quite impressive because others with a High School diploma work as Cashiers in the same store at $9.82/hour. John's yearly income, given that he is hard-working and spends 10 hours per day in the store, turns out to be 300x10x$11.35=$34,050. By the way, we are assuming there are 300 working days for John in a year.
Jane goes for a bachelor's degree
Jane's decision was to go for university studies. She decided to be a Business major at the University of Texas at El Paso (UTEP). Jane applies for a student loan, which covers her tuition well enough plus she can purchase books.
Jane is as hard-working as John. She decides to go for a part-time job at Lowe's. Being a full-time undergraduate student, she cannot manage to work more than 20 hours per week off-campus. Since she is part-time, she was not able to get a Sales Associate position, rather she was hired as a Cashier with an hourly salary of $9.82. If she works three hours per day for 300 days a year, the total income would be 300x3x$9.82=$8,838.
Jane can barely make her living with this income but she works longer hours during summer and during other breaks in the Spring and Fall semesters. Therefore, she survives well during her undergraduate studies.
Jane has a student loan of amount $36,000
Jane's student loan accumulates. It is around $9,000 per year. In-state tuition fee is around $5,600 at UTEP and the rest of the costs involve some fees, books, and supplies. In four years of Jane's Business studies, her loan accumulates to $36,000. Jane does not have any other loan.
Jane earns a bachelor's degree
After four years, Jane receives a Bachelor's degree in Business. She needs to pay off $36,000 of her loan. She does not have any saving. John, on the other hand, saved around $10,000 every year totaling an amount of $40,000 in his savings account.
Jane joins Home Depot as an Assistant Store Manager
There is an opening at Home Depot for the Assistant Store Manager position. Jane applies for the position and with her business management skills, learnt over the past four years, she impresses the interview board. She becomes the Assistant Store Manager of Home Depot.
By the way, the yearly salary of that position is $75,000. Additionally, the job fully covers her health insurance. Jane also receives retirement benefits from the company. She pays her student loan off in a year or so.
Jane goes for a Master's degree
After a year, Jane decides to pursue a Master's degree in Business Management at UTEP. Some courses are online, some courses are in the evening. It is hard to maintain a full-time managerial job and continue Master's studies, but she went up for the challenge and completed her Master's in two years.
Jane is promoted to a Store Manager
Jane is then promoted to a Store Manager because she is the one who has the degree and she is the one who has the experience. Her yearly salary goes up. It becomes $90,000. By the way, her Master's education was not free. She paid around $15,000 as the tuition and to cover other relevant expenses. The only difference is that this time she did not need a student loan.
John is wondering
By the way, John is still in the same Home Depot where his hourly salary increased to $14 totaling 300x10x$14.00=$42,000 per year. The job does not include health or retirement benefits.
Last six to eight years have been great. John now wonders occasionally, what if he pursued bachelor's degree just like Jane of high school, who is by the way The Boss now. It has been too long since high school. Is it too late to have a new beginning? Am I too old to go back to school? Is a degree worth it? John keeps wondering — How much more does Jane earn than John? Maybe, Jane earns only a few thousand dollars more than John. Maybe Jane just wasted her time and money to get those degrees. It is likely that she is still the fool she was in high school.
---
Subscribe to receive notifications on our new posts.