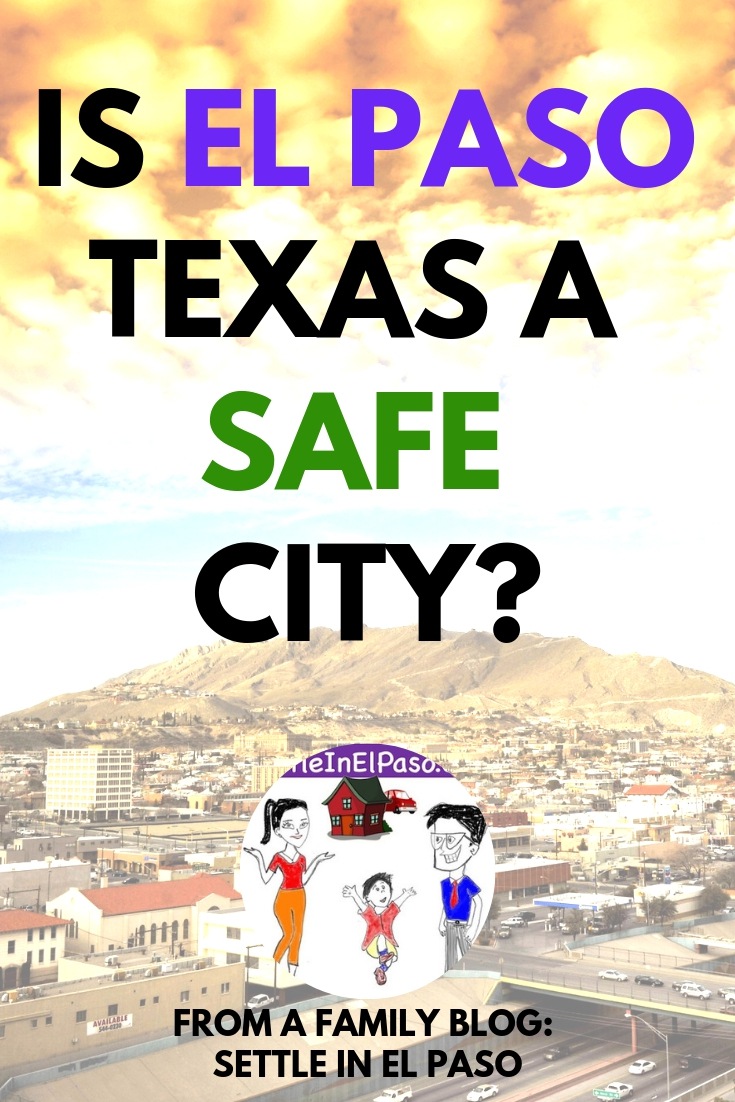 People relocate to different cities for many reasons, among which relocation for jobs and education is the most common one. El Paso is no different. Over the past few years, we received a few messages with questions regarding relocation to El Paso. We have also seen El Paso-related questions on forums like city-data.com, or even in Quora.com. A frequent question is — Is El Paso safe?
Is El Paso a safe city?
Before you lose patience and leave this page, I will directly answer your question. If you list top ten safest metro cities in USA, then El Paso will be in that list. El Paso is so safe that El Pasoans brag about it. I brag about it too, when relatives or friends from other cities ask me this question.
Here is the source article: The 10 Safest and Most Dangerous Metro Cities in America. Here is a KFOX14 news article on the topic: Report: El Paso, one of country's safest cities.
What is my personal experience about safety in El Paso?
My family and I have been in El Paso for more that five years. We never felt unsafe anywhere in El Paso. You might say that we haven't gone to the unsafe places. That might be true but generally if you live in a place for five years you make friends and friends would warn you about unsafe areas. No one had to warn us about any unsafe areas in El Paso.
Did I ever feel unsafe while walking in the sidewalks? The answer is — never. Feel free to walk your dogs in the evening or shop at the 24/7 Walmart on Mesa.
Actually, it is not quite correct that we did not hear about unsafe places in El Paso. When we relocated to El Paso, we heard a story that once a bullet hit the window of someone's house. The house was close to the Mexican border. It was said that the bullet came from the direction of Mexico. We were warned not to live in a house within the shooting-range of the US-Mexico border. I am not sure which neighborhood is so close to the border that a bullet from some random drug cartel fight will find its way to USA to shatter the window of an American house. I would probably suggest to find the stone throwing kid in the neighborhood.
What I am trying to say is — El Paso is safe — one of the safest cities in the country as stated in the news.
Why do we hear the question — Is El Paso a safe city?
I am not sure. We hear the question probably because El Paso, Texas has borders with Juárez, Mexico. Juárez was once known as one of the most violent cities in Mexico. That is an old story — before 2007-ish. You might have seen movies too regarding the Mexican drug cartel based in Juárez, Chihuahua, across the Mexico—U.S. border from El Paso, Texas.
The U.S. side of the border, which is El Paso, is often misunderstood for the stories in Juárez.
Should you visit Juárez from El Paso alone?
Did we ever visit Juárez from El Paso? The answer is — No. It is hard to reduce the temptation. Friends in El Paso have boldly told us NOT to visit Juárez without a guide. The reasons are — (1) we do not know the areas of Juárez — safety might be an issue for outsiders in some areas of Juárez, Mexico and (2) you might be ripped off without anyone Mexican with you when you shop. Our friends who are bilingual and may become our free guides invited us but timing was never good for us and hence have not yet taken the trip to Juárez. We have plans to visit it soon.
Is El Paso safe for a white female?
I did not want to write or answer this question, yet I am doing so because it is a frequent question that is not answered frequently without sarcasm. The question is still important to many females who are planning to relocate to El Paso. In a forum discussion, I saw a relevant question: Moving to El Paso, TX.
The answer to the question, "Is El Paso safe for a white female" is — Yes. El Paso is perfectly safe for people of any gender, color, race, and religion.
I never experienced or heard of any racism-related issues in El Paso in the past five years, while I have been here. El Paso is a regular American Texan blue town. 🙂 No politics … ?
Do I need to learn Spanish to relocate to El Paso?
Nope. It is correct that most people in El Paso are bilingual (Spanish and English) but that does not mean that English-speaking people have trouble to live here. There are many other cities in USA where bilingual population is high.
Not knowing Spanish has been no issue for me and my family here in El Paso. El Paso is just another regular and safe English-speaking American town — if you do not speak Spanish.
By the way, other than some greetings like "Hola", "Buenos días", "Buenas tardes" in Spanish, I know another sentence — "Yo no hablo Español", which means "I do not speak Spanish." You can say it in English too but what fun would it be if you don't say that you don't speak Spanish, in Spanish!
Why do so many people relocate to El Paso?
El Paso hosts the University if Texas at El Paso (UTEP), Fort Bliss US Army post headquarters, many hospitals, and construction and development projects. Thousands of students, soldiers, professors, scientists, doctors, nurses, engineers, business experts, and their families relocate to El Paso every year.
If you visit El Paso, you will see a lot of constructions around. The constructions are not only on the interstate but also inside the city. Many new apartment complexes and neighborhoods are being built. Old neighborhoods are being extended. El Paso was ranked the fourth hottest real estate market in 2018. It makes sense. People relocate to El Paso → They need to stay somewhere → Real estate market grows.
Which neighborhoods are good in El Paso
It has been five years since we moved to El Paso. Five years are not enough to become familiar with all good areas. Our colleagues recommended Westside when we moved to El Paso. We have been living in the Westside neighborhoods (79912) since then.
Someone in the city-data.com forum listed the following areas to be good: 79912 (Westside), 79922 and 79932 (upper valley), 79934 (Summerlin subdivision), 79938 (East side by Tierras). I am sure there are other great neighborhoods too. In terms of schools, Westside has the best performing EPISD schools, as most people say.
Concluding remarks
We would love to hear comments you may have. Please let us know if you have any question via the Comments section below.
In conclusion, I would love to mention that El Pasoans are friendly and welcoming people. We always welcome newcomers. I would love to reiterate that El Paso is one of the safest cities in the country. Didn't I say — El Pasoans love to brag about the safety of their city?
---
Subscribe to receive notifications on our new posts.