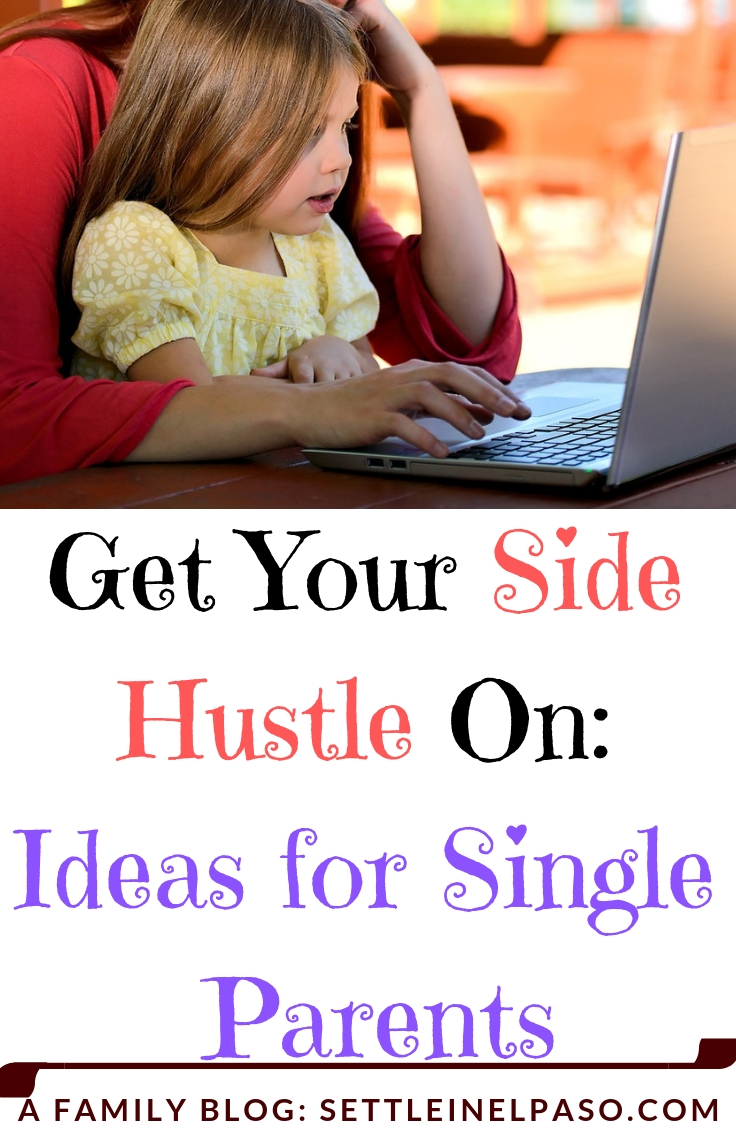 This is a guest post written by Wendy Ross from
Safer Tomorrows
. Wendy is a Chief Safety Officer who is passionate about writing on topics related to safety awareness and family lifestyle. The topic of the article below is focused on side hustle ideas for single parents.
---
Being a full-time single parent is hard. It's up to you to provide meals, give baths, help with homework, clean the house and provide a personal taxi service to the school, appointments, and extracurricular activities. If you don't do it, well, it won't get done. Pair this with the fact that kids cost money, and you may find that you could use a side-hustle to bring in some extra cash.
While the supplemental income is certainly nice, you need to side hustle for the future as well. At some point, you may want to take up a part- or even a full-time job, or ever turn your side hustle into a booming business, to make sure the route you choose is adding value. Hone your skills in whatever area interests you whether it is blogging, crafting, child care or fitness. Perhaps you have dreams of running your own daycare or selling custom-made crafts. Align your side-hustle with your goals, and you are on the right track. If you aren't sure what gig to pursue, here are a few ideas to get you started.
Start a Blog
There are plenty of parenting blogs, but as a single parent, you offer a unique perspective. During your time perusing social media, you've probably come across a funny blog post that you could relate to. It was funny, candid and brutally honest. You probably even had your own related story. If you've always had a knack for writing, use the fodder your kids provide to start blogging. Not only is this a great side-hustle, but also it can be a therapeutic way to vent the stresses and challenges you face with other parents who can relate.
Sell Your Knowledge
What is your expertise? Maybe you've helped friends get their kitchen organized, meal-prep like a pro, or have years of experience working in the field as a designer, teacher, or accountant prior to becoming a parent. People pay for knowledge, whether it comes via a book (print or e-book), newsletter, blog, video channel, or online course. It could even be something as simple as teaching a pottery or mosaic class at the local art studio or leading a Pilates class at the gym (bonus points if childcare is provided).
Create an Online Store
If you have a physical product to sell, a brick-and-mortar store isn't realistic, at least not for a side-hustle. However, this doesn't mean you can't sell your products to customers via an online store. Regardless of whether someone hears about your business via word of mouth, social media, or a newspaper ad, an online presence makes it easy to take and process orders. In order to have a successful online store, you not only need an in-demand product, but a secure, e-commerce system that can support your payment processing on all channels including mobile, computer, and in-person sales. By starting with an online store, you are able to gauge the success without committing to a storefront. Plus, you have the freedom to easily accept and decline orders based on your schedule.
Use Your Parenting Skills
Unfortunately, you don't get paid to be a parent, but you can get paid to use your skills as a parent to watch other children. An in-home daycare appeals to parents who prefer the small caregiver-to-child ratio, and enables your child to stay with you as opposed to paying for childcare. If a daycare feels too extreme, consider becoming a nanny. Many families will allow you to bring your own children along, creating a playdate for them an extra income for you.
Being a single parent is a full-time job, but there are creative ways to start your own side gig while also rocking the parenting gig. Consider blogging about your parenting triumphs and woes, sharing your knowledge with others through classes, venturing into online sales, or sticking to what you know by offering childcare. These are just a handful of the many side-hustles you can try out. Unlike parenting, if you don't like it, you can always move on to the next venture.
Written by Wendy Ross