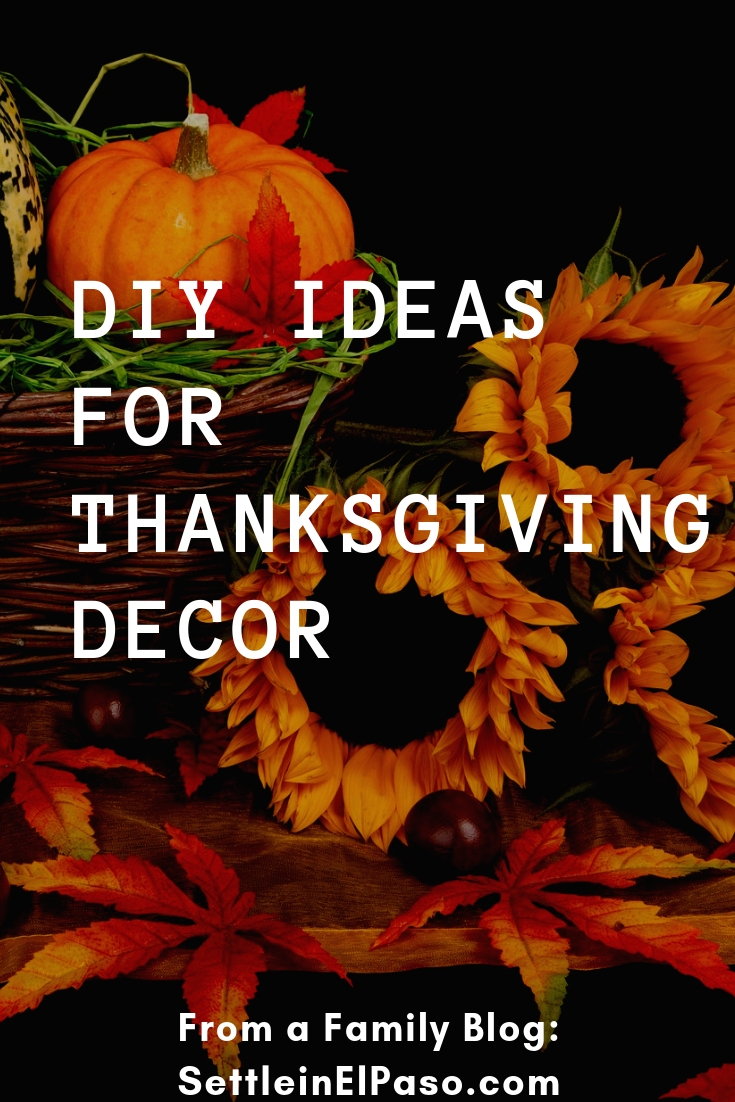 Decorating for Thanksgiving is always a fun. It adds an element of warmth to the holiday season. The arrangements need not be overwhelming and expensive. Making a house or an apartment look festive requires only a little planning and a little bit of effort. You do not have to spend a lot of time. A few minutes every day starting from a few weeks before the Thanksgiving are enough to make a place look festive. A few inexpensive and fun Thanksgiving decoration ideas are given below.
Scarecrow
Making a scarecrow for the front porch is not that difficult. Many families enjoy making scarecrows for Thanksgiving decoration. You need to make sure that the little ones are not afraid of a scarecrow though. Making a cute scarecrow might help fight the scarecrow fright.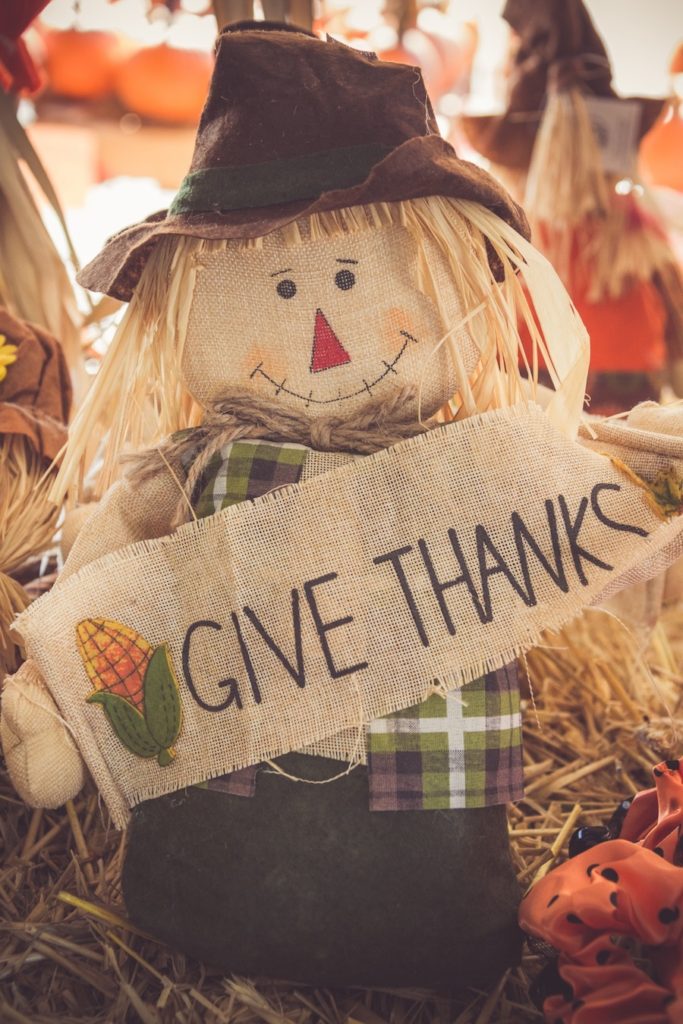 A scarecrow can be made out of straw collected from a farm or even Home Depot or Lowes, corn husk, tree branches from your backyard, and old clothes. If you do some woodworking DIY, making the scarecrow backbone and hands from scrap wood is not difficult, especially given that the wood need not be finished for a scarecrow.
Cover the backbone and the hands using old clothes. Children's clothes that tore up are better for a small scarecrow. A burlap bag is always a good candidate for making the head of a scarecrow. An old hat is a plus. Ropes to tie up the clothe and the burlap bag will give an original farmhouse look. You might need to sew the hat with the head to make sure that strong wind does not blow the hat off.
Straw, pumpkins, gourds, and corn
You can make a beautiful fall arrangement in the front porch by setting out pumpkins, gourds, and ears of corn. A small bale of straw will make the display super cool. Look for varieties of corn differing in color and size. Yellow, red, multicolored, and purple varieties of corn give an authentic Thanksgiving look.
Scatter the corns and the pumpkins on the straw bale, or arrange them in a bowl as a nice centerpiece on the bale. There is nothing more gorgeous than a range of gourds. Keep them in a cool place and they can last for ages … well … at least till the end of the holiday season.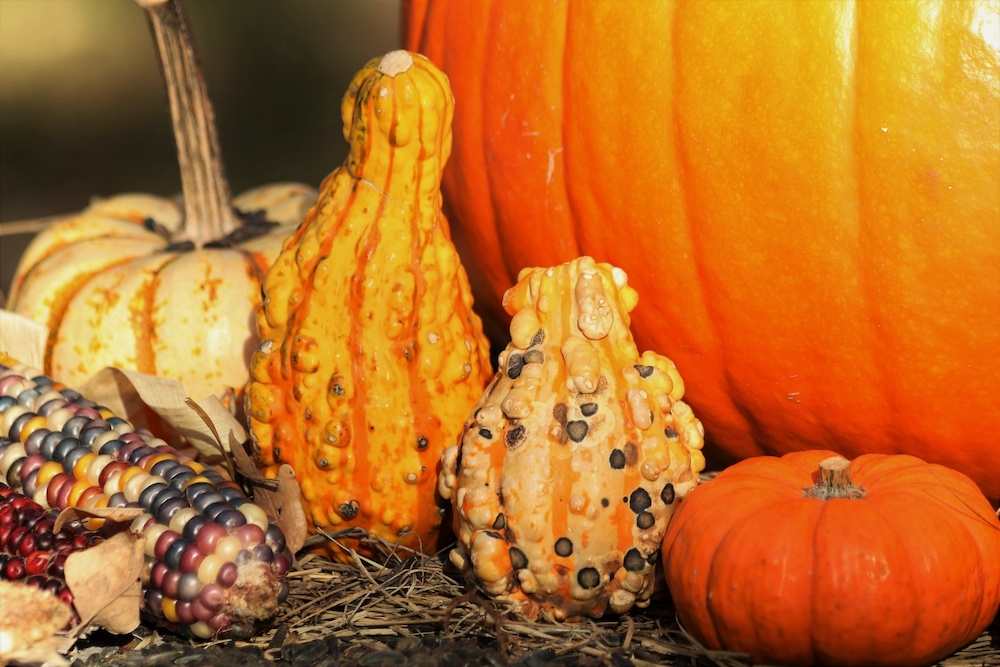 Decorating the indoor walls
Making a turkey using felt sheets for indoor walls is a fun activity. Use any Turkey coloring page of your liking from the internet to cut the outer shape of the felt sheet. Then, cut out and paste layers of colorful felt sheets to make feathers, caruncle, eyes, and feet. It can be a great activity for elementary school kids.
Paper-craft for turkey is another option. The following Paper Feathered Turkey from The Happy Scraps caught my attention a few days ago. The turkey-body can be made of cardboard if MDF (Medium-Density Fiberboard) is too difficult. If you decide to use a cardboard, you can cover it using a felt sheet. Crafting possibilities are endless when it comes to making a cute turkey.

Mums
Mums bring the color of autumn in your home. They flourish the festive feeling. Mums in shades of red, yellow, orange, and white in containers or in a fall garden brighten the look of a house. While keeping mums in North till Thanksgiving might be difficult, if you are in El Paso or in any town in the Southwest side, you might be in luck with mums till Thanksgiving. I would visit local nursery to check what fall plants are there to brighten the entrance of my home.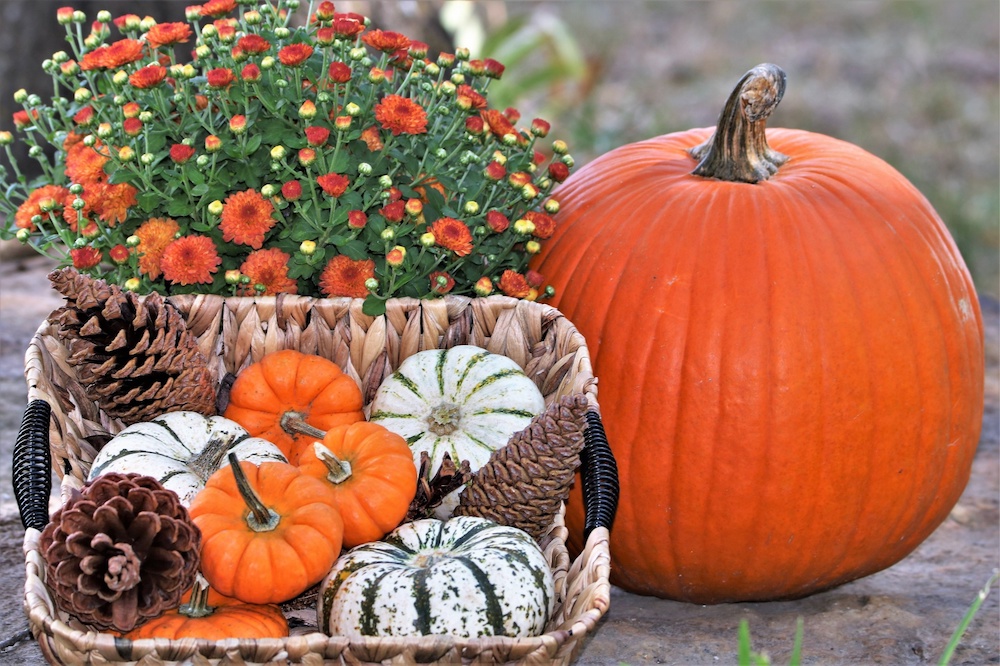 Decorating the Door
You might not have mums if you are in the North but you still have pine cones, chestnuts, and acorns. Make sure to harvest them by mid-November so that you can glue or wire them to a foam wreath form or a wooden one. Silk leaves and flowers can be used  to make the wreath reusable for a few years.
Simple pine cone decor with flowers
Pine cone, some leaves, acorn, and available fall flowers are elements of any gorgeous Thanksgiving or Fall decoration. Gather them, arrange them in a basket, or spread them in the center of a table — they will give a soothing Thanksgiving feeling.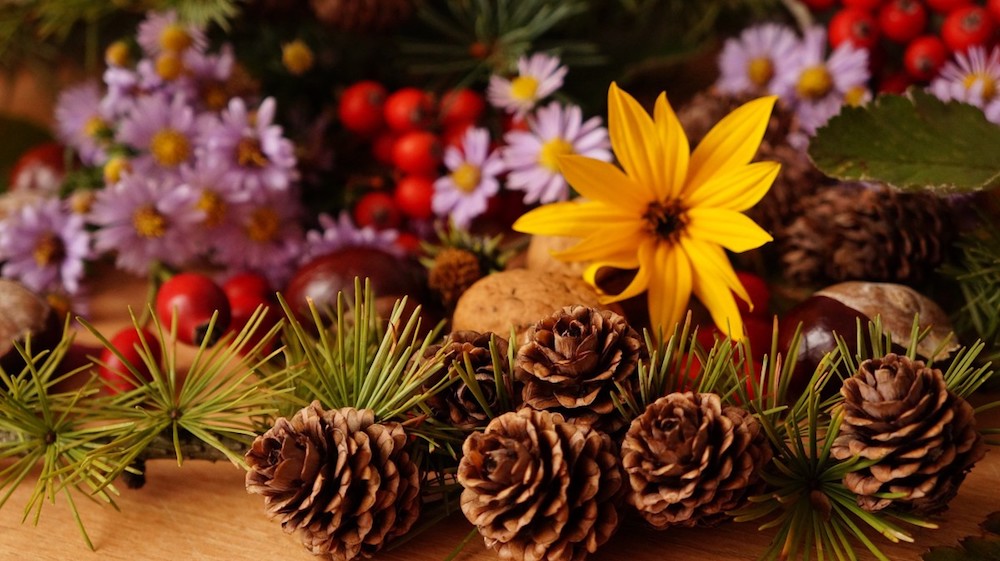 Mantelpiece display
A mantel over the fireplace is a great location to decorate for Thanksgiving. For a simple display, arrange some pine cones, chestnuts, acorns, decorative gourds, or corn on the mantelpiece. Add a few candles in the evening. A fall garland or wreath is a nice touch above the mantelpiece, as well as on the front door.
Concluding remarks
Are you planning on fall decoration? Please share your ideas with us in the Comments section below.
We wish you a wonderful holiday season!
---
Subscribe to receive notifications on our new posts.