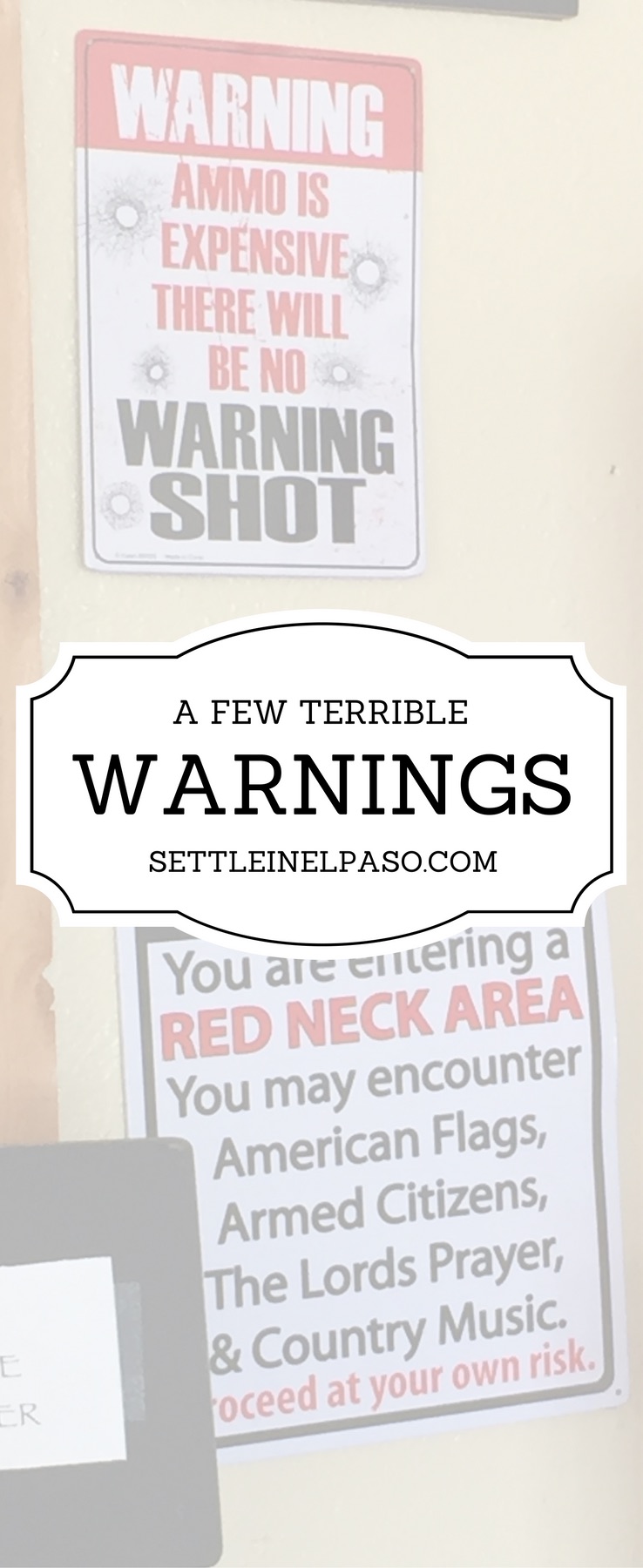 We were traveling on Saturday, not anywhere near Charlottesville, Virginia. Our route covered from the far Western side of Texas to the Tularosa Basin of the Chihuahuan Desert in the New Mexico state. We stopped at a restaurant for lunch where we saw two Warning signs.
There will be no warning shot
The first sign said, "Ammo (ammunition) is expensive. There will be no warning shot." When I read this, I thought — Well … I understand jokes.

Red Neck Area … Proceed at your own risk
The second sign made me feel something was swirling inside my stomach. It said, "You are entering a Red Neck Area. …. Proceed at your own risk." We had Dear Son with us. Should we run out of the restaurant?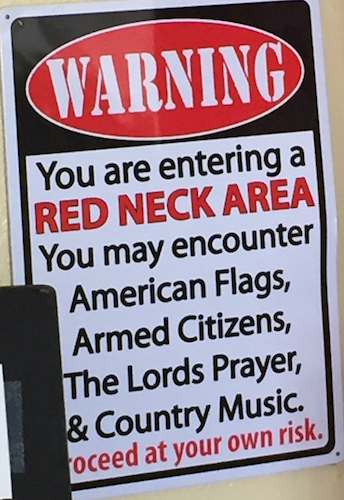 Observation
While my forehead was sweating, I looked around. A lot of white people were around. I did not have the courage to look over their necks to verify the redness though. Anyway, they looked happy. Slowly, my eyes went to another table where there were a few kids. Oh, that means the restaurant is kid-friendly. I noticed another table — two native American people were speaking with a few white and African American folks. Slowly, I started to notice people of other ethnicities including Chinese and Hispanic. The surrounding started to feel normal. However, I had to go to the bathroom to stop the swirling. It is always good to go to the bathroom before a great meal.
Relief
It turned out the restaurant owner had a pretty strong sense of humor. Otherwise, who would put such warning signs on the wall of a restaurant. Their business must be running too well. Scaring off a few timid customers like us won't harm their business. We had a wonderful lunch time there, anyway. The food and the service were great.
What Charlottesville experienced was no joke
Virginia is for lovers — we have heard this so many times in our life. What is happening now in Charlottesville, Virginia? It is no joke like what we experienced in a restaurant of the New Mexico state. Virginia experienced the loss of faith in humanity and love. Yes, I am talking about the rally that turned violent in Charlottesville, Virginia. Yes, I am talking about the person who died and about all the wounded people. When I said, wounded people, I did not only mean the people who were physically hurt. I also meant the family, relatives, and friends who are preparing for a funeral.
How much is this really worth?
Settle in El Paso team
Prompt: Elemental
---
Subscribe to receive our newsletters and notifications on new posts. Your email address is safe with us. It will not be distributed to any third-party.