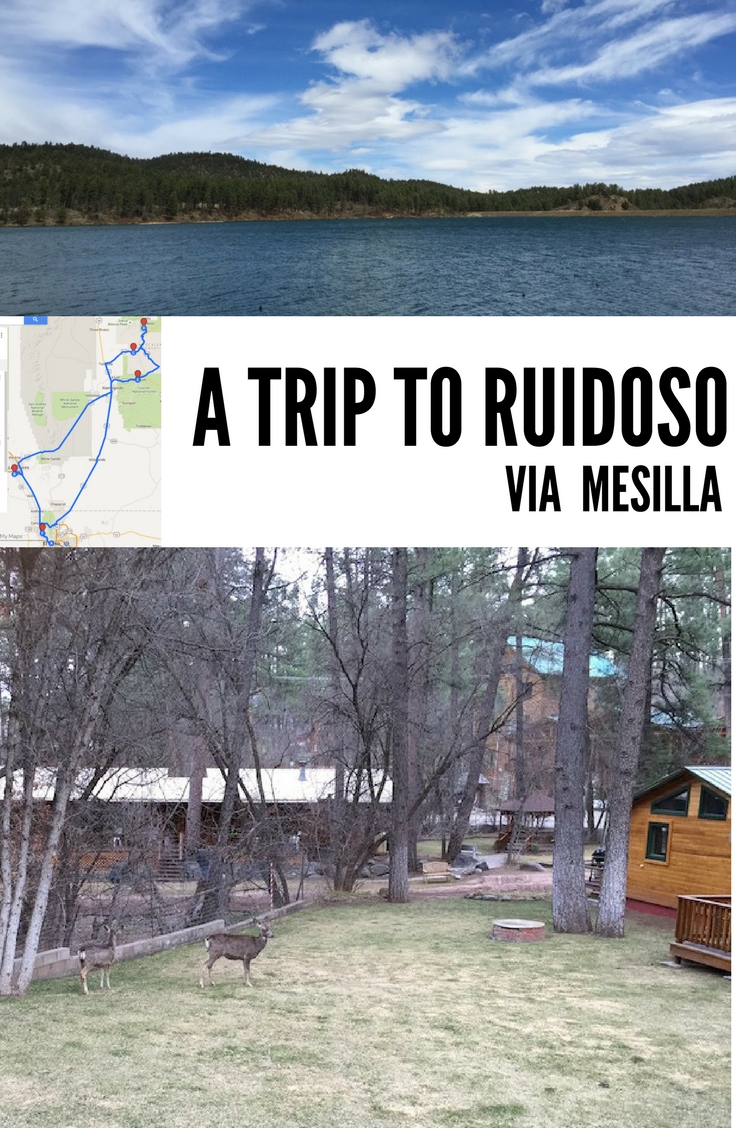 Like any town of this country, when you are in El Paso you can easily plan a short vacation within four/five hours drive. We planned a trip to Ruidoso, New Mexico in the Spring of 2016. If you are not familiar with El Paso or Ruidoso, you probably do not know how different the climate of these two places can be. The difference is like wearing t-shirt/shorts to wearing a Eskimo Jacket. Like many major projects, my wife was the brain of this trip. She planned the entire trip and definitely, I did the hard work of enjoying it!
The trip plan is shown in the figure above. From the picture you can see that we did not directly go to Ruidoso from El Paso. We stopped at a town called Mesilla, New Mexico. Mesilla is less than an hour drive from El Paso. Mesilla was the capital of the Confederate Territory of Arizona briefly during the Civil War. The town has a fascinating history, which grew over time, and definitely which is not the subject of today's web log. If you stop by Mesilla, I would suggest that you roam around a bit to see the beautiful farm houses, agricultural fields, and finally The Plaza. It was amazing to see how Mesilla kept the history of the town alive through the structures of the houses, festivals, names and looks of the restaurants, and even the old fashioned dress-ups of the employees of the restaurants. If you would like to go back in time, have lunch in one of the restaurants near the Plaza.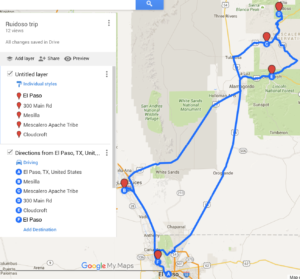 Ruidoso trip plan.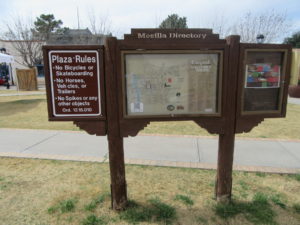 Mesilla directory displayed near the Plaza.
We ate our lunch at a restaurant, called La Posta de Mesilla, near the Plaza. It is quite historic and situated in a very old building. The most exciting items were the bird cage, fish aquariums, the fountain, and the pictures drawn around. Our son had a great time looking at the birds and the fishes. The negative side was that it took us ten minutes to take him back to the table after the food arrived. Anyway, food was the least important part for our son. Our son got this from me, he does not like to travel much but for some reasons he liked Mesilla. One of the reasons is that he saw cows from the road. We stopped our car near a field where cows were grazing. Who won't be excited?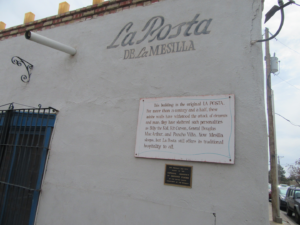 The outdoor message of La Posta de Mesilla.
After our lunch, we walked a bit near the plaza. It was a Saturday weekend and there were music and other functions going on around the Plaza area. We took a few pictures and headed toward Ruidoso. We passed by White Sands on our way to Ruidoso but did not stop there especially because we already visited White Sands a few months back. You might have already read the story regarding out trip to the White Sands.
We always wanted to see Alamogordo. We got the chance this time. We passed through the town. I found it surprising, but it is quite common, that Alamogordo was founded by a railroad company: the El Paso and Northeastern Railroad. You will realize this pretty easily once you go to this town. It is absolutely a company town. We did not stop at Alamogordo, especially because time is of essence when you are driving with a three year old in your car. You do not want to wake a three year old up by stopping the car if they are having a nap after the lunch. Who does not like the amazing sound of silence!
We had plans to stop by Mescalero, New Mexico but thought that we will visit this town on our way back because our son was already tired and we wanted to reach our lodge when there is still enough daylight left. A feeling of sadness always surrounds me when I read the history of native people of any land. The history of Mescalero Apache Tribe was no different. Please go to this website to learn about the history of the Mescalero Apache Tribe. Please read about their culture before you visit Mescalero. Please respect the culture. Two sections of this link, Understanding Our Culture and Respect for the Apache Elders, provide a very short description of what norms you should follow when you are there. Please read these sections, feel the content, and then visit this amazing place.
On our way to Ruidoso, when we were around forty minutes away I saw some white stuffs near trees and mountains. I was surprised all on a sudden because I did not know that (or may be, believe that) somewhere so close to the desert there can be such a cold place with snow in March. We reached Ruidoso around 3 P.M. We were staying at the Ruidoso Lodge Cabins. When my wife called them a few days earlier, she mentioned that we have a three years old. The manager informed my wife that they will keep an isolated cabin ready for us so that we could have privacy. Of course, these are romantic lodge cabins, therefore keeping people with children away from other couples who like the privacy is definitely a good idea for all. 🙂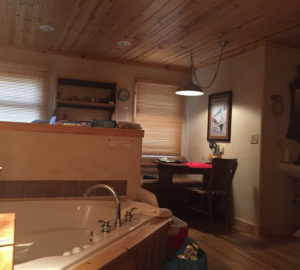 Why is there a jacuzzi in the middle of the cabin? Please don't ask. Our son enjoyed a bath, anyway.
We received the keys of our cabin from the front office and went our cabin. Every cabin has a reserved parking spot. Our cabin was basically a separate house standing alone, as promised by the manager, thanks to her. Other cottages had two or more cabins in them. There was a creek nearby. We heard the water of the creek from the patio of our cabin. Overall, we liked the cabin very much although the space occupied by the jacuzzi could be of more use to a family with little ones if the jacuzzi were not there. Just stating, not complaining.  🙂
We walked around the cabin and saw black droppings. In an hour, we saw the source of the droppings that made sure that those were deer droppings. The cold, the tall trees, the whisper of the water, and sound of the nature all together give a heavenly feeling. Of course, we need food even in heaven. Time to arrange dinner.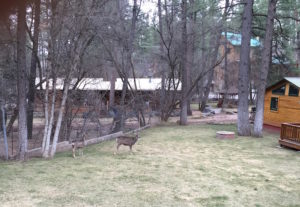 If you are lucky, you will see a few deer around.
Every cabin here comes with a gas barbecue grill. The lodge manager gave us an idea about the stores around. The description was very simple. Go to Thriftway Supermarket. This was the nearest, within less than half a mile, I guess. Walmart or other big stores were a bit far away. Thriftway Supermarket is a descent grocery store and had everything we needed — chicken, beef, eggs, vegetables, milk, bread, and some other stuffs. We already brought spices and a few other items from home. Coming back to the lodge from the Thriftway Supermarket was unexpectedly dreamy. There are many other lodges in the area. The sun already set and all the lodges had their lights on in their premises. Most of the lights were dim but altogether it created a simple, beautiful, natural, calm, end-of-the-day village environment. It feels like a dream if I think of it now.
Grilling was a bit difficult due to the cold outside. We made it anyway. We had a descent barbecue dinner the first night. Our son did not eat much. He tends to eat less during vacation and travel. He cried out a few times that he wants to go back home. At his age, home is more fun than an unknown lodge. The psychology probably starts to change with serious school work.
It is time to have a good night's rest. The next day is supposed to be a bit more exciting!
I will stop for now because this is a two-episode story. 🙂  To be continued …
Settlers
This is Part 1 of the story. The second part can be found in this link: A Trip to a Village Called Ruidoso: Part 2