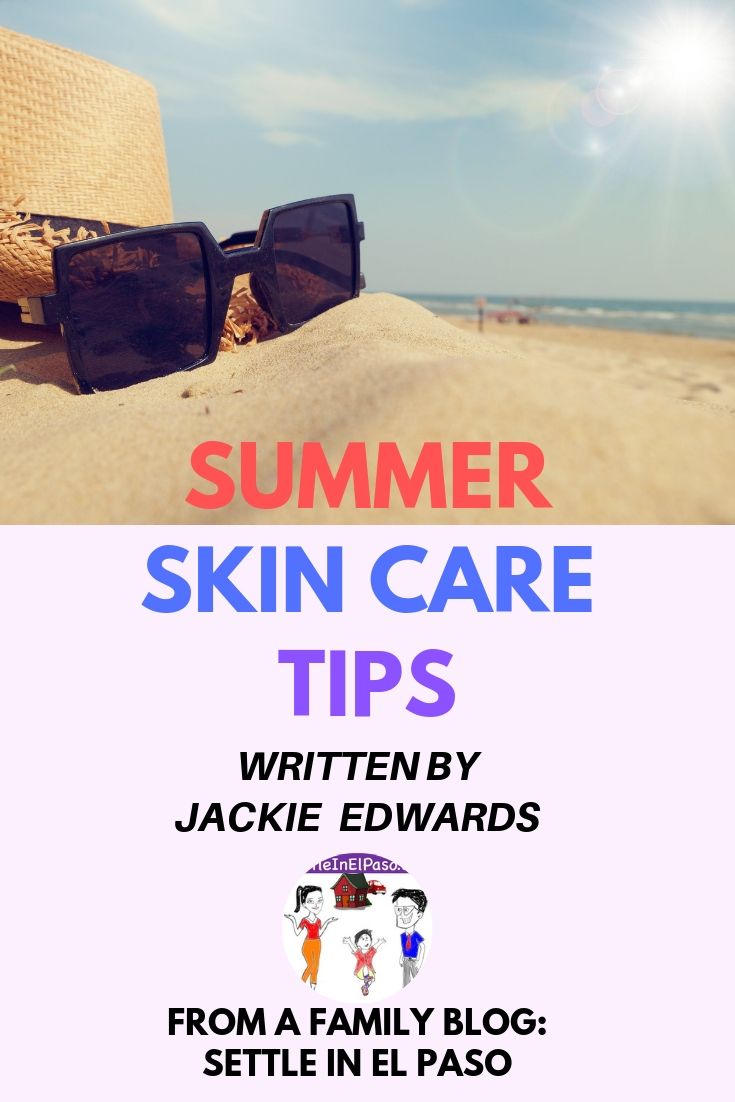 Jackie Edwards, a freelance researcher and editor, wrote the following article to publish on our blog. Jackie is passionate about writing on family lifestyle. She contributed many more articles on our blog in the past. In the article below, Jackie provides some important
Skin Care Tips
for every family.
---
With 96,480 new melanoma diagnoses every year, everyone in the US, including El Paso residents, needs to be more concerned for their skin. And when it comes to your little ones, you want to make sure you're establishing a lifelong habit of protecting their skin from the sun. Here are the top tips for this summer.
Protect Yourself From Both Kinds of Sun Rays
All ultraviolet light rays are invisible to humans, but they can still cause visible damage to your skin and even the DNA in your skin cells. Most people forget that there are two types of skin rays out there: UVA and UVB rays. Both of which cause different impacts on human skin. Both types of rays are found in abundance, especially during summers in El Paso.
UVB rays cause sunburn and contribute to developing skin cancer. The SPF number on sunscreens corresponds to the amount of UVB protection the cream provides. UVA rays cause skin damage leading to sun spots skin aging, and wrinkles. UVA rays are also the shortest sun rays, and certain sunscreens may not protect us from UVA. This is why you need to find "broad spectrum" written on the label for maximum sun protection from both UVB and UVA rays.
Choose Clothes Over Sunscreen
While sunscreen can protect your skin, it's not the ultimate defense against the sun's rays. Long-sleeved shirts and pants can protect your family much better than sunscreen can, though you might not want to always be covered up depending on where you are such as the beach. However, whenever possible, choose to cover your body in clothes rather than sunscreen for better protection.
Combine Sun Defenses
To completely safeguard against sun damage, consider combining sunscreen, long clothing, and umbrellas. If you're walking around a hot, sunny area, umbrellas are quick ways to cool you down and protect you in case you forgot your sunscreen. Long pants and long-sleeved shirts help you protect what could use too much sunscreen to cover, leaving the sunscreen for the face. While one method of sun protection is effective, multiple precautions are ideal.
Treat a Sunburn as Quickly as Possible
No matter how hard you try to protect yourself and your family from the sun, mistakes happen. Your child may fall asleep on the beach before reapplying their sunscreen after swimming, your spouse may have thought they applied sunscreen but forgot. Whatever the case is, be sure you have the necessary items to treat sunburns as efficiently as possible. For instance, moisturizers with natural ingredients do wonders when it comes to sun damage, as they soothe and repair skin in a matter of hours. Also, get some loose clothing to wear in case of a burn too, as form-fitting clothing might cause your little one too much discomfort.
Caring for Skin as a Family
With such high rates for skin cancer in America, everyone in the family needs to do their part to help each other not become another statistic. Create a culture within the family to remind each other to wear sunscreen when outside, to wear long-sleeved clothes whenever possible, and to care for sunburns. It's a nice way to remind each other of the love you have for them.
Written by Jackie Edwards
---
Subscribe to our blog receive notifications on our new posts.